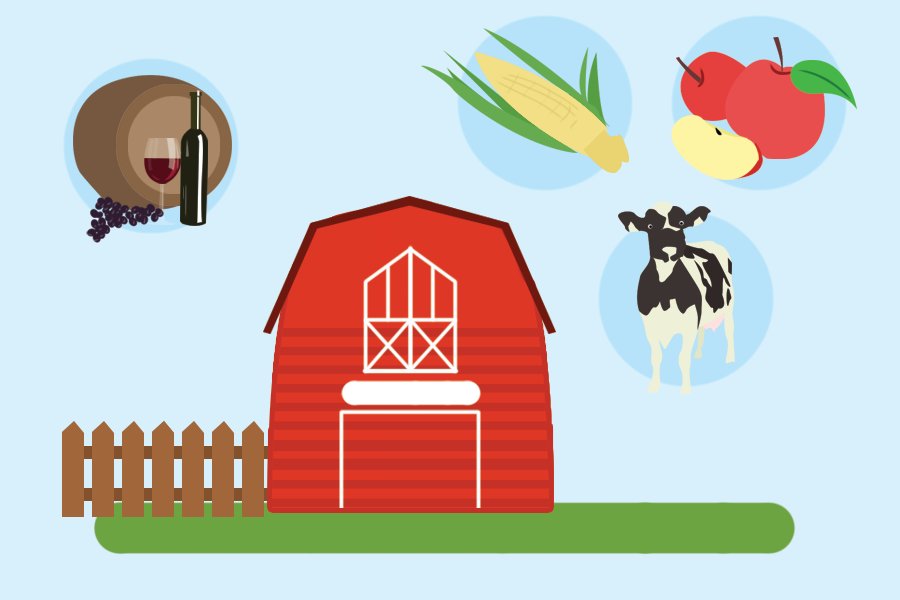 Farmer advocacy organization will honor Heringer Estates Family Vineyards and Winery at 103rd annual meeting
When it comes to dealing with the challenges of farming and agriculture, Yolo County farmers are not alone. The Yolo County Farm Bureau — a local farmer advocacy organization — provides political representation to Yolo County farmers. Gretchen Schauer, a UC Davis alumnus and the executive assistant at the Yolo County Farm Bureau, said that the organization supports farmers in any way it can.
"We are a nonprofit, non-government affiliated organization, and we represent Yolo county farmers however they need us to represent them," Schauer said. "So, for example, if they see a need for road repair, something like that, we try to influence the county to help out with that. If there's something going on locally that politically disagrees with farmers, or maybe farmers want changed, then Yolo County Farm Bureau will step in and try to help with that as well."         
In addition to providing farmers with political representation, the Yolo County Farm Bureau works closely with the Yolo County Farm Bureau Education Corporation to provide farmers with grower education and employee safety programs.
Jessica Reiter, a UC Davis political science graduate, sees the Farm Bureau as a valuable asset for local farmers.
"People are quick to talk down special interest groups, but not all special interest groups are big money bad guys," Reiter said. "Yolo County Farm Bureau is a good example of how specialty groups within communities need someone to stand up for them in government."
The Farm Bureau holds a general meeting every year and encourages all farmers to attend. This year it will hold its 103rd annual meeting at the Yolo County Fairgrounds on Jan. 19.  The theme of the meeting is "adapting to thrive." The Farm Bureau will honor Heringer Estates Family Vineyards and Winery, a local winery in Clarksburg. Schauer said Heringer Estates is a great example of this year's theme.
"A small committee decided that the theme of this annual meeting would be 'adapting to thrive,' which seems to be the theme of agriculture nowadays," Schauer said. "They thought that Heringer Estates is a good example of how agriculturalists have had to adapt to thrive, especially recently. Heringer Estates has been around for 140 years, which is remarkable."
Heringer Estates has been owned by the Heringer family, which includes several graduates of UC Davis, for six generations. In the past, the family has grown field and road crops. It was not until the 1970s that they began to grow grapes, and not until the early 2000s that the farm established a winery. Steve Heringer III said he enjoys the social aspect of winemaking.
"One of the nice things about the grape and wine industry, as opposed to anything else we have ever done, is everybody is interested in what we're doing, how we're doing it, how we're making the wine," Heringer said. "Wine is a very social agricultural product, and it opens up incredible opportunities to tell agricultural stories and our own personal story."
The story of Heringer Estates is one of constant change and adaptation. The 140-year history of the farm has not been without its challenges — the decades have brought years of excessive rain, years of drought, market changes, industry changes and periods of high interest rates during the 1980s, to name a few. Heringer said that adaptation has been the key to the farm's longevity.
"Just the ability to adapt to the situation, whether it's weather, whether it's finances, whether it's crops, or whether it's family," Heringer said. "The ability to adapt to meet the challenges […] persistence, resiliency, a 'never-say-die' attitude."
With regard to the honors that the family will receive at the Farm Bureau meeting, Heringer said the family is humbled.
"We are very, very humbled by the honor, and I will tell you, in my mind, we're not doing anything that any other farmer doesn't do if he's going to survive, and that's adapt to whatever the current situation or markets are," Heringer said.
Written by: Raul Castellanos Jr. — city@theaggie.org