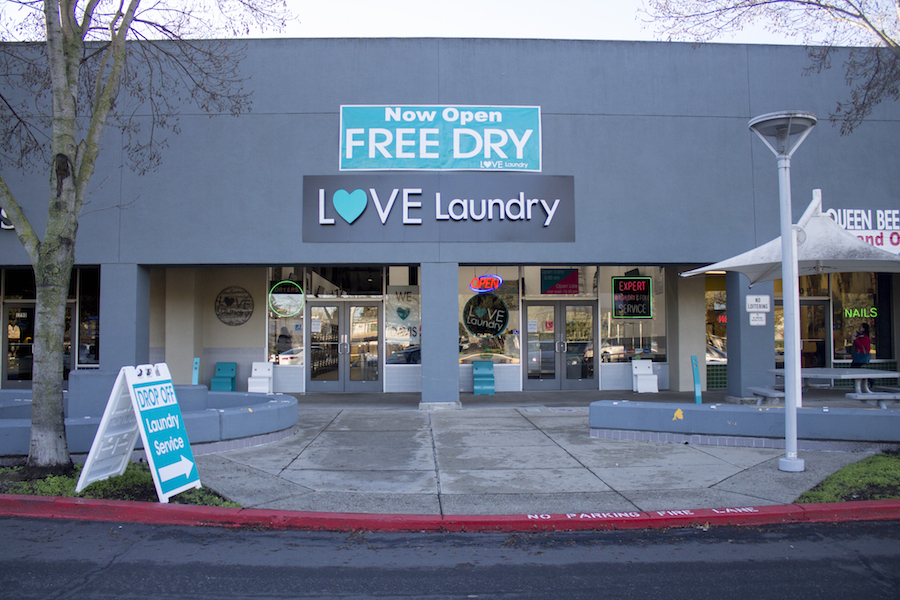 New, modern laundromat spreads love, laundry around Davis
Adding to the ever-growing, enriched Davis community, Love Laundry opened as the second laundromat in town. While The Laundry Lounge on Hanover Dr. remains open, this new laundry facility caters to residents on the east side of town.
Love Laundry is located at 1776 E. 8th St. in the Davis Manor Shopping Center. Open 7 days a week from 5 a.m. to 12 a.m., the laundry facility caters to everyone from busy parents to students with any type of schedule.
"The reason why we are [open from 5 a.m. to midnight] is because of the business out here," said Petra Montano, Love Laundry manager. "You have the college, you have a lot of business people, you want to have the door open so that people can get their laundry done on their time. That's the need."
This family-owned laundromat opened for business on Dec. 30, 2016. In addition to a self-serve laundry service, it offers a drop-off laundry service, in which all soap and other laundry materials are provided. The staff washes, dries and even folds the laundry. Customers can choose next-day pick-up or same-day service for a slightly higher fee.
Owner Chris Washnsiedler saw the need for another laundromat in Davis and chose to open the location, amounting to six Love Laundry locations total. There are two in Southern California and three in Sacramento. Washnsiedler noted that some Davis residents even used to go to the Sacramento locations for laundry services.
"We are excited to be in Davis," Wahnsiedler said in an interview with The Davis Enterprise. "We've been looking in Davis for a while now. Everyone needs to do laundry […] it's resistant to economic issues."
Ailin Goff, a second-year biochemistry and molecular biology student, has been working at Love Laundry for a short time now and is grateful that it accommodates student's class and extracurricular schedules.
"I showed them my schedule […] and they told me they would work with every single day," Goff said. "It's a very happy work environment. Everyone is really friendly."
The washers in the facility range from basic top-loaders to cost efficient front-load washers for bigger loads. The machines range from a capacity of one to eight loads. All of the dryers in the laundromat are free to use. There are 35 washing machines and 34 dryers, leaving an abundance of machines always open to use.
Love Laundry accepts Apple Pay, Google Wallet, credit and debit cards, as well as cash and coins. Flat-screen TV's provide entertainment while doing the monotonous task of laundry, in addition to free Wi-Fi.
Written By: Bianca Antunez  — city@theaggie.org