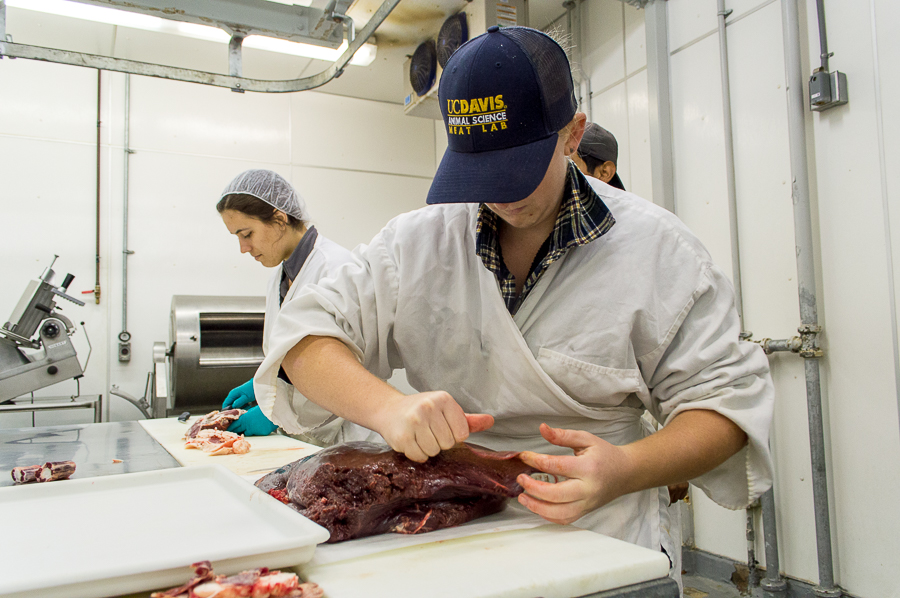 UC Davis staple processes fresh, local product humanely
As a second-generation butcher, Caleb Sehnert's roots in the meat industry were established before he was even born. Sehnert works with and teaches students how to humanely slaughter and process animals for consumption as part of his job as the manager of the UC Davis Meat Lab.
"I really, really like my job," Sehnert said. "It's a really rewarding and fun job. I get to work with our researchers and facility managers when they bring animals in and help collect certain tissues and data, [I] get to teach the whole process of slaughter and processing to our students, and then I get to help our students prepare it all and sell it to our customers."
Serving a multitude of functions, the Meat Lab is equipped with a kill floor, processing and cutting rooms and classrooms where students in classes such as Animal Science 49G — Animal Management Practices learn the entire process of meat production. A part of the Department of Animal Science, the Meat Lab has been processing and selling fresh, local meat to the community since the 1990's and is the only one of its kind in the UC system.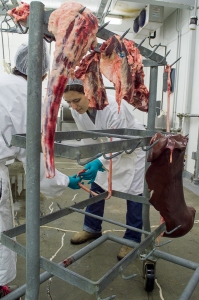 Krista Leili-Marrazzo, a fourth-year animal science student, is a self-described  butcherette who has a close relationship with the handful of other student employees and interns at the Meat Lab.
"We spend a lot of time together because if we're not in class, we're probably at work," Leili-Marrazzo said. "I've learned so much more than I thought I was going to at this job, so that has been really rewarding."
Similarly, Geoff Koch, a fourth-year sustainable agriculture and food systems major who worked at the Meat Lab for about nine months, said his experience at the lab was both enjoyable and extremely rewarding.
"I don't come from a farming background, so it was another way that I [learned] a whole lot about what it takes to get food to our plates," Koch said. "I had a really excellent experience working at the Meat Lab. I made some really good friends and I got to be involved in a lot of events on campus with the Animal Science Department."
The Meat Lab processes a total of 600 to 800 cows, pigs, goats and sheep yearly, all of which are raised at UC Davis. Weekly sales are Thursday and Friday from 1 to 5:30 p.m. in the Cole C Facility.Meat products are also ordered by restaurants from the community, departments on campus, local butcher shops and, occasionally, the dining commons.
"We do sell to campus catering quite often when they do events," Sehnert said. "The G Street WunderBar in Downtown Davis [uses] our bacon, ground beef and pastrami on some of their burgers and sandwiches. We also sell lots of carcasses to other local butchers [because] they know they can get fresh, consistent, good animals here."
In addition to sales, the Meat Lab workers compete with the five other collegiate meat labs in the state at the annual California Association of Meat Processors (CAMP) competition. Leili-Marrazzo, who was awarded the CAMP scholarship, said that each student is allowed to enter a sausage that they have created which follows the CAMP requirements for that year.  Last February, the UC Davis Meat Lab took home top honors and student-specific awards.
"Each year there's a different requirement for the sausage, so last year we had to have a pale ale in it […but] this year it's an Italian sausage," Leili-Marrazzo said. "I know in past years they've had to have an apple ingredient or a weird candy, so this year is not too bad. We'll spend about a month experimenting and perfecting our own sausages."
Last year, Denelle Flake, a second-year managerial economics major, was awarded grand champion for her sausage, "The Bangkok Banger."
"The annual convention provides great networking opportunities with potential employers and fellow college students," Flake said. "It opens your eyes to the many components of the meat industry."
The Meat Lab sales room is covered with plaques, noting the many achievements of past and present students. However, the most important factor for workers at the Meat Lab is that the livestock are cared for and slaughtered as humanely as possible. Sehnert said that most people are not aware that an inspector from the United States Department of Agriculture is present for every slaughter.
"All these animals are very well taken care of at our facilities," Sehnert said. "Our inspectors are always complimenting us on how healthy our animals are, so we're pretty proud of that. Without humane handling, if you're not handling the animals properly, you're going to have a poor product."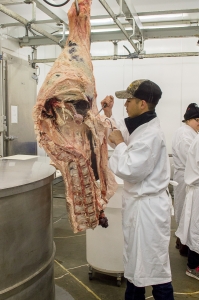 Involvement at the Meat Lab, in classes such as Animal Management Practices, allows students to receive a hands-on interaction with the entire meat production process. Leili-Marrazzo said that she thinks that the opportunity for hands-on learning clears away misconceptions about the meat processing industry.
"I think it's cool for students to see that everything is done very humanely and the animals [are] really taken care of beforehand and even during the slaughter process,"  Leili-Marrazzo said. "I like [for] students to have that realization of, 'Oh, this isn't such a terrible industry and the animals aren't suffering.'"
Student workers at the Meat Lab are often working while Animal Management Practices students use the facilities for class. Koch said that while he worked to process meat, students in classes would observe and absorb practical information.
"We get the opportunity to teach by showing what we know," Koch said. "I got the opportunity to relay the knowledge I had in the short time I was there to some students, but I was also learning myself. You learn by experience."
According to Koch, every Thursday and Friday — when the Meat Lab is open for business — the lines stretch out the door. Sehnert said that there are dedicated customers that come every week, rain or shine. But, for Sehnert, the Meat Lab is not about profit.
"We're not really here to make money or lose money," Sehnert said. "Everything that we sell or produce here is a byproduct of teaching and research."
Leili-Marrazzo doesn't believe many students are aware that the UC Davis Meat Lab exists.
"It's on campus, it's so close and I think more people should know about it," Leili-Marrazzo said. "It's a nice way to get really local and fresh meat and it's very humanely slaughtered and processed and we're really proud of what we do. It's like the hidden gem of Davis."
Written by: Hannah Holzer — features@theaggie.org