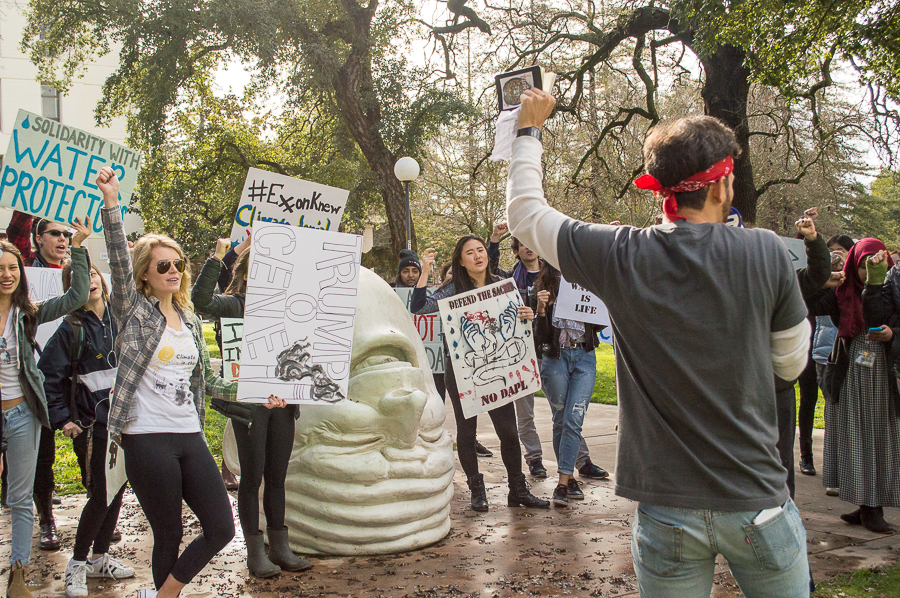 Protesters demand that Trump, UC system support divestment of fossil fuels
Approximately 30 protesters gathered at the Memorial Union flagpole on Monday Jan. 23 and marched through the Quad toward Mrak Hall to protest President Donald Trump's climate denial and the university's investments in fossil fuel.
The protest included chants such as "UC Davis not so cruel, we are still a fossil fuel," "What do we want? Fossil freedom. When do we want it? Now" and "If we don't get it, shut it down."
Sarah Risher, a third-year environmental policy analysis and planning major, stated that the protest was a way for students to demand that the University of California (UC) system stand up to Trump by fully divesting from fossil fuels and reinvesting that money into renewable energy sources. The protesters also demanded that the new chancellor openly and actively support fossil fuel divestment.
"I think it was an important opt-out/teach in because today was a nationwide day of action and protest against Donald Trump's climate denial," Risher said. "In the face of an anti-science administration, we as a institution, world-renowned for our research and public service, have an ethical responsibility to divest."
Many protesters emphasized that the UC should invest in sustainable opportunities to help students.
"Because we're investing in our future by being here, the UC should invest in our future by altering our investment portfolio in a way that invests their money for a liveable future for students […] by ceasing to support companies that continue to pump CO2 in the atmosphere through the use of fossil fuels," said Nina Minaarasteh, a fourth-year communication and environmental policy analysis and planning double major.
Kevin Horng, a fourth-year sustainable environmental design major and evolution, ecology and biodiversity minor, shared the same sentiments.
"We want to make a moral political statement that we do not support fossil fuel because they are not sustainable and the university investing in our education should be investing in our future," Horng said. "Education at the forefront is the future and fossil fuels are a dead end."
Written by: Yvonne Leong — campus@theaggie.org