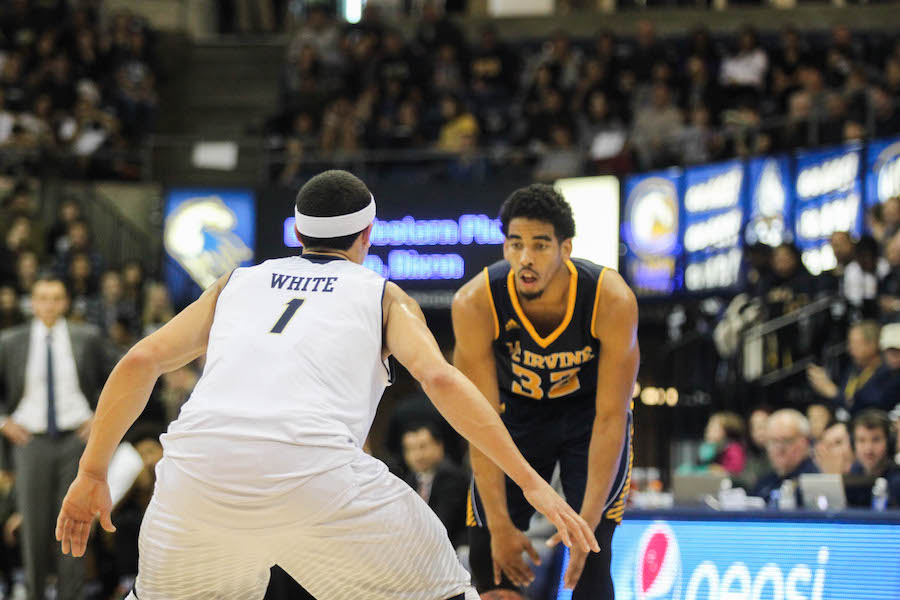 Ags face off against Anteaters on Jan. 28
Even though the UC Irvine Anteaters remain unbeaten in the Big West Conference at 6-0, the UC Davis men's basketball team is well-positioned for a win in the matchup on Saturday, Jan. 28. The Aggies will look to utilize a home-court advantage, having not lost a home game so far this season.
The UC Davis men's basketball team's high point scorers — senior guard Brynton Lemar and junior forward Chima Moneke — both have the skill and the drive to challenge UC Irvine's tendency to score big throughout the game. Moneke's rebound strength should pave the way for plenty of scoring opportunities.
Senior guard Darius Graham has been a leader right alongside Lemar and Moneke. Both Lemar and Moneke have earned Big West Conference Player of the Week honors this season, and all three have been vital in the Aggie's season so far. In the recent 76-70 Hawai'i win, Moneke led the Aggies with a career-high 26 points, recording his fourth 20-and-10 game in the process. Graham had eight points and four rebounds and Lemar helped drive the win home with four assists and 18 points.
The team will need to focus on being aggressive during the first half of the game. As of late, the Aggies have been securing their wins in the third or fourth quarter. Scoring an average of 71.2 points per game as a team this year, the Aggies will need to work hard to compete with UC Irvine's Jaron Martin, Max Hazzard and Ioannis Dimakopoulos, who, in their last game against Cal State Northridge, scored a combined 67 points.
The crowd at the Pavilion can expect a fast-paced, high-energy game. The Aggies' ability to move the ball on the court will create quite the opponent for the Anteaters, who will be coming off of eight straight wins.
Tip-off is scheduled for 5 p.m. on Saturday, Jan. 28.
Written by: Liz Jacobson  — sports@theaggie.org