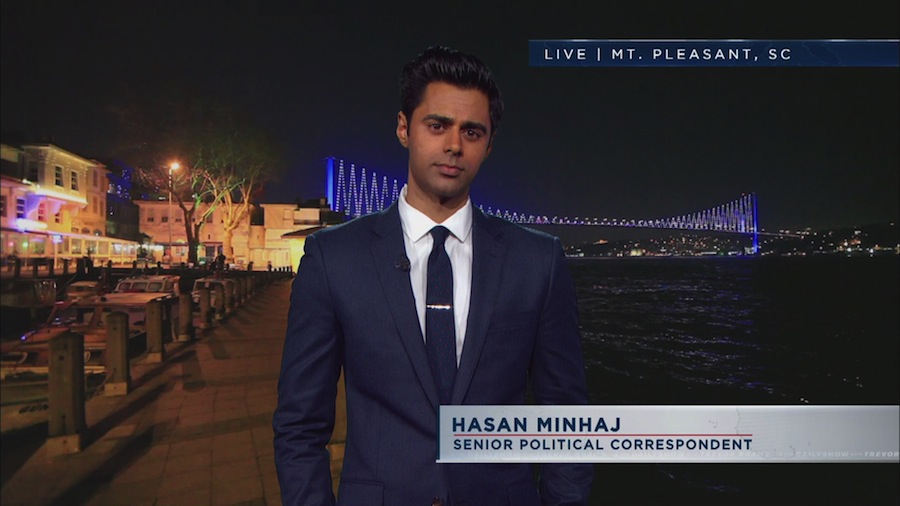 UC Davis alum and comedian Hasan Minhaj to bring his Netflix special, social commentary to campus
One of stand-up comedy's most memorable moments is from Chris Rock's 1996 special Bring the Pain. Rock joked about race relations in America, including a segment that is too inappropriate for print and likely made the white portion of the audience feel uncomfortable. That was the point, though — they were supposed to be uncomfortable.
What made Rock's special so famous was his unapologetic and blunt attack on a serious and prevalent issue. But, because it's hard to feel attacked by a knock-knock joke, therein lies the beauty of comedy as a political platform.
Hasan Minhaj, a UC Davis alumnus and correspondent for The Daily Show, will be performing and filming his Netflix special Homecoming at the Mondavi Center on Jan. 27. Having an alumnus performing is a "major point of pride" for UC Davis, said Jeremy Ganter, the associate executive director and director of programming for the Mondavi Center.
"We were selected to film the special because we're his hometown theater, it's as nice and simple as that," Ganter said. "Hasan is extremely popular, and Netflix has a great track record for producing these comedy specials."
While he is not the first political humorist to perform at the Mondavi Center, Minhaj is expected to bring a new perspective to the array of performers at the Mondavi Center.
"We have presented other political humorists before, and they've always been very well received. UC Davis, Davis and Sacramento are very politically engaged communities," Ganter said. "I think the main differences with Hasan are that he brings a younger perspective, and of course that he can speak about personal connections to our community. As always, our goal is to reflect as many perspectives and experiences as possible through our programming. He has a great story to tell, and that's really what he brings to our campus."
Similar to Rock's famous material, Minhaj's performance will cover his first-generation Indian American experience while growing up in Davis, California, touching on topics of love, racism and bullying. To some students, this material is appropriate given the current political and social climate at Davis.
"It is such a good move on the Mondavi Center [to bring Minhaj]," said Rebeca Nava-McClellan, a member of the Stand-Up Comedy Club and a second-year communications and theater double major. "Everyone is getting such a platform in Davis right now. For example, Milo Yiannopoulos was still allowed to talk; he was part of a protest and addressed the public. He was still given a platform, but we need people to give more productive platforms. Hasan is like our mother who is coming to help us after we were beat up by the bully. We need him. We don't need to be uptight or tense when we see him."
Minhaj is not revolutionary in combining politics and humor, however. According to Karma Waltonen, a senior lecturer in the University Writing Program and the faculty mentor for the UC Davis Stand-Up Comedy Club, the first ancient comedy plays were political and could be used strategically.
"Comedy is a natural tool in politics," Waltonen said. "It can get people to look at things in a new way, it can draw in audiences who don't have the temperament or patience for 'serious' discussions and it can help us blow off steam. If you can get someone to laugh, it means they're listening — they haven't shut down."
"[Comedians are in a place of] privilege because they can say whatever they want as long as they are funny," Nava-McClellan said. However, "most of the time comedians are straight, white males who don't have to apologize for what they say."
Successful political humor, then, comes in the humorist's ability to make fun of him or herself.
"The majority of my material is feminist," Nava-McClellan said. "For me to make a point about feminism, I have to make jokes about me being a feminist and put me down in order for people to relate to me. There are negative stereotypes and poking fun at them makes the audience realize that those negative ideas are not what we are about, they are just stereotypes."
To Nava-McClellan, the work being done by comedians such as Minhaj is especially necessary in this political climate.
"I really appreciate Minhaj, and I really appreciate everyone that works on The Daily Show," Nava-McClellan said. "They are people of color who have such a third-person perspective on America. It is eye-opening because the points they make are so true, and it hurts a little bit but we need to hear it. They say it in a comedy setting which makes it more comforting. You have to be really talented to do social justice comedy. For these people to be so well-liked and so famous definitely makes me feel viewers are finally starting to understand what they are saying since they say it so plainly and logically."
For some people, comedy has been a way to cope with their displeasure.
"Our comedy is changing, our news is changing and our country is changing," Waltonen said. "Each day when I listen to the news, I know I'm faced with a choice. I can weep or I can laugh. So I laugh. And then I'm stronger and more ready for the fight."
Tickets for Minhaj's special are sold out; to be added to the waitlist and for more information, visit the Mondavi Center website.
Written by: Caroline Rutten — arts@theaggie.org