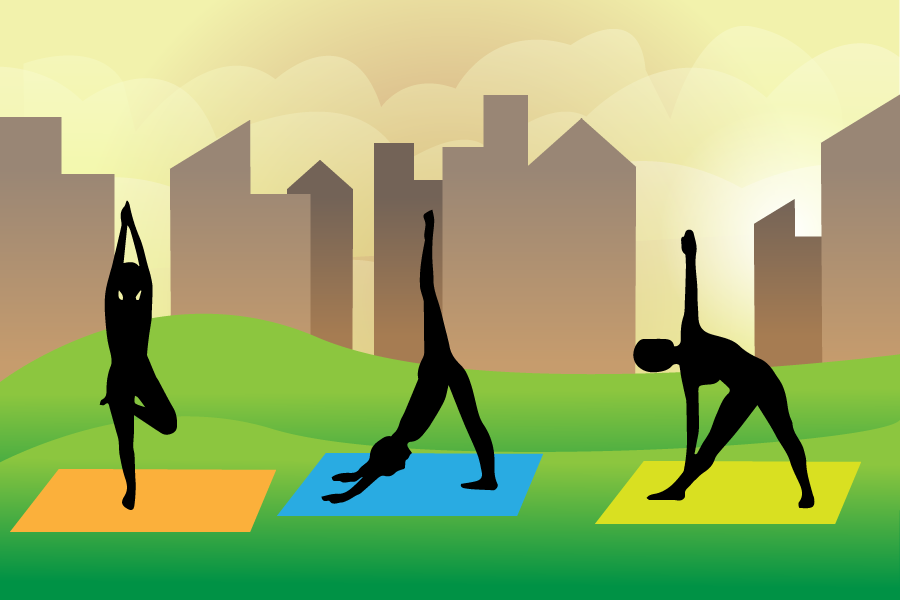 Wellness activities create campus community
In her senior year of high school, fourth-year clinical nutrition major Megan Settles became interested in yoga and went on to complete the 200 hours of training needed to become a yoga instructor. Settles, who now teaches yoga classes at the Activities and Recreation Center (ARC), said the activity has significantly changed her for the better.
"[During] your first sun salutation […] you'll probably feel a little tight and not super relaxed," Settles said. "Once you do a million of them, you're going to feel better. [You will feel] a sense of strength in your body which will [allow] you to feel strength outside of class. Feeling good can bring out […] confidence. It has this domino effect. You feel really powerful and lifted up."
On and off campus, students and faculty are engaging others in wellness activities as a means to self-improve and create communal bonds. One pioneer of these activities is Stacey Brezing, the director for the UC Davis Staff and Faculty Health and Wellbeing Program. Brezing and two student assistants use a small budget and pre-existing resources to organize wellness activities for the campus community.
The upcoming Mindfulness Meditation series, a four week class which aims to foster personal well-being, will be offered at the Mondavi Center starting on Jan. 31.
"Going back to work after meditation, [staff and faculty are] a little more resilient, [and] able to handle more," Brezing said. "It [also] decreases stress levels."
Another event, the four-part Lunchtime Gentle Yoga series, had 50 slots available that sold out in 20 minutes, Brezing said, with another 70 on the waitlist. From this high demand came the inception of the Meditation Ambassadors and Wellness Ambassadors Program. The Meditation Ambassadors Program trains those interested in meditation so that they can provide meditation techniques to their colleagues, whereas a wellness ambassador volunteers mainly to promote general wellness activities.
"Especially with [the] wellness ambassadors, they can do something as simple as passing on the word about what's happening on campus," Brezing said. "It's kind of a grassroots effort to promote stress reduction and wellbeing."
According to Brezing, data from surveys given after the meditation series in the fall showed that 94 percent of those in attendance felt their health had improved, 97 percent felt their wellbeing had improved and 83 percent felt their work performance improved following the series.
Engaging in wellness activities can be experienced as an individual, but oftentimes shapes and creates new bonds with others.
"Wellness activities can definitely be communal," Brezing said. "A lot of groups get together and knit, color, play four square, meditate, bring in group exercise instructors, et cetera. The social aspect of these activities can really help motivate people to make long-term behavior changes. It also increases employee morale."
One drawback in seeking out wellness activities such as yoga classes is the typical cost associated with involvement. Yoga classes at the ARC can range from around $50 to $70. Fueled by their passion for yoga and the desire to bring it to fellow students, fourth-year clinical nutrition major Athena LeMay and fourth-year food science and technology major Ana Skomal co-founded the UC Davis Yoga Club.
"The Yoga Club offers free classes and workshops every week," LeMay said. "We have guest teachers and provide a variety of all sorts of yoga styles. We have worked with sororities […] and the new Manetti Shrem Museum [on their] opening day. The Yoga Club also offers hikes for building community and relationships with fellow yogis."
With almost 300 "yogis," or members, on its Facebook page, the Yoga Club's activities are addressing the student demand. However, Skomal said that the club aims to provide more than just yoga.
"The simple mission of the Yoga Club is to provide a safe community for students to relax, meet new people and practice the art of meditation and yoga for free," Skomal said. "For being a fairly new club, I believe we have engaged many students to start and continue their yoga journey in the midst of the college environment. Each yoga class or workshop is beginner-friendly and all levels are welcome."
In addition to the Yoga Club, Skomal has sought out additional ways to teach others about yoga. In addition to instructing donation-based yoga classes at a studio in Davis, in which all proceeds went to Wind Youth Services for homeless youth, Skomal also taught mindfulness and meditation classes at the Center Against Sexual Harm in Oak Park.
"I made a commitment to continue on my path of yoga outreach," Skomal said. [I want to] create a community within the UC Davis campus where yoga is available to all students who are interested in starting and continuing their yoga journey."
Yoga instructor Maria West teaches a variety of yoga classes, including several at the ARC. West taught yoga at the Juvenile Detention Facility in Woodland and believes yoga can bring personal growth and much-needed reflection.
"The practice of yoga encourages letting go of thoughts that do not serve you," West said. "I remind my students [that] this is where [they] are today […and] nothing is permanent, so tomorrow might be different. Tomorrow, [they] just might be more steady in this pose, or not. We're all trying to do our best. Yoga is also the unfolding experience of humility."
Both Skomal and West share a passion for using yoga expertise as a way to give back to the community.
"Initially, it was not my intention to teach, [but] after I taught my first class, I was hooked,"  West said. "There's something about teaching that feels like a privilege — [a] privilege to serve and give back, to encourage, to break through walls and help someone feel good, not just about their body but about themselves."
Brezing said that after meditation or other engagements in wellness exercises, workers are invigorated. Similarly, Settles said that over the course of the ten-week period she spends teaching yoga to students at the ARC, she sees a definite change for the better.
"If you can find five minutes to lay or sit and meditate […] just with yourself and try and focus on your breath […], I feel like that would have so many benefits on this campus," Settles said. "I think an awesome aspect of [yoga] is community. We're not all like-minded […] but we're all here, together, in that time, practicing the same thing. There's such a powerful, almost magical, experience to just feel so connected to so many people."
Written by: Hannah Holzer— features@theaggie.org