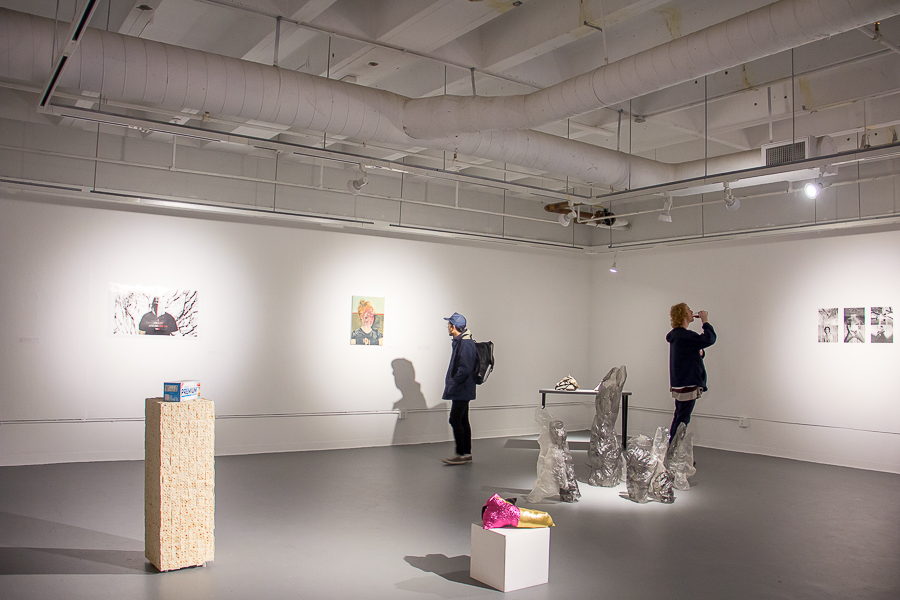 Basement Gallery's newest art exhibit centers around the celebration of American identity
Over the past few months, Americans have experienced a whirlwind of events, from the beginning of the primary elections to the inauguration of President Donald Trump. Trump's rise to the presidency has incited a multitude of thoughts, spanning the political spectrum. This recent exchange of ideas inspired the students of the Basement Gallery to host an art exhibition relevant to this pivotal moment in history.
The Basement Gallery is an undergraduate student-run art gallery on campus that hosts a variety of exhibits throughout the year, featuring the work of students, faculty and local community members. The Gallery is a unique place for people to express their thoughts through visual expression.
"We at the Basement Gallery want to challenge our ideas of who we are as individuals, as a nation and as humans," said Michael Cole, the graduate director of the Basement Gallery, via email. "So, the work is as varied as the ways we define ourselves."
Beginning on Jan. 20 — Inauguration Day — the Gallery will be hosting its newest exhibit, "Who is U.S.?" The show revolves around American identity, whether that be through personal experience or focused on a specific aspect of American society. The show strives to honor and celebrate the diverse identities and experiences among people across the country.
"We have so many viewpoints all over the United States, so it's really great to see these artists' inner thoughts and how they express them," said Kaitlyn Griggs, a fourth-year art studio and communication double major and lead director of the Basement Gallery.
Previously, the Gallery has hosted events similar to "Who is U.S.?" on the day after the election, as well as the night of. It held a poetry reading, partnering with graduate writing group Fig and Axel, to supply an outlet for people to voice their opinions.
"Since then, people in Davis have had time to process the events of Election Day and create art in reaction to that," said Helena Zittel, a third-year English and art history double major and director of PR & Marketing for the Basement Gallery.
The Gallery expects to feature approximately 10 artists in the exhibit, and its staff is excited to showcase the submitted works. The art will be a combination of 2-D representational pieces, 3-D forms and some video and mixed media works.
"Some pieces are self-reflections, while others are more politically centered, but that's definitely not the whole point of the show," Griggs said. "Not every single artist was leaning toward a political notion when they submitted their work. The art will definitely give you something to think about after."
"Who is U.S.?" opens Jan. 20 and runs until Jan. 31 in Room 60 of the Art Building.
Written by: Sydney Odman — arts@theaggie.org