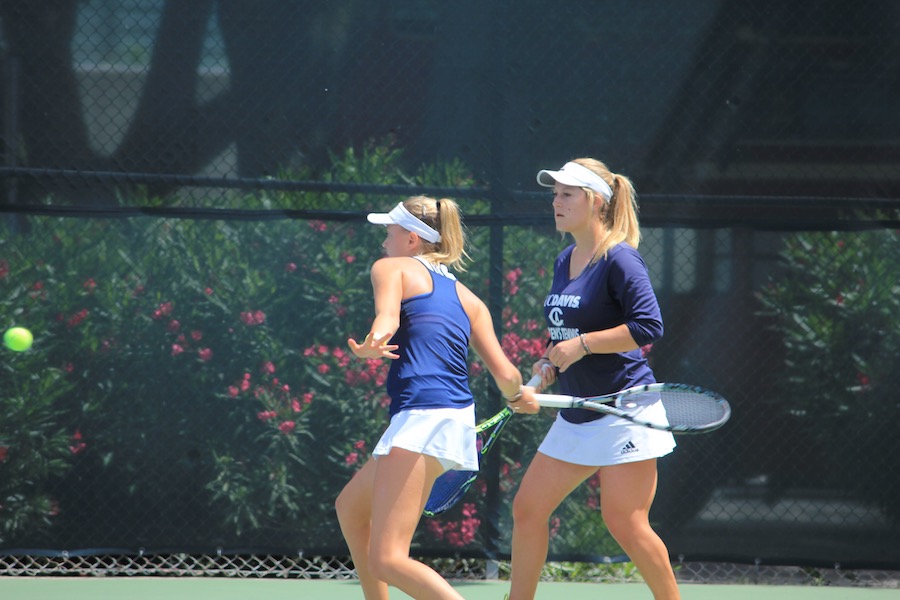 Aggies to host San Francisco State in home opener
After almost three months on hiatus, the UC Davis women's tennis team traveled to Arizona last weekend to open its season against the Northern Arizona Lumberjacks and the Arizona State Sun Devils, where the team won 4-3 and lost 7-0, respectively. However, this weekend, UC Davis is focusing on getting its revenge at the Causeway Classic showdown held in Sacramento before the Aggies' home opener on Sunday, Jan. 29 against San Francisco State.
Last year, the Sacramento State Hornets edged out the Aggies in a close 4-3 matchup, in which now-junior Lani-Rae Green and alumni partner Jessie Lee led the doubles teams. Sophomore Isabella Von Ebbe also had an undefeated singles record of 5-0 after the Causeway Classic matchup.
The Ags have a packed, exciting schedule for the rest of their spring season, including matches against Santa Clara, Air Force and the Big West Conference opener in Hawai'i. Since  fall, the Aggies' head coach Bill Maze announced the hiring of Raquel Atawo, a doubles specialist and internationally-ranked professional tennis player, as volunteer assistant coach.
UC Davis found its rhythm in the fall season with its doubles teams, most notably with the duo of freshman Kristina Breisacher and Von Ebbe. Breisacher and Von Ebbe's success on the court led the Aggies early in the fall season. With the addition of Atawo as volunteer assistant coach, fans should expect an even stronger performance from the Ags' doubles for the rest of the season.
In singles matchups, some performances to watch include the team's veterans, senior Kamila Kecki and Green, who both posted big wins during the fall season. Kecki and Green competed together in the finals doubles consolation round and were the only Aggies to advance to the final singles consolation rounds at the ITA Northwest Regional Championships at Stanford to end the fall season.
Von Ebbe has impressed with her wins from both last season and the fall season matches at the Battle of the Bay tournament. Breisacher, one of the newest members of the squad, has also proven that she has the potential to improve her singles game with her upset win at the Cal Nike Fall Invitational back in October.
UC Davis has several tough matches ahead, but, with this season's team, expectations are high. The Aggies will face Sacramento State this Saturday before hosting San Francisco State to open their season at home at the Marya Welch Tennis Center at 12 p.m.
Written by: Nicolette Sarmiento  — sports@theaggie.org