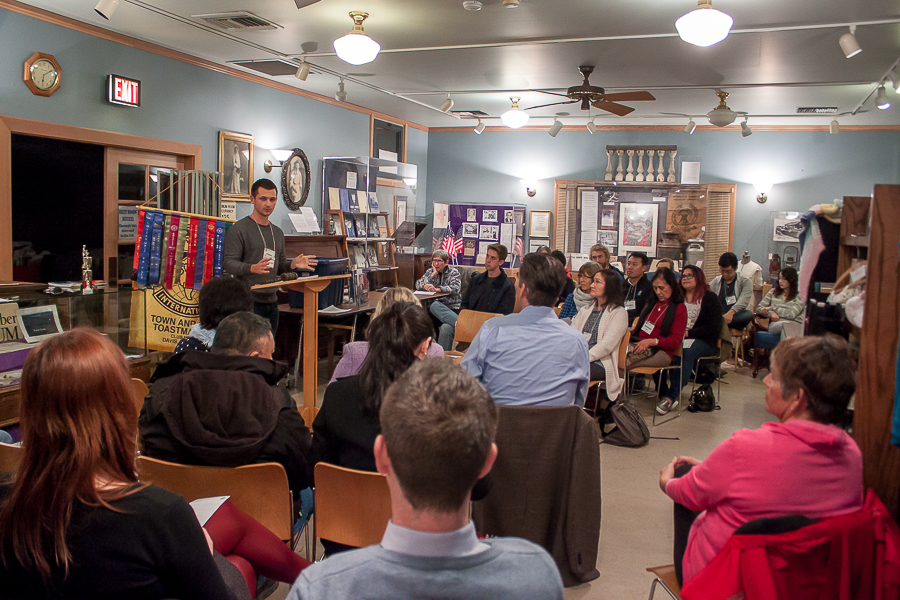 Local groups meet every week to provide practice, support for those looking to build communication skills
Public speaking is a valuable skillset that can have a profound impact on personal lives and professional careers. For many, however, it is a fear and anxiety-inducing endeavor. In a recent survey conducted by the National Institute for Mental Health, it was revealed that 74 percent of respondents reported feelings of anxiety in regard to public speaking.
For people looking to conquer their fear of public speaking, there is a nonprofit educational resource that can help. Toastmasters International, founded in 1924, is an international organization that aims to help its members improve their communication, public speaking and leadership skills.
"Toastmasters International is a really large international organization with thousands of clubs, that exists to help people conquer their fear of public speaking and […] practice speaking and leadership skills […] Every meeting is kind of a practice business meeting," said Holly Wong, current president of the Davis Daytime Toastmasters.
There are two Toastmasters clubs in the City of Davis. The Davis Town and Gown Toastmasters meet every Tuesday evening at 6 p.m., and the Davis Daytime Toastmasters meet every other Wednesday at 12 p.m.
Wong first joined the Daytime Toastmasters to sharpen her public speaking and communication skills as she prepared for a career change.
"When I moved to Davis about a year ago, I decided that I wanted to go into consulting for myself, and realized that that would involve a lot more public speaking and being able to clearly communicate with potential clients," Wong said. "I got involved with Toastmasters right when I moved to Davis so that I could be practicing those skills."
Both Toastmaster clubs feature many roles for their members, including president, secretary, toastmaster, humorist, grammarian, timer, table topics master and general evaluator. Members switch roles every few months so that everyone is exposed to different leadership positions.
Michael Bobell, longtime member and secretary of the Davis Daytime Toastmasters, likes the club because it provides a supportive environment for its members.
"What I like about it is there's plenty of opportunity, especially because this is a smaller club, to speak," Bobell said. "It's a very kind audience: they're very forgiving; they care about you; they give you support, and it gives you a chance to go in front and move beyond your comfort zone."
With practice, public speaking can become an enjoyable experience. Anna Pischer, a third-year chemical engineering major, said she thoroughly enjoys public speaking.
"I love public speaking," Pischer said. "The last time I did it was when I spoke at my high school graduation […] Lots of people are scared of it, but I really enjoy it."
Information about Toastmasters International can be found on its website.
Written by: Raul Castellanos Jr. — city@theaggie.org