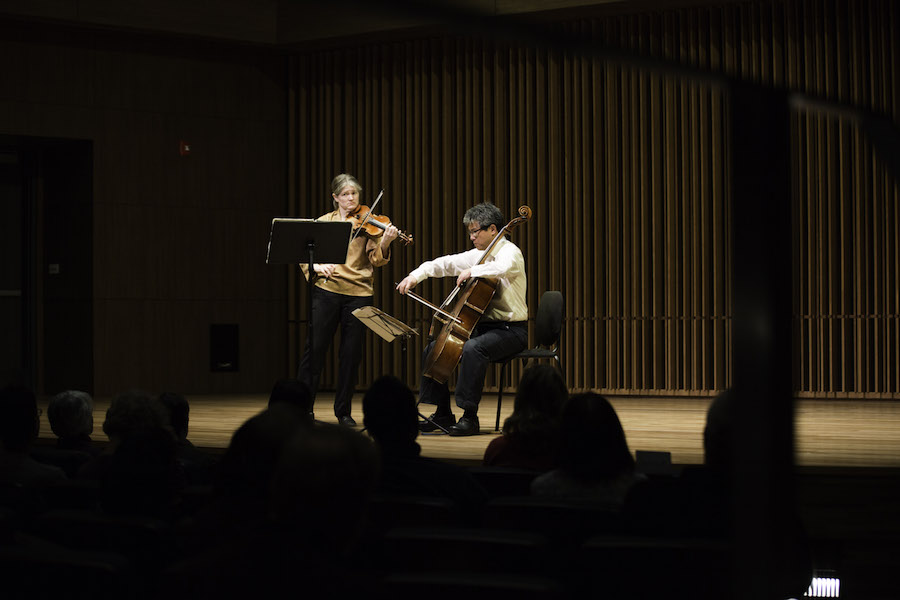 UC Davis Department of Music hosts free noon concerts on Thursdays
For those seeking some classical music to liven up their Thursday afternoons, they need not look further than the Shinkoskey Noon Concert series, hosted by the UC Davis Department of Music. The concerts, which are held at the Ann E. Pitzer Center each Thursday at noon, present various musicians and musical styles. Ranging from solo performances to ensemble performances, baroque music to electronic music, and featuring a range of student musicians and nationally-renowned professionals, the program embodies diversity.
"I was excited to attend this concert as this is my first time attending a chamber music performance," said Teresa Won, a second-year computer science major. "[…]I never really think of the violin as a solo instrument before attending this concert, now I'm amazed with what it can do!"
Vincent Kaur, a third-year music major, appreciates the variety of music presented in this program.
"As a music major, I learn about abstract musical concepts in class, and it's an educational experience when attending concerts just to see these concepts are put into practice," Kaur said.
Perhaps the best part of these concerts? They're free, making high-quality live music accessible to all in the Davis community.
"I was thrilled to hear the collaboration between the violin and electronic music," said Jin Hu, a second-year managerial economics major, after attending her first noon concert at Pitzer Center. "I was not expecting such modernized sounds from the violin."
Read below for a list of concerts that will be performed during this winter quarter. All concerts are held on Thursdays from 12:05 to 1 p.m.
Feb. 2 — Debussy Curiosities.
Debussy: En blanc et noir by Michael Seth Orland and Marilyn Swan, piano; Arthur Hartmann: Three Debussy Transcriptions by Dan Flanagan, violin, with Michael Seth Orland, piano; Debussy: La plus que lente, conducted by D. Kern Holoman.
Feb. 9  — Michael Sand, Baroque Violin, with Phebe Craig, Harpsichord.
J.S. Bach: Partita for Solo Violin in D Minor, BWV 1004, and J.S. Bach: Violin Sonata in G Major, BWV 1021.
Feb. 16 — Music of Antonin Dvorak.
Selections from Bagatelles, op. 47; Slavonic Dances for Piano 4-Hands, op. 46, no. 8; Piano Quintet in A Major, op. 81, with Chase Spruill and Roger Xia, violin; Robert Levine, viola; Susan Lamb Cook, cello;  Andrei Baumann, piano.
Feb. 3 — Daniel Stepner, Violin.
Selections from the Mixed Doubles recital program on Friday evening by violinist Daniel Stepner.
March 2 — Gamelan "Ledbo Budoyo"
This concert presents music from the Central Javanese repertoire called karawitan, performed by Phil Acimovic, a UC Davis composition student and an active performer of Javanese Karawitan.
March 3 (Extra Friday Concert) — Electronic Music at Davis, by Bob Ostertag and Philip Acimovic.
Those interested in more information about Shinkoskey Noon Concerts may visit the UC Davis Department of Music's website.
Written by: Betty Wu — arts@theaggie.org