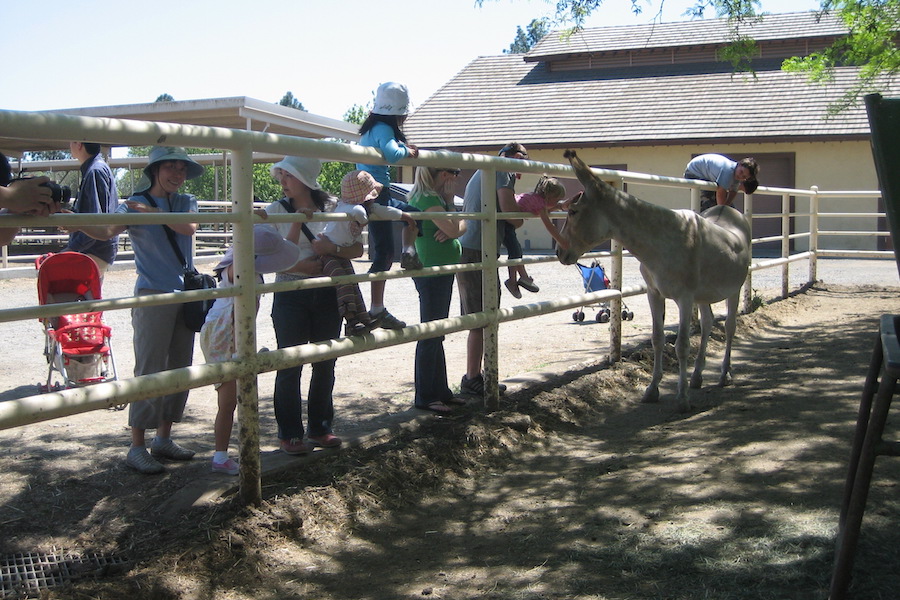 Action Jackson known for quality breeding, extroverted personality
The UC Davis Horse Barn at the Cole Facility recently lost its famous breeding donkey named Action Jackson, who died on Jan. 6 at the age of 29 due to serious and chronic laminitis.
In recent years, he developed a sway back and his teeth began to fail him. He suffered from degenerative suspensory ligament desmitis (DSLD), a systemic disease of the connective tissue, according to his veterinarian. Arthritis stiffened several of his joints, and his feet were in pain. Toward the end of his life, Action Jackson lived on pelleted feed so that he could maintain his body condition in spite of his inability to eat hay.
Action Jackson, a light-colored Spanish mammoth donkey, was born in 1987. He came to live at UC Davis in September 1996, when Pat Downing of Tucson donated him to stand as stud in the Department of Animal Science's breeding herd. During his 20 years of service to UC Davis, Action Jackson bred 500 mares and jennies and produced a new generation of California-bred mules and donkeys who compete in sports or pack supplies. According to Dan Sehnert, the facilities coordinator for the Department of Animal Science, Action Jackson got his name because he saw a lot of "action."
Action Jackson's first UC Davis offspring was born in 1997 and was the first mule born on campus in 60 years.
Action Jackson quickly attracted many who visitors who enjoyed his outgoing personality and his enthusiastic braying. He became such an icon that, in 2004, a bronze sculpture was created in his honor named "The Jack," which was donated to be sold for the raising of funds to improve the department's equine facilities.
Sehnert was well-acquainted with Action Jackson and said that he loved the attention, especially from children, as well as anything sweet.
"He had such a great and loving personality," Sehnert said. "He really loved children. He also loved anything sweet. Donuts, Starbursts and peppermints were his favorites."
Sehnert's favorite memory of Action Jackson was seeing him interact with all of the visitors on Picnic Day.
Action Jackson also became well-known outside of UC Davis. At Mule Days, held every Memorial Day in Bishop, Calif., also known as the "Mule Capitol of the World," Action Jackson was known for bringing quality mule breeding to the West Coast and distinction to the UC Davis breeding program.
Amy Mclean, the equine operations supervisor for the Department of Animal Science, said that Action Jackson's death was a shock to staff and students.
"Action was a kind, warm spirit; I loved driving in every day and seeing him," Mclean said in a statement for UC Davis News.
Nearing the end of his life, Action Jackson's health care and maintenance was provided by Sharon Spier, DVM, Ph.D., professor of Medicine and Epidemiology at the veterinary school.
"He was loved and fondly caressed and fed horse treats until the end," Spier said.
He was euthanized at his owner's request, for humane reasons.
Action Jackson's most recent offspring, two foals born last spring, will be offered in this year's June production sale, and his final offspring is expected this year. The department's student equine production team also hopes to breed several mares and female donkeys using frozen semen from Action Jackson.
Written by: Demi Caceres — campus@theaggie.org