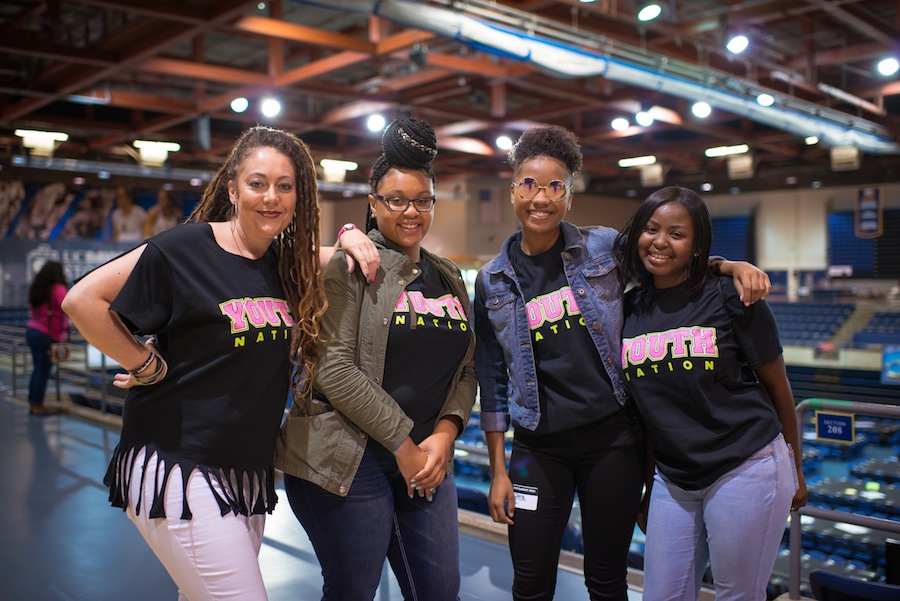 SAYS promotes social justice and empowerment of youth
"If you've got something to say — say something!" is the mantra of Sacramento Area Youth Speaks (SAYS), a literacy program that supports the improvement of schools, teachers and students through spoken word and social justice curriculum. Dr. Vajra Watson, who started SAYS nine years ago, has her students participate in this call-and-response before each spoken word performance. She started the program after completing her doctorate in education at Harvard University, and she wanted to apply her dissertation to the Davis and Sacramento area, where there is a need for students to improve their literacy and writing skills.
"Young people have been at the forefront of every transformative, revolutionary and radical work in the world," Watson said. "There's something unique as young people look at our society and determine the type of world they want to go create, and I think that's where agency comes in, that's where voice comes in, and that's where empowerment comes in. So a lot of work is not seeing young people as the leaders they're becoming but as the leaders they already are."
SAYS includes a variety of different programs and events, including classroom residencies. Through the residency program, poet-mentor-educators go into middle and high schools, often ones they graduated from, and teach lessons to the students for one hour each week. Other programs SAYS includes are assemblies, after-school workshops and poetry slam competitions.
"The young people and classroom teachers, every single year they say that [SAYS] gives them life, and it makes literacy alive in their lives, and if it wasn't relevant to them, we wouldn't do this work," Watson said.
Denisha Coco Blossom, the operations manager for SAYS and a third-year African-American studies and communication double major, got involved with the program after SAYS visited the school she worked at. She has now been involved with SAYS for six years, and the program encouraged her to apply and attend UC Davis. She said that the work isn't only rewarding for the students, but also for herself.
"The best part about spoken word is that it's healing," Blossom said. "I see my students being involved with their story and I see them being able to release with their stories, so spoken word is healing."
Patrice Hill, the program coordinator for SAYS, finds that spoken word offers a unique experience that many other art forms don't allow.
"I think spoken word is maybe derivative of hip-hop or actually supersedes hip-hop because in spoken word there's no beat — just a poet and the words," Hill said. "So it allows for the human connection that is not communicated thoroughly through other art forms because there's no music. There's no beat and there's no instruments to get in the way — there's just human voice and a story and a passion for it to be told."
Hill was originally a performer herself and was the grand slam champion of Sacramento from 2003 to 2004. Now, as an educator in the program, Hill sees the positive impact spoken word can have on the youth.
"I kept coming back simply because this is transformational for the young people," Hill said. "I wasn't introduced to poetry or spoken word until college, and if I would have had this opportunity to be introduced to the power of my voice in middle or high school, what could that have done for me and my journey?"
In light of recent events, the work of SAYS has become even more relevant and poignant, its staffers said.
"I believe [SAYS is] something very pivotal to this country at this time," Blossom said. "Especially in a time where we are going to be silenced, we're probably going to be voiceless. People are not going to care about the youth and giving [them] the actual opportunity to share their voice and to share their challenges and share their opinions. Because I believe the youth are the truth and children will change the future."
Each year, 1,000 middle and high school students from across the region come to UC Davis to participate in the annual SAYS summit. The students are introduced to spoken word and can perform their pieces at the end of the event. For many of the students, it is their first experience with spoken word.
"Spoken word performance poetry has so much to do with authentic voice and experience," Watson said. "We say that you don't just have a story, we are our stories. So if we are the living embodiment of our stories, what does it mean to first name them, write them, but also share them in this collective process of becoming more human and finding out who each other truly are?"
In addition to teaching the students about poetry, SAYS interweaves common core curriculum with social justice, covering topics like the school-to-prison pipeline and the prison-industrial complex in their class residencies. At the end, students share the poems they created.
"Sometimes they share a word, sometimes they share a sentence, sometimes they end up sharing pieces and pieces, and they're part of our slam team," Watson said. "But our goal is to turn that pen into a weapon of self-expression. And the microphone? It can come and it can not come — not every kid is going to end up on the final stage."
In order to help the students find inspiration to write, the poet mentor educators pose questions to their classes.
"In the end young people create these poems with even writing a poem," Hill said. "They're just writing about their lives and their experiences."
The SAYS Youth Slam Finals will be held on Feb. 5 and Feb. 17 in Sacramento. These events will whittle the contestants down to the final six, who will go on to perform at the Crocker Art Museum in Sacramento on Feb. 25. The event is open to the public and the tickets are $5.
Those interested in more information on SAYS may visit its Facebook page, website and Instagram. SAYS is located at 3725 Marysville Blvd. in Sacramento.
Written by: Abigail Wang — arts@theaggie.org