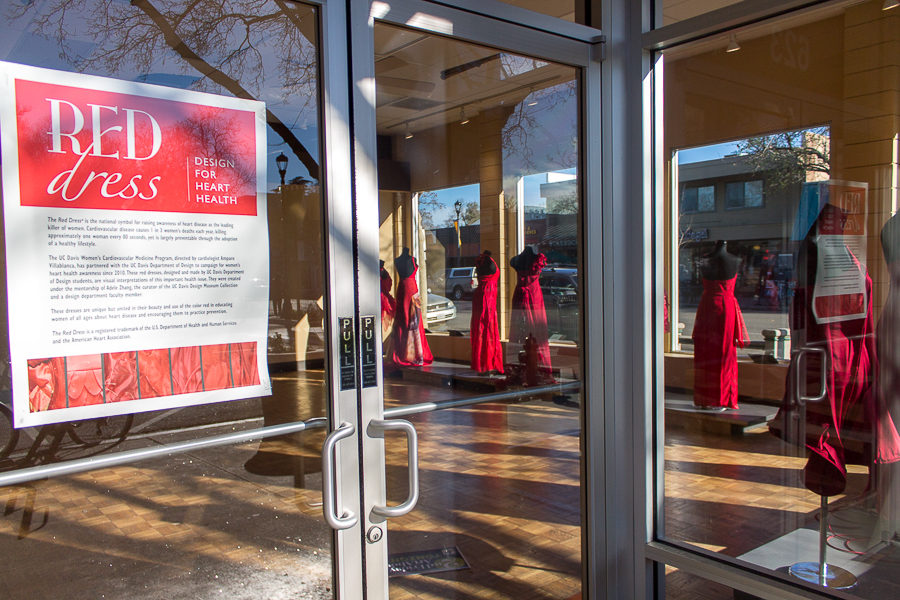 The Red Dress Campaign addresses national health issue through design, collaboration
Strolling down 2nd Street in downtown Davis, large storefront windows catch the glances of passersby — not for trinkets or gadgets for sale, but for the stark pop of red dresses.
Upon a closer look, the red dresses do not appear to be average prom gowns. Each one is uniquely different, and some even evoke images and feelings of organs in the body. The way the fabric sits, folds and falls over itself on the mannequins resembles the anatomy of the human heart.
"The red dresses are an educational exhibit," said Dr. Amparo Villablanca, a UC Davis faculty member and a cardiologist at the UC Davis Medical Center. "[The point is] to raise awareness that heart disease as the leading killer of women in America, so we want all women to know that they are not immune, it is not just a man's disease."
Designated as the national symbol of heart disease by the National Institute of Health and the American Heart Association, The Red Dress Collection is the result of a collaboration launched in 2010 between Villablanca and Adele Zhang of the UC Davis Department of Design and is showcased on an annual basis in downtown Davis. Together with Heather Caswell, the owner of The Wardrobe store in downtown Davis and member of the Women's Heart Health community council, Villablanca and Zhang were able to secure adequate space for the display of the collection downtown. Every year, a new batch of Red Dresses are unveiled at Villablanca's Women's Heart Care Forum in Sacramento in order to raise awareness about the issue. Zhang, who is the curator of the UC Davis Design Museum as well as an instructor in fashion textile and design, wove this 2016 collection into part of her teaching materials.
"I learned a lot of things when I started to work on this project," Zhang said. "This will be the eighth collection, and this is a very educational opportunity for everybody. Students need to learn what heart disease [is] and what the red dress [means]."
The students of Zhang's advanced fashion design class have the option to design a personal statement or a dress for this campaign. They are required to have a deep understanding of heart disease in order to adequately convey that the Red Dress Collection is not just a creative design project, but also a national health issue and a social campaign.
"My inspiration came from [a] kaleidoscope," said Rong Ben, a fourth-year design major and designer of one of the dresses in the 2016 Collection, in an email interview. "You never know what image [or] pattern you will see in there until you look closely into the kaleidoscope and turn it around. Same as heart disease, we all need to take the health issue seriously, look through it, care about it. In this way, we can find out the disease earlier and be able to cure it on time. My goal is to inform people that we all need to pay attention to heart disease and health issues. [We need to] discover it early and cure it early."
Ben's design is composed of a detachable outer layer and an inner dress. Once detached, the outer layer can be turned around in order for people to see the red mesh fabric underneath. Ben said that the pattern of the mesh is meant to mimic the pattern of arteries for visual experience and aesthetic appreciation of human hearts.
Heart disease in women has only been on the radar in America for roughly the last 25 years, with increasing focus in the last 10 to 15, according to Villablanca. Villablanca leads the Women's Cardiovascular Medicine Program, which she began in 1994 and was, at the time, the only program in the nation dedicated to women's heart health. Part of the reason heart disease was such an unknown issue for women was because scientists have mostly studied the male model of the disease.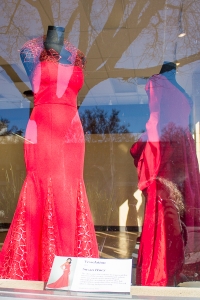 "We didn't study women [before 25 years ago] the way we do now and women still don't participate in clinical research at the rates we want them to," Villablanca said. "Devices weren't tested on women, drugs weren't necessarily looked at for side-effects for both sexes, research was not required to include women. But now, there's a requirement by the national institute of health, [which has] been extended to animals systems too in order to study [both] males and females. We're gaining much more knowledge and information."
The question as to why death rates from heart disease are higher for women than for men is a challenging one. There are various factors that come into play when evaluating the gap between these rates including lack of awareness, anatomic differences, physiologic differences, the fact that women's blood vessels are smaller and different responses to treatment.
"Lots of people think that it's all genetics, whereas genetics is a relatively small part," Villablanca said. "Recent research has shown that even if you have genetic factors and predisposition, if you have a heart-healthy lifestyle you can cut that risk as much as 40 percent."
The message of the Red Dress Collection is not simply to point out that heart disease is the leading killer of women in the country, but that it's largely preventable. While 80 to 90 percent of heart disease is thought to be preventable through heart-healthy lifestyles, diet and physical activity, it affects everyone no matter what age.
Since the start  of the national campaign, death rates for both men and women have decreased significantly due to raised awareness and better prevention as well as advances in treatment. February is designated as the National Heart Month, and, for the past few years, UC Davis and the community have participated in the National Wear Red Day, which falls every year on the first Friday in February. Zhang and Villablanca hope that wearing red will become a powerful and recognized symbol no matter what time of the year it is.
"Every February […] people bring this subject up and are passionate about [it], but I wish it could be a year-round atmosphere for everybody," Zhang said. "I think it takes time for people to pay attention, and not [just] during that specific month. It is a yearlong or lifelong campaign for our heart health, and that is something I wish […] can be achieved."
On Friday, Feb. 3, the campaign will unveil a new collection of Red Dresses designed by the students in Zhang's current advanced fashion class. These dresses will raise awareness for heart disease in the local community, and offer students the chance to become ambassadors of heart care.
"I really enjoyed doing this project because it made me feel the close tie between fashion and other concepts in the society," Ben said. "Many people may think fashion is for beauty, trend and the fancy stuff, but I strongly believe in the magic power of fashion to discover problems and solve them. I feel honored to be able to participate in this red dress project, have the chance to raise people's awareness on heart disease, and help to solve social issues."
Written by Marlys Jeane — features@theaggie.org