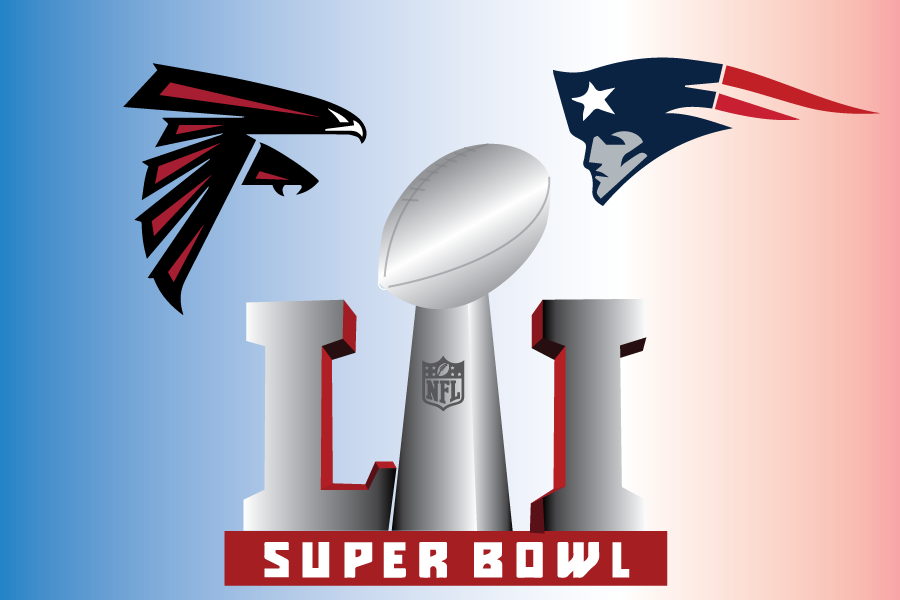 Aren't you tired of hearing about this headline again? Yeah, me too. It's exhausting. It feels as if, year after year, we hear the same old narrative at the end of January through the beginning of February. Brady and Belichick. Brady and Belichick. Brady and Belichick. Next week, the New England Patriots are headed to Houston for Super Bowl LI to face off against Matt Ryan and the Atlanta Falcons for their ninth Super Bowl appearance, a league record.
In the world of sports, a committee of elders would say it is always wisest to make the safest bet. In taking the opposite stance as Aggie reporter George McConnell, I believe I have taken the right steps to hedge myself this coming Sunday. When McConnell predicted a 36-7 thrashing of the Broncos at the hands of Cam Newton and the Carolina Panthers just a year ago, I immediately knew they were impending victims of the infamous "McConnell Curse." After the Broncos defeated the Panthers by a score of 24-10, McConnell took a temporary leave of absence after request to have his article rescinded was denied by our sports editor. Okay, fine, that's not true at all, but in a world in which "alternative facts" can be construed as reality, I like to think that's what happened. This time around, McConnell is going with that high-octane Atlanta Falcons' offense to emerge victorious on Super Bowl Sunday, so naturally, I must go with the Patriots.
Don't get me wrong: Atlanta had a tremendous season thus far, but when you put these two franchises side-by-side, there's simply no comparison. The Falcons have only ever been to one other Super Bowl, back in 1999, when they lost to John Elway and the Denver Broncos by a score of 34-19. Before this postseason, their last meaningful game came against Colin Kaepernick and the San Francisco 49ers back in 2013, when they predictably coughed up a 24-14 lead at the half to ultimately fall to the Niners. They've long had a reputation as being an unthreatening playoff team, and congrats to them for shedding that label, but surely, that is as far as they'll go.  
The Falcons' combined 80 points against the surging Green Bay Packers and the Seattle Seahawks in the first two rounds demonstrates how prolific their offense is, but they're the Falcons! Atlanta just isn't a city that has a winning sports culture, as each of its current franchises have been seemingly stuck in perpetual mediocrity. I hate to place too much emphasis on the history and culture surrounding a team over what it has done in a given season, but that is the way this needs to be approached. It's the same reason why the Los Angeles Clippers get bounced every year in the second round of the NBA playoffs. It's the same reason why that elusive championship ring will continue to evade Carmelo Anthony. It's the same reason why my spring quarter IM softball team will miss out on the playoffs for a fourth and final consecutive year. Some guys just don't have the it factor.
Super Bowl LI is not about the Patriots vs. Falcons. It's about Tom Brady vs. Roger Goodell. It's about revenge for "Deflategate," the elongated, annoying, petty scandal about Brady supposedly deflating footballs in the 2015 AFC championship game against the Indianapolis Colts. The scandal resulted in a four-game suspension for the Patriots quarterback that was imposed at the beginning of this current season, and many thought this would give the Pats a big enough disadvantage that someone else could hopefully lead the pack and emerge out of the AFC. Brady said to hell with that, and he came back with a vengeance. In 12 games, he went 11-1. He accumulated 3,554 yards with a 67.4 completion percentage. He threw 28 touchdowns and an infinitesimal two interceptions, all in his age 39 season. I think he may have found the fountain of youth.
Roger Goodell, the wildly unpopular commissioner of the NFL, has been avoiding New England like the plague since the incident. He chose not to attend Gillette Stadium at all during the regular season. He avoided going to New England in its divisional round game against the Houston Texans. He decided on going to the NFC championship game between Atlanta and the Green Bay Packers as opposed to New England again during the conference championship round. He really, really, really didn't want to face the music. Can you blame him? Folks from the New England area can be intimidating. Have you seen The Departed? Maybe The Town? You'd have to have seen Good Will Hunting, at least. How do you like them apples, Roger?
It's going to be a sublime feeling on Feb. 5, when Roger Goodell is forced to hand over the sacred Lombardi Trophy to Tom Brady for the fifth time, cementing Brady's legacy as the greatest quarterback in the history of the NFL. As a New York Giants fan, I'm no Tom Brady apologist, but Goodell atrociously mishandled the "Deflategate" scandal and turned it into a grotesque and unnecessary witch-hunt. I sit back now and envision how awkward and glorious it will be when those two share the same stage. The crowds will relentlessly boo Goodell, and Brady will probably try to diffuse that tension being the professional that he is. Regardless, it's going to be hilarious. What goes around comes around, and I'm telling you right now, the Falcons will not get in the way of that.
Prediction: New England Patriots 35, Atlanta Falcons 24
Written by: Michael Wexler — sports@theaggie.org