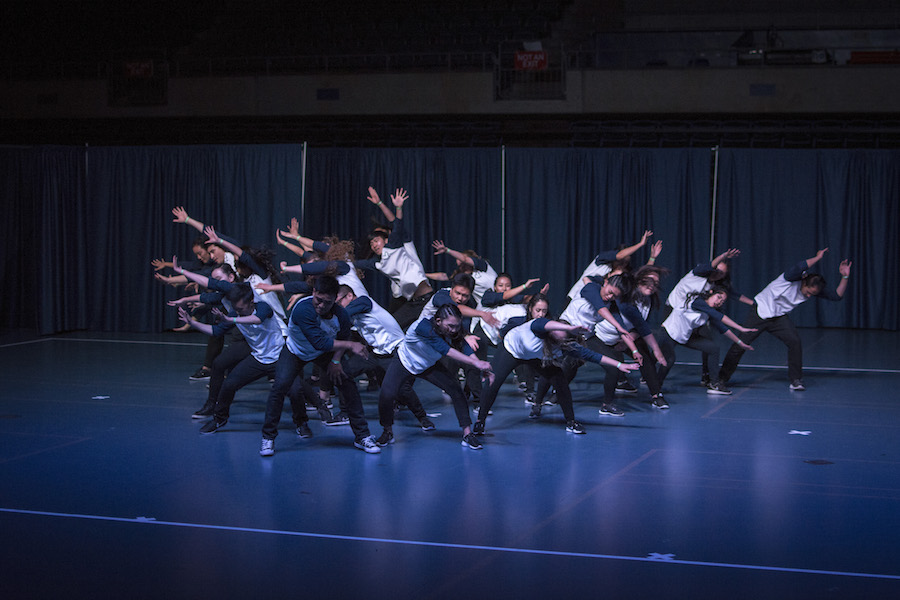 UC Davis' dance groups start preparing for annual Davis Dance Revolution
In preparation for the annual Davis Dance Revolution in April, campus dance groups are working hard to create fresh routines to perform for their audience and competing teams.
Amy Lin, one of the directors of MK Modern and a third-year human development major, believes that dance is a great unifier.
"MK Modern is a dance group that primarily focuses on hip-hop dance and urban choreo and we basically strive to be a dance team that tries to bring Davis and the community in general a vision of what is fresh in the dance community and what new styles are being offered every year," Lin said. "We strive for our team to be a place where people can come together to grow and dance and get to know people because we have this one common passion which is dance."
MK Modern focuses heavily on the teamwork aspect of dance and uses this approach to share ideas and create completely new routines. Ashley Jones, another director of MK Modern and a fourth-year human development major, said that MK Modern encourages individuals to share their talents and combines these talents to make a larger, unified piece.
"In preparing for the competition as a team we share our own choreography with each other," Jone said. "Our entire set is choreographed by members of our team so it's a product of solely our team members and something we work hard together with. Team members teaching team members choreography. It's purely from us."
However, these dance groups face several obstacles during preparation. Since many of the members often join without any prior experience in dance, returning members need to teach them how to dance from scratch.
Allie Young, one of the directors of MK Modern and a third-year clinical nutrition major, said that diversity is both a strengthening component but also an occasional obstacle for the group.
"Our team is very diverse with a lot of different dance backgrounds, so a challenge would definitely be trying to utilize our strengths and weakness to their optimal potentials," Young said.
Sometimes, dance is not the only thing bringing these groups together. One such example is the dance group SoNE1, the first and only Korean pop dance group at Davis. Chelsea Chan, the executive director of SoNE1 and a fourth-year landscape architecture major, said that the music is actually what brings SoNE1 together.
"We united because we like the music genre," Chan said. "Everyone is a K-pop fan first and foremost when they join SoNE1. That's also a challenge because a lot the people that join aren't advanced dancers. A lot of people are beginning dancers so as directors we have to train a lot of people from the ground up."
K-pop is popular for its catchy beats and intricate group choreographies. Shannon Morrissey, the director of SoNE1 and a third-year animal biology major, explained how the group gives K-pop fans the chance to learn their favorite choreographies with people who share the same love for this music genre.
"Because we all like K-pop it gives us a good family feel and gives a nice community for people who just like to dance to covers," Morrissey said. "Usually you do it on your own, but we give people the outlet and support to do that with others. Like other dance teams we take inspiration from other dance styles. Some of us have experienced making our own choreography as well so we blend the two."
Like SoNE1, not all members of the Christian contemporary dance group Agape started off as experienced dancers. Both SoNE1 and Agape are non-audition groups, meaning that anyone can join if they are willing to be committed and are passionate about the group's interests.
Emily Collins, the director of Agape and a fourth-year biological sciences major, believes that dance has a greater purpose to deliver the message of love and compassion to the audience.
"I think we're a very loving community," Collins said. "The point of our group is to touch the audience in ways other groups maybe not able to and just really convey a lot of emotions and something that's deeper than this life gives us. The idea of this group and what we set out to do is to just harness the love that God gave us in the beginning and perform through the talents he's given us […] My favorite part is having our own members say that they felt something from it [the performance] themselves. The word Agape is Greek for unconditional love, so we really do a part to make sure that we hold up to that name of it."
Written by: Becky Lee — arts@theaggie.org