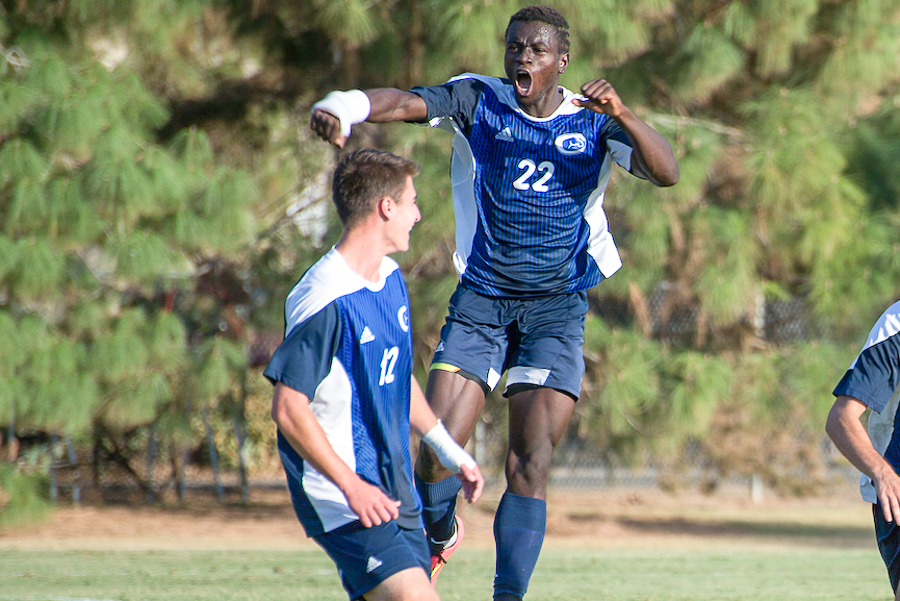 The Aggie sat down with the men's soccer defensive star at the end of last season
Roy Boateng
Height: 6'2"
Year: Redshirt Sophomore
Position: Defender / Center-back
Major: Managerial Economics
Hometown: Rohnert Park, California
High School: Rancho Cotate High School '14
History: Went to a Cal-Cup title and State Cup with his club team, Santa Rosa United, in 2013 – Four-year varsity letterwinner for Rancho Cotate High School and named All-North Bay League First Team as a Junior and Three-time all-league first-team selection — Multi-sport athlete in high school, also playing basketball and football as a sophomore.   
Accolades: 2015 Big West Conference Honorable Mention — Big West Conference All Freshman Team — Named in top 100 freshman (No. 92) in nation according to TopDrawerSoccer.com — Fourth UC Davis player to be named to the league's all-freshman team.
How long have you been playing soccer and how did you get into it?
I've been playing organized soccer since I was eight, but when I was in Ghana [where I was born] I'd play backyard soccer with the neighborhood kids… [so] since I could kick, basically. When I first came to the U.S. my dad thought that it would be a good idea to assimilate and he knew I liked it, [he suggested] I could make some friends. That was the motivation behind that.
What made you choose soccer over other sports that you played in HS?
Soccer has always been the number one sport in my life. In Ghana, [soccer] is the sport. I have always loved it. I tried out basketball and football and they were fun but nothing brought me that much joy other than soccer.
What was the injury you sustained your senior year in HS?  How long were you out?
I was playing against one of my buddies in [a] high school game and I was running down the line at full speed and the guy on [the other] team jumped and [went for] a slide tackle and missed so his whole body landed on my ankle, dislocating it right there. It [happened] right in the beginning [of senior year]. It took me out six or seven months.  
Were you still healing from the injury when you came in your freshman year?  Is that why you were redshirted?  
I was still good to play but I was still needing to wear a brace and [build] strength.  Yes, it was mainly the fact that they wanted me to be at full capacity once I started.  
What was it like redshirting your first year?
It was interesting… it was playing and practicing knowing that you weren't going to be playing in games, but still going in and [giving] 100 percent because you want to help the team and you still want to improve yourself. I'm very thankful for it and it made me appreciate it that much more — I learned how to be a team player. That time was also difficult, traveling and having to watch games on my laptop and streaming it when they were away but I [feel] that the experience made me more appreciative when I did get my chance.  
Has defender always been your position of choice?  
Not at all. I played striker all my life because I was always the biggest body on the team, so the coach would just put me up-top. It wasn't until my junior year of high school where I was at a camp in Davis and it was near the end of the first day and Dwayne [Shaffer, head coach] comes up to me and says 'Have you ever played center-back?' It was this one little scrimmage drill and he put me there told me to try it out and see how it goes. I remember not really knowing what to do from a positional sense but the defending part of it and the physical aspect of it came naturally. I ended up being MVP of the camp as a center-back. It was really encouraging.
What is your preferred position?
I like center-back because I get to see the whole field and I get to direct and distribute and having that experience as a striker helps me at center-back be more technical and know the ideas of my opponents. I love center-back, I have the best of both worlds now.          
What are your plans for the offseason?
Offseason is time for you to give your body a little rest.  We had a week off and to really work on conditioning, strength and building back up.  When the seniors leave it is the time where you regroup and see what you need, see what you need to work on.  Me individually, it is a great time to rebuild my body and fix the wear and tear of the season.  
How has the level of competition changed since playing for the Aggies? Is it more mental?
It's completely different because as you improve and get to a different level — a higher level — It narrows down and everybody knows how to play. Everybody was the best guy on their team, so it makes it that more competitive and it becomes about the little tiny things, like who can execute on this given day or who can execute every single day, who can give in the effort every single day.  It doesn't really matter if you have skills — that's good — everyone has talent but that's not what separates you anymore. Putting in the time and the work, what are you going to do by yourself, not just practice [but] how can you look at yourself and objectively analyze, [if] I'm not good at this, let me get better. A major part of the game is mental, really concentrating. One of the things that really helps me out is visualizing what I'm doing before the game even starts, visualizing the movements I'll be making, the challenges I'll be into and the plays that I will be involved in.  If you're not concentrated, the things that come natural to you aren't going to work… you have to mentally be there, mentally be present.   
You've had a lot of success in your soccer career thus far, do you have plans/desires to continue after your time at UC Davis is through?  Where would you like to be?
It has always been my dream to play professional soccer and I am really thankful for all the success I've had so far. I want to progress and get better.  It would be really nice to play professional soccer. Being a fresh out of college player, honestly, I wouldn't be picky — I would just want to play at a level that is high and that really tests me.  
Written by: David Flores — sports@theaggie.org