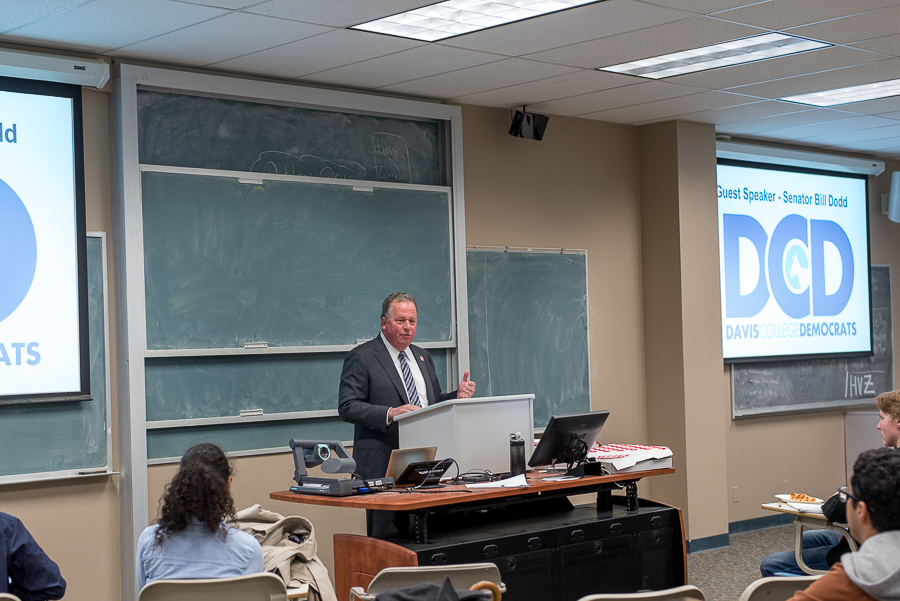 Davis College Democrats host Dodd for question and answer session
During the Davis College Democrats' (DCD) second meeting of the quarter on Jan. 18, attendees were given the opportunity to speak with California Senator Bill Dodd (D-3).
"Let me tell you, the Davis College Dems were the first Democratic organization that supported me," Dodd said regarding his run for the state senate in 2016. "I'm telling you, it means something, and this club, I tell you, I will be at your disposal."
After his speech, Dodd took questions from students on topics ranging from taxes and tuition, to the housing situation in Davis.
"Education is something that is really, really important to me," Dodd said. "I've always represented UC Davis and Sonoma State, but now I've got Cal State Maritime Academy over in Vallejo as well, and the tuition increases that we've seen in the past have gotta come to a halt. It's just unbelievable the burden that students are having to pay and obviously those that can't do it all on their own have college loans, and those build up, and it's just a bad deal."
Christian Monsees, a third-year political science major and the director of finance for DCD, said that the event created an opportunity for students to engage in policy.
"It's one thing to show up to a club and feel the social aspect of it," Monsees said. "It's another thing to actually see what their futures could be, to be exposed to career opportunities and all of that kind of thing. It's always great to hear Dodd speak and hear him go through his views on California policy, which is always super interesting for our members."
Dodd also gave students the chance to talk about getting involved in politics as student Democrats continue to regroup after the 2016 presidential election.
Elizabeth Nash, a fourth-year environmental policy analysis and planning major and co-chair of the Indigo Awards, an annual fundraiser hosted by DCD, said that Dodd's visit will help attract new students who might be interested in joining the group and supporting the Democratic party.
"For me, I was happy to see so many people engaged," Nash said. "After the election of Trump, a lot of people on campus just felt really defeated and really scared. And at the same time, we were looking to expand our member base. So, if there's going to be a silver lining, it's that we've seen more people get involved in politics who really want to, not just, 'Oh I really want to have my voice heard,' but show up and actually put action behind their values and what they want to see in the world."
Dodd, who spoke for approximately 40 minutes, also encouraged new members to think about their influence on American politics.
"For those of you that are new, it does make a difference," Dodd said, referring to student participation in the DCD. "What you guys do in this room, it does make a difference and the job that we have to do in the future, as Democrats in the State of California, protecting the values that we have, is going to make a difference."
According to Nash, the event provided a space for students to share input with their state senator, allowing them to expand their understanding of the legislative process.
"It gets students involved in politics," Nash said. "It lets them be more knowledgeable about the system so that they can, I'd say, be more informed about what's going on. It can help them express their views to their representatives who are then able to go and make policies that are better for the students."
Written by: Ivan Valenzuela — campus@theaggie.org