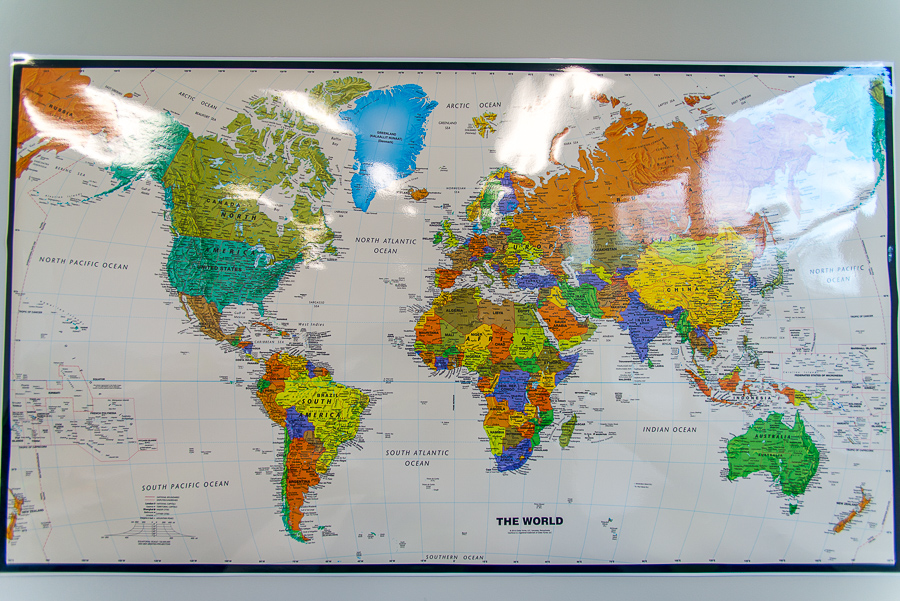 Learn more about countries targeted by Trump's executive order by checking out these movies
On Jan. 27, President Donald Trump issued an executive order restricting the travel of citizens from 7 Muslim-majority countries: Iran, Iraq, Libya, Somalia, Sudan, Syria and Yemen. In light of this, thousands of people of all backgrounds and ages have gathered around airports to protest this executive order in what can be only described as a moving display of humanity. This executive order — which many have interpreted as an Islamophobic ban on Muslims — is yet another sign of how the Trump administration dehumanizes entire groups of people.
But people are still people regardless of where they are in the world; they fall in love, struggle, have hopes and dreams. They may drink coffee in the morning — or not — and have friends and family that they care about. They feel and therefore create art. Movies have always been a medium that can provide a glimpse into the everyday lives of people around the world. When entire populations are painted as the "evil other," they are robbed of their humanity and their voices are silenced. Movies create a platform to tell their day-to-day stories, ­and seeing real, human complexity is incredibly important, as it serves as a necessary reminder of the existence and beauty of different cultures.
Here are seven movies from the seven countries targeted by Trump's executive order.
Iran: Close-Up
I'm ashamed to say that, as an Iranian-American, I have seen far too few Iranian movies, but I've at least seen my share of Abbas Kiarostami films. The critically-acclaimed director's Close-Up is based on a true story — starring the people who were actually involved — about a man's trial after he attempted to con a family into believing that he was the famous Iranian director Mohsen Mahkmalbaf. This heartbreaking film has been voted by many critics as one of the top 50 greatest movies of all time, and it's being re-watched lately  in light of the celebrated director's recent passing.
Close-Up is available on iTunes and Amazon.
Iraq: The Dreams of Sparrows
First-time director Hayder Daffar shot this post-war Iraq documentary from 2003 to 2004, interviewing many Iraqis about their opinions of the war and the effect that it has had on their lives. The hand-held camera footage captures the different emotions of civilians, and while the majority oppose the United States' presence in Iraq, Daffar interviews some Iraqis who have a more positive reaction to it. Seeing the Iraqi perspective of the war gives audiences an angle that is often left out of discussions of the war in the United States.
The Dreams of Sparrows is not currently available online; a copy of the DVD is available to borrow at the Davis Public Library.
Yemen: A New Day in Old Sana'a
This 2005 film was heavily advertised as being the first, and only, Yemeni feature ­film — and the only Yemeni film to be shown at the prestigious Cannes Film Festival. Set in Yemen's capital, Sana'a, this romantic drama is seen through the eyes of an Italian photographer, whose friend has to choose between two love interests. Critics have called this intense story one that "highlights inner struggle between family honor and love," and gives us a tiny glimpse into Yemeni culture.
A New Day in Old Sana'a is available on YouTube.
Libya: The Message
Most people may think only of the tragic 2012 Benghazi attack when they hear the word "Libya," but this immediate connotation is dangerous, as the country has a rich history and culture that is often neglected in political conversation. A popular film to check out is the 1976 cult classic The Message, an epic historical drama about the Prophet Muhammad's beginnings, which was nominated for Best Original Score at the 50th Academy Awards.
The Message is available on Amazon.
Somalia: Men in the Arena (documentary)
This 2015 Kickstarter documentary is directed and produced by J.R. Biersmith, who was inspired by the drive and dreams of the Somalian National Soccer Team.
"When we turn on the news, we often hear about Somalia being a hotspot for terrorism and piracy, but rarely, if ever, do we see Somalia through the eyes of its greatest athletes born in its darkest hours," Biersmith said on the Kickstarter page. "By focusing on the national team, the relationship of two of its best players, and the shared dream for peace, we hope the Somali people and viewers around the world will be inspired by the light emanating from these young stars."
The movie is yet to be released, as it still requires more funding for additional shooting, editing and translation.
Syria: Return to Homs (documentary)
This Syrian-German documentary, which won the Sundance Film Festival award for Best Documentary in 2013, follows the lives of 19-year-old national soccer team goalkeeper Abdul Baset Al-Sarout and his media activist friend, 24-year-old Ossama. Their hometown of Homs is bombed and destroyed by the Syrian army, and the film explores how the young men deal with their now crushed hopes and dreams, as they turn from peaceful protesters into rebel insurgents.
Return to Homs is available on YouTube, iTunes, Amazon and Google Play.
Sudan: The Lost Boys of Sudan (documentary)
Although this documentary was not produced or directed by a person of Sudanese origin, director and producer Megan Mylan is critically acclaimed for her work including The Lost Boys of Sudan, which won two Emmy Awards and an Independent Spirit Award. The documentary is about two Sudanese refugees, Peter Dut and Santino Chuor, who were orphaned as children and survived turmoil to finally reach a refugee camp in Kenya. From there, they were chosen to come to America and must now deal with the different culture and loneliness of going from one life to a  completely different one. It's important to witness different immigrant stories like these, and The Lost Boys does an excellent job of capturing the spirit of this difficult experience.
Lost Boys of Sudan is available on YouTube.
Written by: Pari Sagafi — arts@theaggie.org