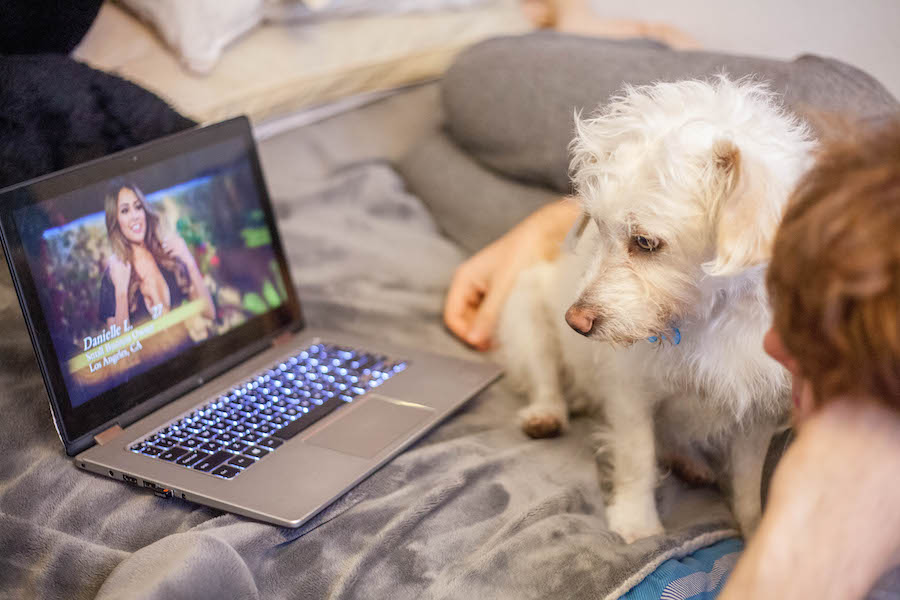 Is the fourth time the charm for this season's bachelor?
Few can say they share their significant other with 30 other people, let alone with nine million viewers on national television. But when competition is tough, one must go to extraordinary lengths in order to win the love of his/her/their life. This includes dressing up as a dolphin (though clearly in a shark costume), meeting the parents on the fourth date and even performing with the Backstreet Boys. These outrageous situations could only mean one thing: The Bachelor is back.
Airing every Monday night on ABC since Jan. 2, The Bachelor captivates a variety of audience members across the nation. The show features grandiose dates, over-the-top contestants and strange ceremonial customs.
"I just started watching last season. I had friends who watched it," said Sofia Molodanof, a third-year English major and an ASUCD senator. "Every episode we got super excited about. We didn't have cable last year, so we'd search online for the show at 10 [p.m.] after it was done. It was something I didn't think I would enjoy, but it's become my guilty pleasure and it's so entertaining."
The Bachelor is a reality TV show that centers on a single individual looking to get engaged. Thirty women or men compete for the final proposal from one bachelor or bachelorette. Each week, the contestants partake in a variety of challenges and dates in hopes of winning one of the remaining roses from the bachelor or bachelorette. During the season finale, the bachelor or bachelorette proposes to one of the last two contestants, giving them the final rose.
"Personally, I think it will be Vanessa or Rachel," said Justin Wright, a second-year biological sciences major and 12-year Bachelor watcher. "This season is a little bit cheesy and raunchy, but I am intrigued by what Nick's next move will be with his lovers."
This year's Bachelor veteran, Nick Viall, has been the runner-up on two seasons of The Bachelorette. Viewers are hopeful Viall will finally find lasting love.
"Every single time before The Bachelor or The Bachelorette comes on, I look at all the contestants a few weeks before and read their [bios]," said Kate Heller, a first-year economics major and seven-year viewer. "I see which one seems the most normal and the most sincere and kind and then I pick a top five that I think will make it."
Many viewers even have their own Monday-night viewing rituals in order to see the spectacle.
"It's a great way to de-stress after six and a half hours of class," said Nicholas Valverde, a second-year undeclared life sciences major. "People are drawn to the comical aspect which is The Bachelor. It teaches you the way to a woman's heart."
The show gives people a two-hour period to relax, hang with pals and get in a good laugh — especially with this season's drama. Spoiler alert: this season contains yet another polarizing contestant, Corinne Olympios, whose infamous flirty behavior has led to tension with the other contestants.
"It's just so entertaining to watch […] it's so out there and sometimes it does work,"  Heller said. "It worked for the first couple on The Bachelor and it's worked for the past few people. I think it's such a weird concept, and such a different concept that people tend to want to watch it to see if it works out."
The Bachelor and Bachelorette have often been criticized for their lack of diversity. All 12 Bachelorettes have been white and 19 of the 20 Bachelors have been white. This season, however, Viall requested more diversity in his contestants, and 10 out of the 30 contestants are people of color.
"The Bachelor is known for lacking in this area, but it's interesting to watch — in this season especially — more diversity through Nick's choice in women," Molodanof said. "The Bachelor is obviously getting the hint that it's 'too white,' but it still has a long way to go."
Tune in to The Bachelor on Monday nights at 8 p.m. on ABC.
Written by: Abigail Wang and Myah Daniels — arts@theaggie.org