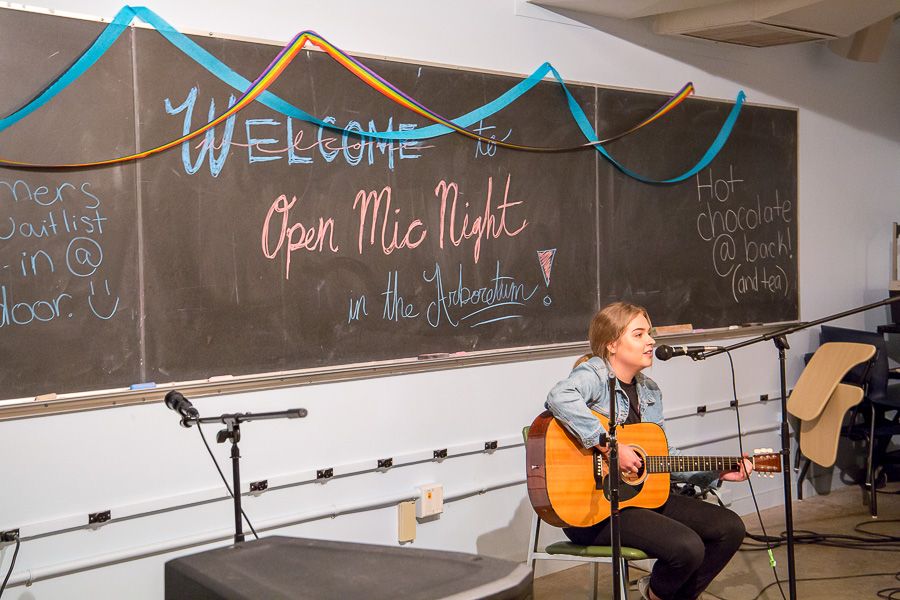 Arboretum Open Mic night offered stage for performers to express themselves freely
There is something magical about the sound that acoustic guitars produce: crisp, warm and soothing. With the right music, you can go anywhere and do anything — forget about stressful midterms and feel the warm summer breeze at the beach — even on a rainy Thursday night. The Open Mic Under the Stars at the Arboretum provided the perfect opportunity for people to gather and share their talents and opinions with a welcoming audience.
The open mic was hosted by the Arboretum GATEways Outreach Program (the GATE stands for Gardens, Arts and The Environment) on Thursday, Feb. 9. It consisted of an evening of arts from talented community members who performed everything from from music to comedy to spoken word poetry. The purpose of this event was to create a safe and welcoming environment in proximity with nature that encouraged everyone in the community to express themselves freely.
"The purpose of this event is to create a truly 'open' Open Mic," said Drew Hanson, a fourth-year managerial economics major and one of the organizers of this event. "Many open mics have become politically correct to the point where many musicians, poets and comedians have become limited in what they can say or do, and I find this to be [a] travesty. To me, an open mic is a place for individuals to express themselves and their ideas that differ from our own perspectives, yet in such as environment, they will be able to openly cover whatever they wish without fear of being labeled negatively."
Despite the chilly weather, a large crowd of guests showed up to cheer and clap for the performers. Most performers sang either pop music or original songs accompanied by an acoustic guitar.
According to Hanson and other organizers of the event, they strived not to define this event by a single theme — the "openness" is what matters.
"Open Mic Night is a safe and open space for people to share their creativity and passions at the Arboretum," said Vivian Le, a third-year civil engineering major, one of the organizers of the event and the co-coordinator of the Arboretum GATEways Outreach Program.  
Unfortunately, due to the rain, the event was hosted indoors near the Arboretum.
"Having events like these will demonstrate to the community how important the arboretum is and will give them [the attendees] a new appreciation of it," said Vanessa Verdugo, a second-year human development major, an intern for the GATEways Outreach Program and one of the organizers of the event.
Another Arboretum Open Mic Night will be hosted again next quarter. Those interested in performing or attending can call (530) 752-4880 or visit http://arboretum.ucdavis.edu/calendar.aspx.
Written by: Betty Wu — arts@theaggie.org