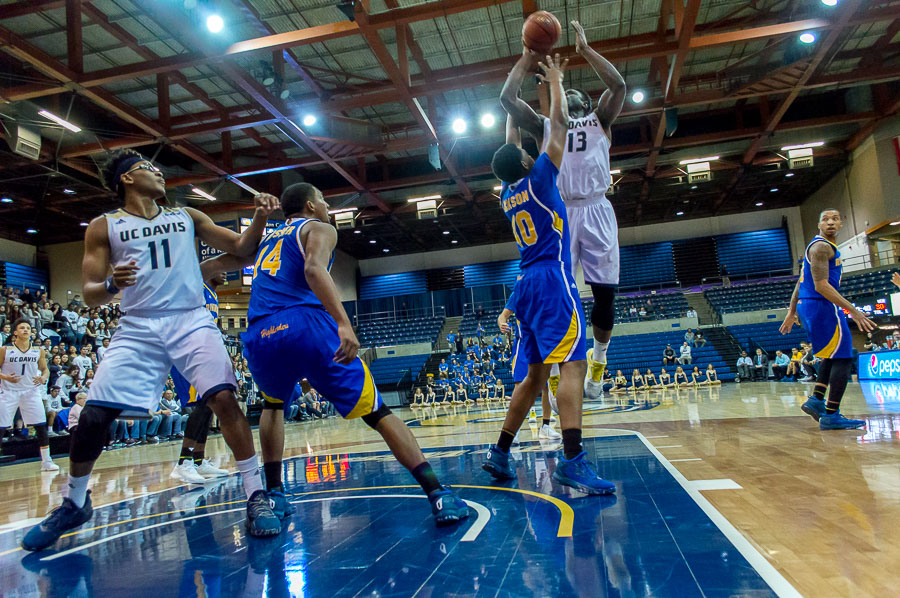 UC Davis men's basketball remain undefeated at home, beat UC Riverside 77-63
The UC Davis men's basketball team had something to prove on Saturday, Feb. 11, since last time the Aggies faced off against the UC Riverside Highlanders, they lost 61-55, which was the Aggies' lowest-scoring game of the year. That loss didn't phase them, as the UC Davis men's basketball team kept its undefeated home record intact with its 16th overall win of the season and a final score of 77-63.
The Aggies started rough, plagued by missed baskets and poor ball handling. Sophomore guard Siler Schneider scored the Aggies' first points of the night with a layup, and that set the team in motion.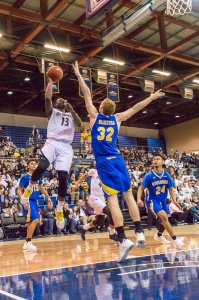 "I felt good about our guys wanting to atone for the loss," said head coach Jim Les. "I knew they were going to come out with really good energy and try to make up for what was a bad game and a bad loss. I think we had some defensive breakdowns and we didn't quite execute as well I would like, but part of that's on me. I had different line-ups in the game and there wasn't as great continuity with guys getting used to playing with one another."
Ten minutes into the game with a score of 14-13, it was looking like it was going to be a close one. With four score ties and five lead changes throughout the first half, the Aggies had to remain focused and on their toes.
Just before the halftime buzzer, the Aggies kicked it into gear. Aggressive defense under the Highlander basket kept the ball open for the Aggies. Together, Schneider and Lemar knocked down four three-pointers in the first half.
At the half, Schneider lead the team with 13 points.
"Siler is really playing well, playing confidently," Les said. "We've got a lot of confidence in him and he just makes plays. He makes plays on the defensive end, taking charges, he comes up with loose balls. He's a really, really good shooter. He has that ability to put us on his shoulders and carry us through the course of the game and he did that in the first half and allowed us to get that separation."
During the second half the Aggies opened with a 6-2 scoring run and kept the lead for the rest of the game.
Lemar finished the night with 14 points, with four of his five baskets coming from behind the arc, tying a career high for three-pointers scored during a game. Freshman forward Mikey Henn finished not far behind with 11 points.
"It felt like I was in the flow today, more than usual," Henn said. "We just wanted to get back after it and give [UC Riverside] that loss. We didn't play as well as we could have [last time] and they stole one from us."
Les called a timeout with just 54 seconds to go, coaching right up to the last minute. The game ended with a 14-point lead by the Ags and a final score of 77-63.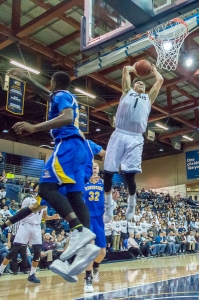 "He wants us to stay focused and wants us to know the game isn't over until the horn blows at the end," said junior guard Arell Hennings. "We just had to stick to what we were doing to get that lead throughout the whole game and not take any breaks."
The UC Davis men's basketball team has just 24 hours to celebrate its win, according to Les, before focusing its attention on the Long Beach State 49ers. The Aggies head south on Feb. 16 for a 7 p.m. tip-off.
"[I feel] excited," Les said. "I have a lot of respect for Coach Monson and the program they have. I know playing in the Pyramid, it's always a tough road contest. We've got to put our work hat back on and get back after it because Thursday is not going to be easy and we have to go pick off a couple road wins before we can get back here in the Pavilion."
Written by: Liz Jacobson — sports@theaggie.org