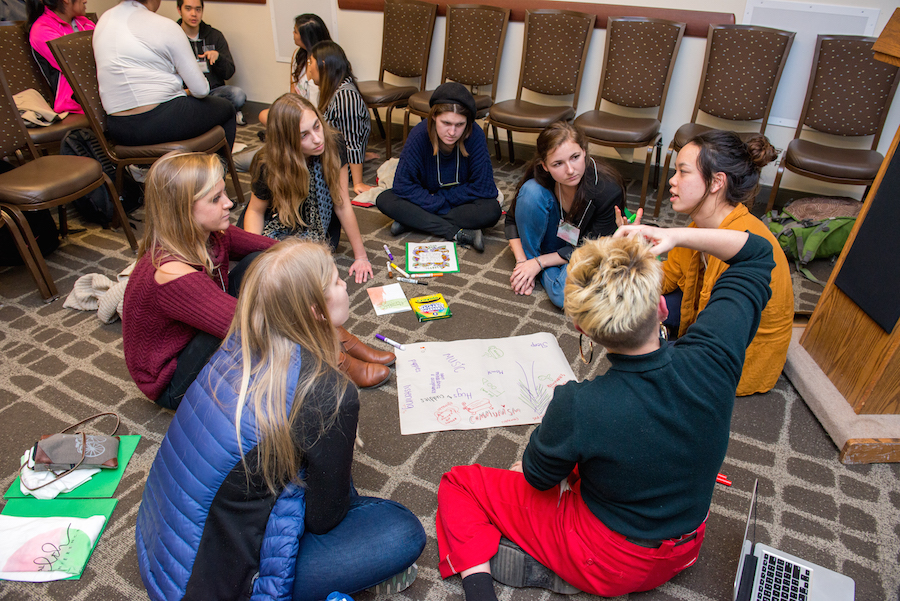 Conference entails full day of speakers, panels, student-led discussions
UC Davis held its first mental health conference at the UC Davis Conference Center from 9 a.m. to 7:30 p.m. on Sunday Feb. 7. Over 150 students participated in a series of workshops, panel sets and activities.
After check-in and breakfast, opening remarks were given by Monica Porter, an attorney for the Disability Rights Advocates organization. Porter spoke briefly about her own experience with mental health and expressed her happiness at seeing many students participate in a mental health conference and speak openly about mental illness without fear of stigma.
The first workshop set offered students a choice between workshops about grief, minorities and mental health and an intersectional approach to healing and political activism during the Trump presidency. Anastasia Ruttkay, a fourth-year international relations major, attended the workshop which was aimed at ways to combat living in a Trump presidency.
"We discussed the communities that are marginalized by his Presidency and ways to actively engage within our community to foster support and make change," Ruttkay said via email.
Students were then able to choose between an administration panel and a psychologist panel. Both panels were comprised of speakers from the university's colleges and representatives from Student Health and Counseling Services.The psychologist panel speakers spoke about their careers at UC Davis and gave advice to students considering studying psychology. The administration panel speakers spoke about their positions at UC Davis, their journeys from college to now and gave advice to students looking to serve in academic positions in the future.
Diana Olivan, a second-year cognitive science major, particularly enjoyed the two panels.
"It was great to actually be able to see them and hear about their experiences," Olivan said. "It definitely helps in trying to figure out what career paths there are."
Next, students broke into caucuses that served as a healing space and allowed students to share their stories and talk openly without fear of being judged. Some students chose to go into a caucus where they could identify as neurodivergent, or anything that is not typically defined as "normal," while others chose to attend one for allies of neurodivergent people.
Olivan attended the workshop for those who identify as neurodivergent.
"I had a general sense of what neurodivergent meant but it seemed like a lot of the people who went were just interested in figuring out what neurodivergent means," Olivan said.
Olivan hopes that in the future, the workshop will be used as more of a healing opportunity, as was originally intended.
After lunch, students attended a second workshop set and chose between gender based violence and mental health, suicide prevention and body image/self-love workshops.
"We had an open discussion about the way media portrays the standards of beauty, how certain body-[inspiration] campaigns are not intersectional and why all bodies are beautiful," Ruttkay said.
Students were then given a choice to attend one of three student panels. Student panelists were selected after an online application process, and shared their personal stories and struggles with mental health. The student panel helped Ruttkay personally understand how differently abled students are marginalized and disregarded on campus.
"The students who shared their testimonies over their conditions really struck a chord with me," Ruttkay said. "I was hearing their stories on a very raw level that opened up an even great[er] sense of care and compassion for mental health."
Student groups gave performances after a short break. Performers included individual students as well as the student groups Unbound Progression, The Liquid Hotplates and Baile de Fuego.
Another three workshops were then offered about LGBTQIA mental health care and support, spiritual healing and self care. In an action planning set, students had the opportunity to share what they planned to do in the future for minorities in terms of support and activism. Shortly thereafter, dinner was served along with closing remarks by Juliet Forbes, a student at UC Davis who serves as a crisis counselor for Crisis Text Line. Forbes expressed the importance of destigmatizing mental illness, supporting those struggling with their mental health and the resources Crisis Text Line offers.
The conference took place after more than nine months of planning, but still presented its challenges on the day of execution. Mental Health Conference Founder and Director Samantha Chiang, a third-year English major, found it empowering that she and her team were able to build the conference from the ground up with student voices at the forefront.
"The biggest challenge was working out the kinks we hadn't anticipated, like waiting for the workshop hosts and performers to come right before their designated times," Chiang said via email.
Chiang said the conference was everything she had hoped for and more, and hopes that in the future she can secure enough funding to expand it into a two-day conference.
Attendees were able to appreciate the significance of the conference. Olivan found that she learned many ways to be involved in the community at Davis and that students had resources to help them feel safe and realize they are not alone.
"A great thing about the conference was that it happened in the first place, which is a great step in developing UC Davis mental health advocacy," Olivan said.
Ruttkay believes that the conference highlighted many differently abled conditions and participants were given the opportunity to participate in meaningful discussions. She saw another side of mental health that she believes is extremely neglected by the university.
"The biggest takeaway from this conference was seeing how many students are passionate about advocating for mental health at an institutional level," Ruttkay said.
Conference Panel Coordinator Jacqueline Grady, a third-year global disease biology major, hopes to expand the conference in coming years in order to continue pushing the boundaries on conversations about mental health.
"We're looking to start a qualitative conversation about mental health," Grady said via email. "There's a negative stigma surrounding mental health and we want to tear that wall down. The conference is only one day, but we hope the conversation continues beyond it. Our goal is to make mental health a priority on campus."
Written by: Jayashri Padmanabhan — campus@theaggie.org