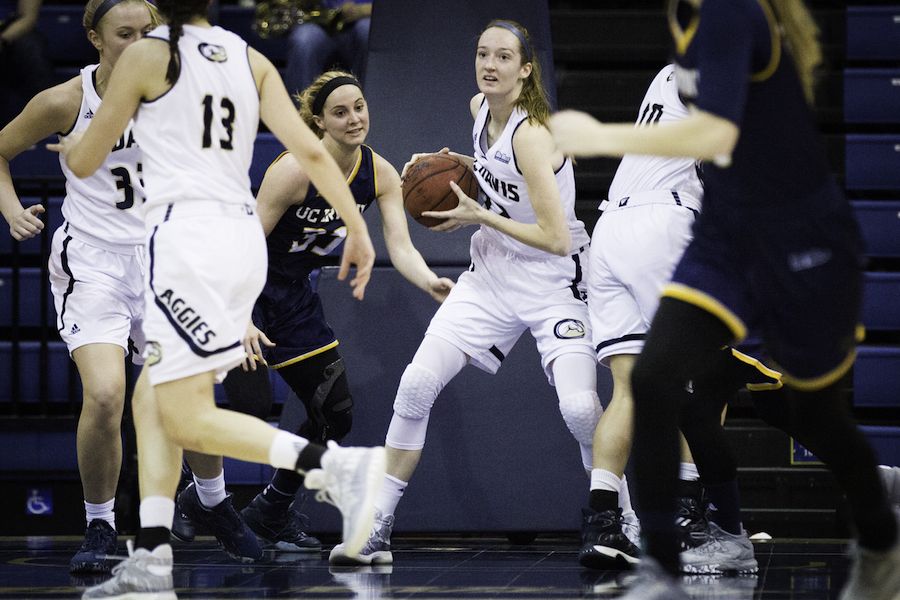 The Aggies take control of the first and fourth quarters en route to victory
With 17-6 record this season, the UC Davis women's basketball team was in prime position to take advantage of the 3-20 Anteaters of UC Irvine, who came in on a six-game losing streak. The Aggies scored the first 19 points of the game, including three three-pointers, and ended the quarter with a 29-4 advantage. UC Irvine couldn't catch up, and fell to the Aggies 62-42.
The afternoon game, which began with head coach Jennifer Gross's own son, Josh, introducing the Aggies' starting lineup, felt electric from the start. Junior guard Dani Nafekh, who was playing on her birthday, felt that energy.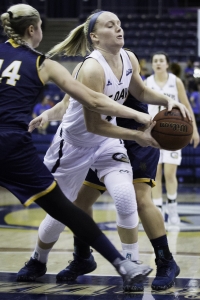 "We always want to come out with energy," Nafekh said. "I think that when you hit 100 percent of your shots, it helps. But we just try to play hard and have our defense start our offense. And also Josh's announcing at the beginning was amazing!"
Gross was impressed with her team's mindset going into the game.
"We were just extremely focused to start the game," Gross said. "I thought our energy was really good, and we just came out, hit a couple shots, and it just kind of fueled us from there."
Nafekh tallied 20 points, going four for six from downtown, with six rebounds during the course of the game. Helping her was sophomore forward Morgan Bertsch, who tallied her second double-double of the season with 12 points and 10 rebounds as well as three blocks and two assists. Junior forward Pele Gianotti also contributed with 14 points, 12 of which came from three-pointers, in which she made four of her eight attempts.
The Anteaters controlled the middle quarters of the game with the help of freshman guard Andee Ritter, who scored 15 of her 16 points in the second and third quarters.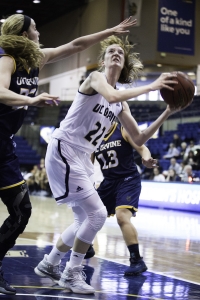 "They do so many things to get her open, and so you just constantly have to work to be aware of where [Ritter] is," Gross said. "And I thought we went from playing individual defense to playing more team defense on her, and I thought we did a better job."
With just five games to go, the Aggies are looking to finish the season strong. According to Nafekh, that means keeping their composure.
"We're just trying to stay really focused and just keep getting better," Nafekh said. "I know it's a long season, but we've worked so hard. We don't want to just let it all slip right now, so stay focused on practice and let that translate to games."
After a brief stop at Hawai'i on Feb. 16 at 4:00 p.m. (PST), the Aggies will return home to face Cal Poly on Feb. 22 at 7:00 p.m.
Written by: Bradley Geiser — sports@theaggie.org