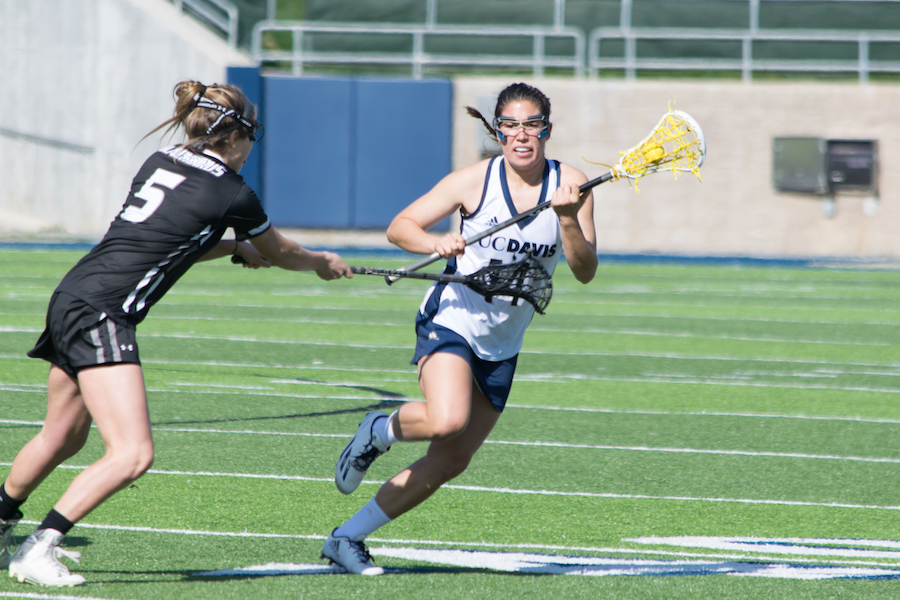 Aggies earn first victory of the season with 19-7 rout
The UC Davis women's lacrosse team claimed its first win of the season with a 19-7 thrashing of the LIU Brooklyn Blackbirds on Sunday afternoon. Fresh off a tough 20-10 loss in their season opener against Stanford two days prior, the Aggies came into Sunday's game with renewed energy and focus.
One of the team's bright spots in the season opener loss was senior attacker Melissa Kellan, who led the team with five goals and added in an assist against the Cardinal. Kellan stood out once again on Sunday, as she tallied four scores and two assists in the contest. She leads the team in goals scored with nine in the first two games.
"I know we have a young team, so trying to be the 'mother figure' on the attack is what coach has been talking about," Kellan laughed. "Just trying to lead [the young players] through these first games."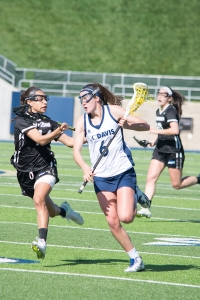 Against LIU, the Blackbirds were the first to get on the scoreboard with a goal coming off a free position shot. The Aggies, however, came roaring back less than a minute later with a score from sophomore attacker Shannon Cross, who, after her initial shot was halted, collected the deflection and hurled the ball into the net to tie the game at one.
A goal from each side tied the game for the second time. Kellan then made her presence felt, scoring off of a terrific interior pass from freshman midfielder Maddie Myers to break the game's deadlock and give the Aggies the lead for good. Minutes before halftime, Myers added in a goal of her own, showing off her speed on a brilliant breakaway and putting the Aggies up 7-3 at the break.
The Aggies fed off the momentum from the first period and came out on fire in the second half, rattling off eight straight goals within the first 15 minutes of play. Kellan, freshman attacker Amanda Outcalt, junior midfielder Kelsey DeJesus and sophomore midfielder Taylor Cuenin each scored two goals in this offensive flurry.
The Aggies' firepower overwhelmed the Blackbirds, helping UC Davis secure the victory. All in all, eight different players scored in the contest for the Aggies.
"Today was really good because we had so many different scorers," Kellan said. "It was great to see that we can have those younger players step up."
Head coach Tee Ladouceur said that the win was important for the young players.
"We got everybody in today," Ladouceur said. "Last game we had two freshman score, this game we had two different freshman score and it's just good for them to gain that experience moving forward."
The Aggies will head to Colorado next weekend to take on Denver University and Colorado Boulder before returning to UC Davis for a slew of home games during the first half of March.
"It's going to be a tough weekend," Ladouceur said. "That's why we were looking to get all of our freshman in today, make sure that we can go in with a clear mind and get those jitters out."
Written by: Dominic Faria — sports@theaggie.org