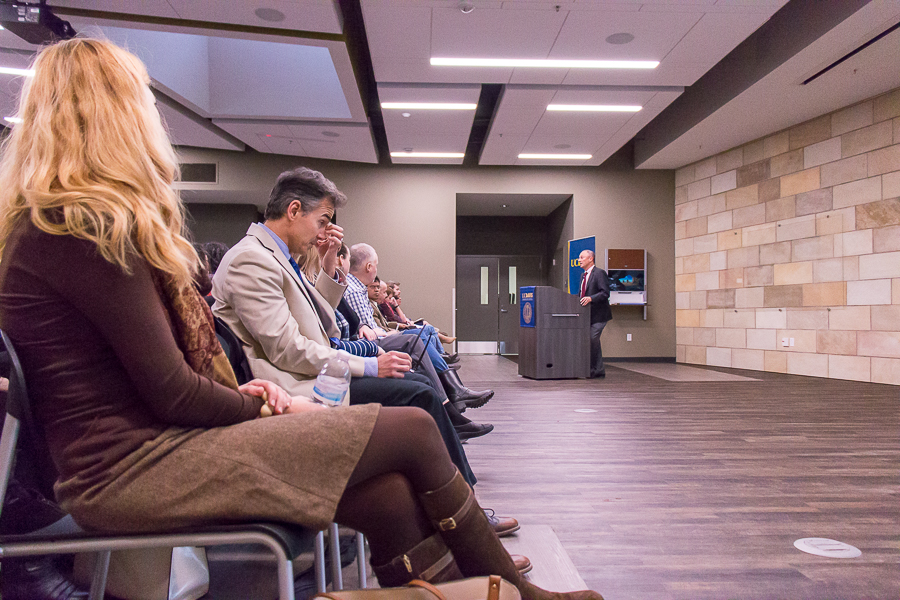 Speakers, including Interim Chancellor Ralph J. Hexter, highlight dangers of executive orders for the campus community
In a packed main lobby of the UC Davis International Center, UC Davis Global Affairs hosted a discussion on Feb. 2 concerning President Donald Trump's executive orders on immigration.
This order, one of the more infamous of the ones President Trump has signed thus far, bans travel of persons from seven Muslim-majority nations. However, it remains blocked after the Ninth Circuit Court of Appeals refused to reinstate it on Feb. 9, according to The New York Times.
Joanna Regulska, vice provost and associate chancellor for Global Affairs, opened the discussion. She claimed that these executive orders go against national and campus values.
"Recent events in [the] US political arena [have] really challenged our core values — values of inclusion and respect for all, regardless of the gender, race, ethnicity, sexual orientation, religion, age and many, many other identity markings," Regulska said. "Three recently signed executive orders [are] especially challenging these values. They all are related to immigration and they will strongly affect our community."
Apart from attacking values, Regulska spoke about the effects that these orders have on the campus community and the free exchange of ideas.
"These three executive orders not only made an effort to undermine our values, they […] attempt to destroy our community fabric," Regulska said. "They also attack American higher education systems. They will deny to many US students the opportunity to learn about different cultures and ideas. They do this by limiting their opportunities to engage with international students on our campus."
Interim Chancellor Ralph J. Hexter, who was present at the event, posed a question to the audience when he spoke.
"Why are so many who aren't directly afflicted by the order experiencing anger and sadness?" Hexter asked the audience, according to UC Davis Dateline. "Part of the answer, I believe, is those feelings are the inevitable products of empathy for those who are — and a belief in the value and dignity of all people, regardless of their background. Indeed, it's difficult not to be deeply affected when one considers the plight of refugees, most of them women or children, whose great suffering and hardship has been followed by denial of entry into the United States."
One campus resource that has been very active in the aftermath of Trump's executive order is the UC Undocumented Legal Services Center. Serving the whole UC system apart from UC Berkeley, the center is hosted by the UC Davis School of Law.
Rachel Ray, managing attorney for the center, explained that the services the center provides are open not just to students, but to students' families as well.
"Our center provides immigration legal services to all UC students who are not international students," Ray said at the event according to UC Davis Dateline. "Our target audience [is] undocumented students, but that does not preclude students who are not international but who are lawful permanent residents or [who are] here through some other method — they can contact us […] And our services are also available to immediate family members of any student, so if you're a US citizen and you have a parent, a sibling, a child, a spouse or an immediately future spouse, you can contact us and we may be able to provide legal services to that family member."
While the immediate response to the order has been strong as the it faces court challenges and skepticism, Regulska also emphasized the possible lasting effects of the order.
"In the long run, this culture of isolationism produces unwarranted suspicion, promotes violence and makes us all less secure," Regulska said.
Regulska, a Polish immigrant, explained that these executive orders have impacted her personally.
"On a personal note, as in immigrant to this country many years ago when I left communist Poland, it is especially painful to me to see state institutions adopting oppressive and authoritarian practices," Regulska said.
Written by: Kenton Goldsby — campus@theaggie.org