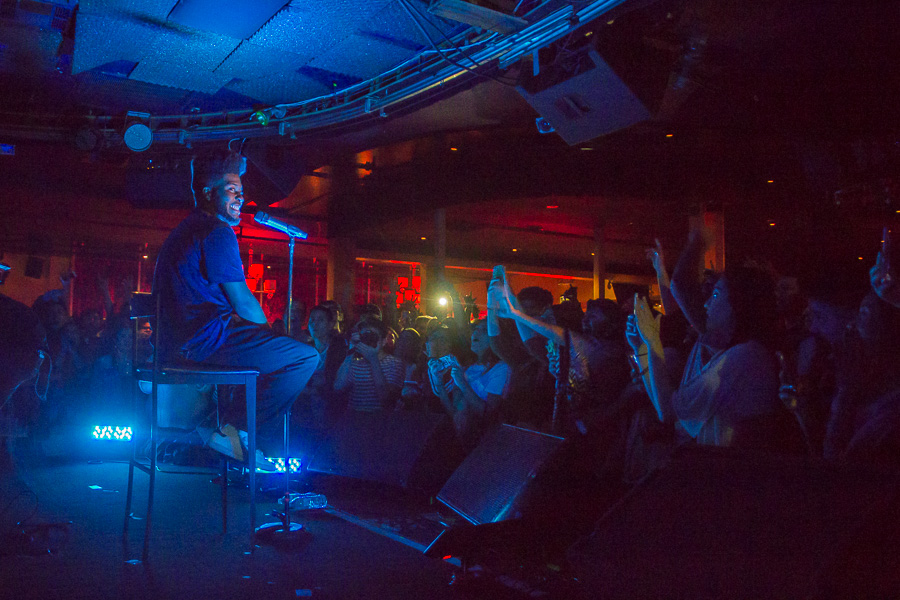 19-year-old brings soul, cutting-edge sounds to Sacramento
"That was Khalid with his hit song 'Location,'" the radio blasted as I pulled around the corner to the Harlow's Nightclub in Sacramento. Hundreds of people were lined up outside to hear the young artist perform at the last stop on his United States tour.
The 19-year-old R&B singer, who has traveled the world due to his military family, has gained recent publicity for his breakout song "Location." Khalid discusses themes of love and emotion in his music. Along with his own music, he has been featured on tracks with artists such as Alina Baraz and Brasstracks.
The small night club quickly filled up as attendees of the sold-out show arrived. Crowds of young people approached the stage as the DJ announced the opening act: Kyle Dion. The 21-year-old singer-songwriter took the small, intimate stage. He immediately grabbed the crowd's attention with his sultry voice and amazing stage presence. Much like Khalid, he takes influences from R&B, soul, jazz and pop music styles. He performed several songs from his 2016 album Painting Sounds, along with others.
After Dion's performance, the crew took a short 15-minute break to set up the stage for the main act. All of a sudden, Khalid's voice resonated through the speakers as a narration about his life in El Paso, Texas began. In his narrative, the singer describes his isolation throughout his school years, and how that sense of loneliness has driven him to creativity in music. Following this brief anecdote, Khalid and his bandmates — who had been dancing next to me earlier in the night — took the stage. The crowd erupted with screams, waving hands and bright cell phone lights.
The set began with "Reasons," a song about beginning a relationship, perfect for a concert on Valentine's Day. The young performer interacted with the nightclub audience, touching hands, singing to Snapchat cameras and asking for feedback about love and exes. Next, he performed "Saved," followed by a cover of "Lost," by Frank Ocean, during which the guitarist executed a jaw-dropping solo, sending the crowd into cheers. Khalid took time on stage during the solo for a little dance break, showing his fun and playful side.
He then led into a song from his new album American Teen, which comes out next month. Perhaps the most action-packed part of the night followed directly after. The artist launched into his breakout hit "Location," shouting "You all better know the words to this one!" The audience excitedly proceeded to sing along. The night ended with "Coaster," a song all about heartbreak and pain over an ex-lover. The teenager finished off the night by telling the crowd "I love you guys."
There is no doubt that Khalid pours raw emotion into his music. His sultry, retro sound captivates audiences attention and reinforces themes of love and vulnerability.
Khalid's new album comes out March 3, and his music can be found on Spotify, iTunes, YouTube and SoundCloud.
Written by: Myah Daniels — arts@theaggie.org