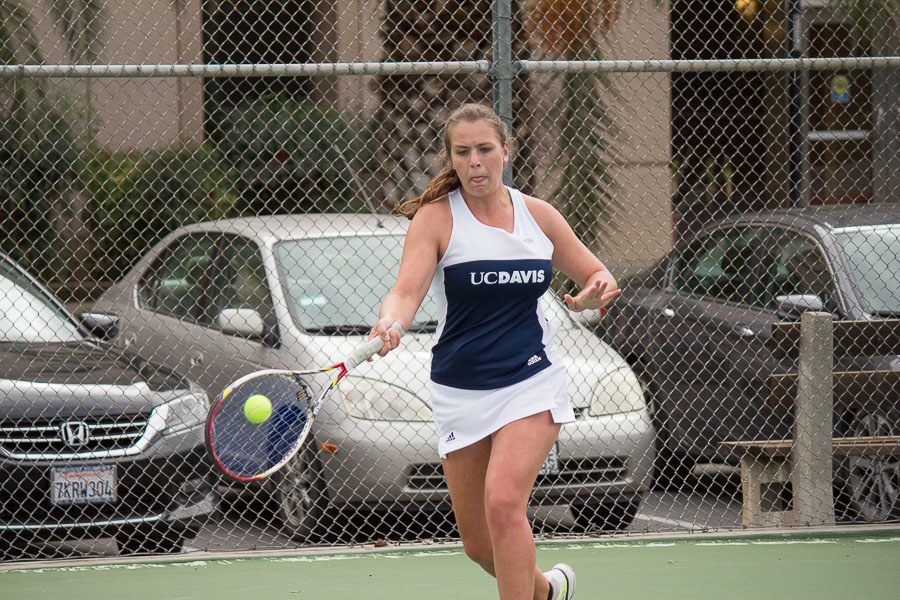 Women's tennis coach Bill Maze reflects on career, 2017 season
The UC Davis women's tennis team is off to a solid 7-3 start this season. In a weekend trip to the heavenly Hawaiian islands from Feb. 10-12, the Aggies split their two matches, shutting out Chaminade 9-0 on Friday but falling to their conference foes, Hawai'i, by a score of 6-1 on Sunday in a match that was postponed the day prior due to rain. A week later, the Aggies split their two weekend matches yet again. UC Davis suffered a 4-0 loss to the UC Santa Barbara Gauchos on Feb. 18 in the team's first conference home game, but then it rallied on the road the next morning to edge Santa Clara with a 4-3 victory.
Freshman Nikita Pradeep was one of the bright spots in the tough loss to Hawai'i. She recorded the lone point for UC Davis, winning her singles match in an intense three sets. Pradeep, along with her fellow first-year teammate Kristina Breisacher, was stellar yet again in the Aggies win over Santa Clara. Breisacher and Pradeep, competing in the four and five singles spots, respectively, both won their matches in two sets. Their victories proved to be crucial in contributing to the team's narrow victory.
"The freshman have been fantastic," said head coach Bill Maze. "We are lucky to have them, and they have really been living up to what I thought they were when I recruited them. They're strong players, they compete well, they're great sportswomen on the court and they do well in school. You can't ask for much more than that."
The team's returning players have been competing fiercely as well. The junior trio of Lani-Rae Green, Kristy Jorgensen and Jessie Lee has continually battled fiercely in the top three singles spots. Jorgensen, who has played at the number-one spot in nine of the team's 10 matches, leads her two other junior teammates with four victories. In the doubles number-one spot, Jorgensen and sophomore Kelsie Bryant have recorded six wins in the team's 10 matches. This well-rounded play from the team as a whole is a positive byproduct of Maze's recruiting process and his vision of potential players when he is scouting recruits.
"I look for attitude and effort and competitiveness out there recruiting," Maze said. "It's a skill, and I haven't always gotten it quite right, but I think I have recently over the last few years. I don't look at the results as much as I look at attitude and effort out there."
Maze also added that the success of the team so far this year can be most attributed to the fantastic chemistry between each of its nine members.
"They have so much fun together," Maze said. "It's non-stop laughing, really. It's great to see. They care about each other, and I think the more you care about each other the harder you try and the more you want to win for each other."
***
The man at the helm, Bill Maze, is in his 22nd season as head coach for the Aggies. Soft-spoken, yet not lacking a charismatic charm, Maze currently sports a bushy, dark beard streaked with grey, giving him the appearance of a wise and tranquil master of the art of tennis.  
Maze is, in fact, regarded as somewhat of a tennis master; he was inducted into the U.S. Tennis Association Northern California Tennis Hall of Fame in 2014. He has been around the game all of his life, from his early years growing up in Bakersfield, California to his All-American collegiate career with the Stanford tennis team competing alongside tennis legend John McEnroe. For six years Maze toured on the Association of Tennis Professionals (ATP) circuit, competing in tennis' most renown tournaments all over the world and eventually capturing a No. 87 world ranking.
Maze, despite being a man with such a wealth of success and experience, remains a kind and humble figure. He would rather talk all day about his players, not himself. When signaled that he would be questioned about his background and his playing days, Maze responded with a laugh, saying, "Let's not do that."
Nevertheless, he was asked about how his unique journey through the tennis world has helped him transition from his playing days into his role as a coach.
"That's a good question," Maze pondered. "I don't think you have to have been a good player to be a good coach, by no means. When I first started [coaching] I thought, 'well this shouldn't be that tough,' but it's so different than being a player. That's why I love it when my past players get into coaching and I love it when they call me and they say, 'Coach! Gosh, I had no idea what you were going through, I'm so sorry I acted the way I did!' I love those conversations."
Just like winning a 16-and-under national tennis title or winning two ATP doubles titles, coaching tennis successfully is not without its share of hard work and dedication.
"There's just so much to coaching, you never can get it down," Maze admitted. "You just cannot perfect the job because every single day something new happens. There are just so many trials and tribulations and things that go on. Basically, the job is never boring."
But is there something in particular that has motivated Maze to build such an impressive coaching tenure?
"I love Davis," Maze responded with a smile. As it comes to coaching, Maze was a relatively late starter who began his career in his mid-30s; most other coaches start almost immediately after college or in their mid-20s. He describes coaching as something that he just fell into.
"When this Davis job opened up, I thought, 'You know, I think I'm just gonna throw in my application,'" Maze said. "I'd never been to Davis and when I got here for the interview I thought, 'Man, I hope I get this job.' I loved it. I just loved the town. The feeling of it, I just knew it was right up my alley. But the reason I'm here, I mean, I've been sure about very little in my life, but when I got this job I thought, 'Man, I'm just gonna stay until I retire because I love Davis.' It's my kind of place."
Under his guidance, Maze hopes that the team will continue to build off its strong start to the season. The Aggies will play the first two matches of their five game homestand this weekend, beginning Saturday with a match against Pacific that is set to get underway at 10:30 a.m.
Written by: Dominic Faria — sports@theaggie.org