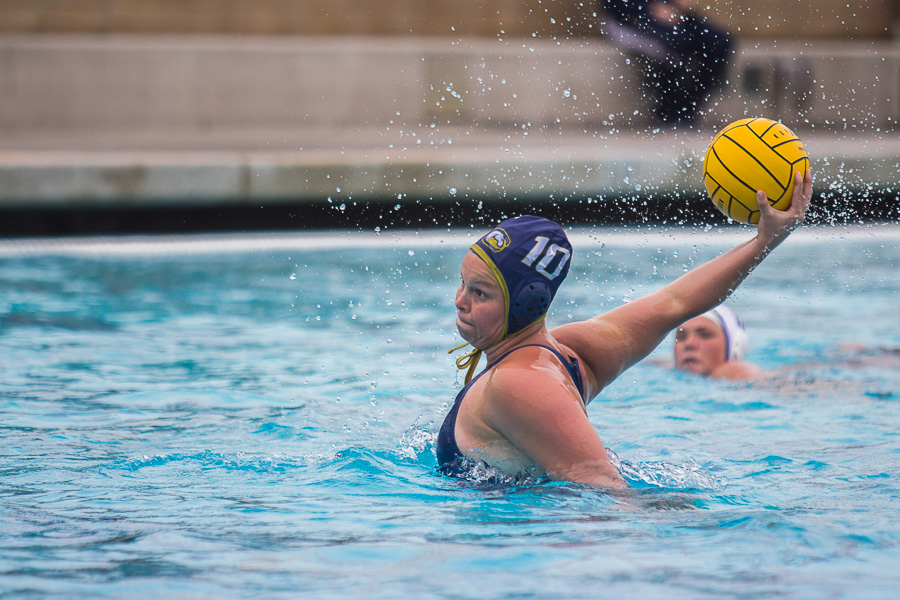 Aggies win three of four games over weekend tournament
It was a very successful weekend for the UC Davis women's water polo team from Feb. 18 to 19 at Schaal Aquatics Center, as the Aggies won three of their four games, bringing their overall record to 7-11.
The start of the weekend was difficult for the Aggies, as they took an early loss in their first game on Saturday to Pacific, 11-8. Pacific, ranked 11th by the NCAA, was the 15th straight nationally-ranked opponent that UC Davis has faced so far this season. The 12th-ranked Aggies were not disheartened by the first game, however, as they took two impressive 19-6 and 19-4 wins against Sonoma State and Occidental, respectively, going 2-1 on the first day of play. Over the three games that the Aggies played Saturday, junior center Greta Kohlmoos scored a team-leading 12 goals, four each against Pacific, Sonoma State and Occidental. Sophomore utility Annie Kutt tallied her first collegiate hat trick.
Sunday's competition against CSU Bakersfield (CSUB) turned out to be a continuation of the previous two games on Saturday, as the Aggies picked up a 12-6 win following a dominating performance. Kohlmoos put an impressive four goals on the scoreboard, bringing her weekend total to 13. Junior utility Paige Virgil added three more goals, senior utility Hannah Harvey had two and freshman attacker Kathleen Schafle, and utility Annie Kutt and center Mckenna Hauss, both sophomores, each scored one.
CSUB scored the first goal of the game Sunday two minutes into the contest. After the Aggies placed one in the back of the net and the Roadrunners answered, UC Davis went on a 3-0 run to lead 4-2 after the first quarter of play. The Aggies scored two more goals in the second quarter, entering halftime with a 6-3 lead. Kohlmoos and Kutt each scored in the beginning of the third quarter to increase the lead to 8-3. Although CSUB responded with a three-goal run of its own with 6:06 in the fourth, Hauss and Kohlmoos each hit the back of the net to finish the match and give the Aggies the 12-6 win.
"Today's game was a good test for us because CSUB is a difficult team to prepare for," said head coach Jamey Wright. "I thought we did a good job on getting shots on goal — it was really a great balanced approach from the team. We didn't finish the counter opportunities as well as I hoped, so that was maybe one downside. We had maybe two or three counter attacks that we didn't score that we should have had."
As a team predominately composed of freshman and sophomore players, the UC Davis women's water polo team has turned its play around these last few games.
"We are starting to turn around because the inexperience is starting to turn into experience and that is really good to see," Wright said. "We have to improve our fitness level, our six-on-five's, defense as well as our offense, and maybe build some more depth. It's been good to watch and see the progression. We have had the hardest schedule we have ever had and one of the youngest teams we have ever had and we just have to not listen to anyone else and trust the process."
The UC Davis women's water polo team continues its schedule this Saturday, Feb. 25, as the Aggies go on the road to Santa Clara, Calif. to play a doubleheader against Cal State Monterey Bay and Santa Clara.
Written by Ryan Bugsch — sports@theaggie.org