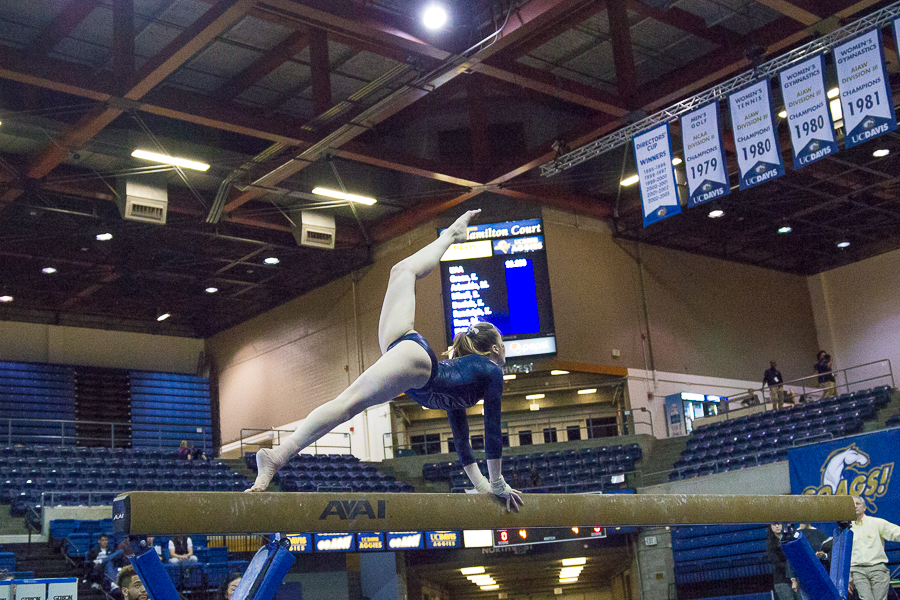 Aggies' win their sixth straight
The UC Davis women's gymnastics team started its weekend off with a big win on Friday, scoring 194.900 against Alaska Anchorage in the first of two meets against the Seawolves. The win wasn't the only positive takeaway from Friday's meet — junior Alexis Brown had a strong night on the balance beam, tying a school record of 9.9 and holding strong in her other three events for a team-high total of 39.300 to help UC Davis come away with the victory.
The Aggies followed their stellar performance from Friday with a season-high score of 195.100 on Sunday, coming away with their second home win this week and sweeping Alaska Anchorage in the Mountain Pacific Sports Federation home meets. Sunday's win was the Aggie's sixth consecutive victory.
Friday night's win set the tone for the dual meet. UC Davis cleaned house on bars and vault, securing the top five spots while compiling a score of 146.175 following the final rotation. Brown wasn't the only gymnast with a strong performance — senior Yonni Michovska, alongside fellow senior Katy Nogaki and sophomore Kara Jones, collected scores of 9.725 on vault, while sophomore Aya Suzuki helped the Aggies secure the victory in bars by tying her season-best score of 9.725.
Sunday's wrap-up to the double meet ended with an array of season bests from both UC Davis and Alaska Anchorage. Michovska showcased her expertise on the uneven bars with a near-perfect score of 9.900 that helped earn the squad one of two all-time top 10 scores for the evening. Brown followed her impressive Friday night performance with a solid showing Sunday, scoring 9.925 on floor exercise and a team high 9.850 on vault. Sophomore Kara Jones helped UC Davis earn the second all-time top 10 score of the night by placing second on the balance beam with a score of 9.875, falling just short to an Alaska Anchorage athlete.
With a 10-4 record, the Aggies will look to continue their six-game win streak in their home quadrangular against San Jose State, Seattle Pacific and Sacramento State on Friday, Feb. 24 at 7 p.m.           
Written by: David Flores — sports@theaggie.org