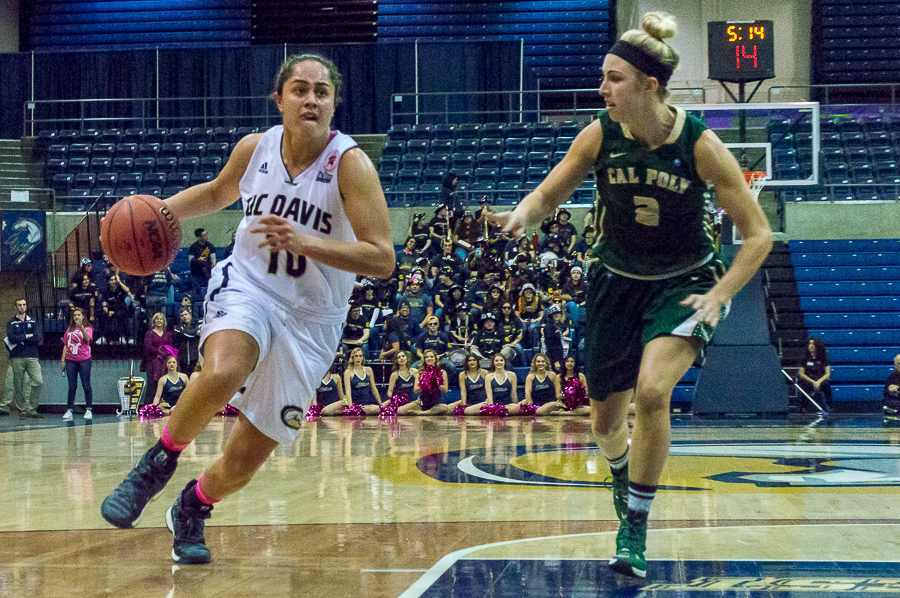 UC Davis defeats Cal Poly 83-75 with monstrous night from Bertsch, Nafekh, Gianotti
With six straight wins coming into the game on Wednesday, Feb. 22, the UC Davis women's basketball team began the first of its final two home games of the season with increased motivation to keep its momentum going. The Aggies knew that they would need to play tough against Cal Poly, which entered the game having won three of its last four games. UC Davis responded with a hard-fought 83-75 victory in a physical and fast-paced game, securing its seventh-straight win, a feat which ties a team record for Division I play. With the win, the Aggies remained atop the Big West Conference standings.
After a rough first quarter, in which the team scored just 16 points and trailed by as many as eight, the Aggies entered the second quarter with a burst. Junior guard Dani Nafekh scored a quick 12 points during one three-minute scoring spurt en route to 22 points on the evening. Nafekh was quick to credit her team for her scoring flurry.
"It's just kind of what comes to you," Nafekh said. "Your team gives you shots, you've just got to hit them."
Nafekh was not the only player to put up big numbers. Junior forward Pele Gianotti finished the game with 25 points despite entering halftime with only four points.
"I was just playing how I usually play," Gianotti said. "Except this time I was like, 'OK, I hit a couple shots, let's keep it going.'"
On top of her hot shooting night from the field, Gianotti shot nine-for-nine from the free throw line.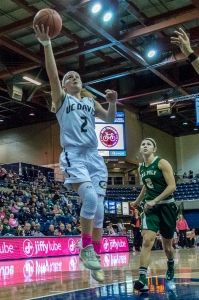 The trio of Nafekh, Gianotti and sophomore forward Morgan Bertsch accounted for 65 of the team's 83 points. Gianotti and Nafekh missed just two of their combined 14 shots, and Bertsch shot 9-14 on her own from the field.
Although the Aggies built the lead to as many as 15 points, Cal Poly cut their deficit down to six points before UC Davis finally pulled away with the victory. Nafekh explained how the team keeps its composure during periods of adversity.
"I think we just never lose confidence in each other and in our team," Nafekh said.  "We just know that if we keep playing as hard as we can and listening to what we have to do, then we're going to get it done."
Heading into the team's final three games, head coach Jennifer Gross hopes that the team can keep up the great work and continue to improve.
"I honestly feel like we can keep getting better," Gross said. "That's exciting! We always want to have momentum going into [the Big West] tournament, so I hope that we can keep continuing to win and playing well, but we're really focused on winning and getting better."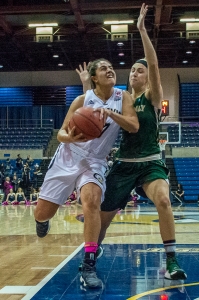 Gianotti echoed her coach's sentiments as she spoke of the team's motivation going into the finals games of the season, leading into the upcoming tournament.
"Oh, that's what we've been working towards this entire year, so we're not going to let it slip out of our hands now," Gianotti said. "We've been working for months now, and we're just really excited to finish it out strong."
The women's basketball team will play its final home game of the season on Saturday, Feb. 25 at 2 p.m.
Written by: Bradley Geiser — sports@theaggie.org