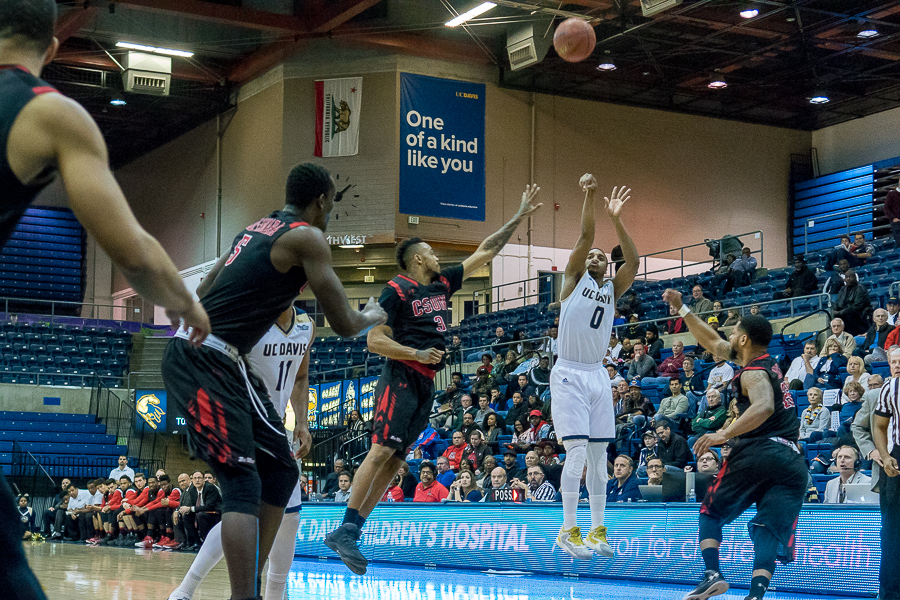 Streaky shooting guides men's basketball team to 96-85 victory against CSU Northridge
Coming off of consecutive losses, the UC Davis men's basketball team bounced back and defended its unbeaten home record on Thursday night by knocking off the Matadors of CSU Northridge, 96-85, in a showcase of offensive firepower from both sides.
Just over eight minutes into the well-contested game, senior guard Brynton Lemar put a jolt into the Pavilion crowd by railing home a deep three-pointer as he was fouled and then splashing in a second three less than 20 seconds later to keep the building buzzing.
Lemar, in another one of his many standout games this season, caught fire shooting from all over the court early and kept it going throughout the game. Making 75 percent of his shots from the floor, including eight from beyond the three-point line, Lemar led the team with 28 points on the way to reaching a historic benchmark: He became the 22nd UC Davis men's basketball player to reach the 1000 career point mark.
"Me and Siler [Schneider] got up a lot of shots earlier this week and I think that really transferred into today's game," Lemar reflected. "Just me being confident and my teammates finding the hot hand. If I'm hot, they'll find me, so it's not just me. They're setting screens to get me open, it's a team effort."
Lemar wasn't the only Aggie who shot the ball well early on, however, as three-pointers rained in from fellow senior guards Darius Graham and Lawrence White, along with a pair from sophomore guard Siler Schneider. The Aggies scored 56 points in the first half on an almost-unheard-of 83 percent shooting from beyond the arc and 72 percent shooting from the field to give themselves an 18-point halftime advantage.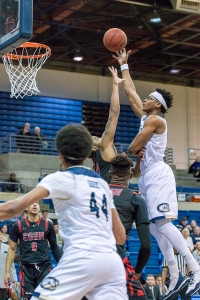 The Matadors opened the second half on a 7-1 run, with all of those seven points coming from CSUN's junior guard Darin Johnson. He led his team with 24 points. Lemar immediately responded to Johnson's offensive flash, knocking down his sixth three-pointer of the night to give the Aggies a 60-45 lead with just over 17 minutes remaining.
Aiding Lemar in second-half scoring were Schneider and junior forward Chima Moneke, who both continued to produce on the offensive end. Schneider matched Lemar's 75 percent shooting from the field and scored from all over the court to amass a career-high 23 points. Moneke had another active night in the paint, totalling 19 points, six rebounds and a couple of blocks.
"I come into every game trying to get at least 10 rebounds," Moneke said. "I try to be impactful, blocking shots and being in the right place on defense. Coach [Jim Les] always says that if you play with energy and effort, the ball will always find you."
The Aggies eventually built their lead up to a comfortable 20 points after a late sequence of back-to-back dunks. The first came from senior forward J.T. Adenrele off of a dish from Lawrence White, and the second came when White caught a pass from Graham and streaked up the court to slam the ball home, finishing off his night with nine points. Graham had 10 points of his own in the contest, along with a team-high seven assists that helped him become the third player in school history to reach 400 career assists.
A late surge from the Matadors, who finished the game on a 15-5 run in the final five minutes, cut into UC Davis' substantial lead. The Aggies still held on to secure an 11-point victory, boosted in part by the team shooting 70 percent from behind the arc for the night.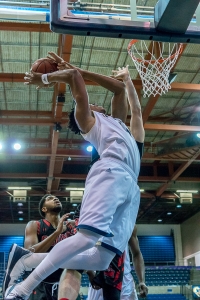 "This was a trap game that I was really worried about," said head coach Jim Les. "Everyone has been talking about [the upcoming game on] Saturday, and it's great that there's a buzz. It was our challenge as a staff to keep the guys locked in, not to stub our toe tonight. I was really proud that they were able to stay focused on the task at hand to get this win."
With their ninth conference win, the Aggies are tied for first place in the Big West Conference, meaning that playing well in their final three regular season games will be crucial. In its next game, UC Davis will host Long Beach State on Saturday evening in one of the team's most highly-anticipated games of the season. The nationally-televised event is set to get under way at 5 p.m.
Written by: Dominic Faria — sports@theaggie.org