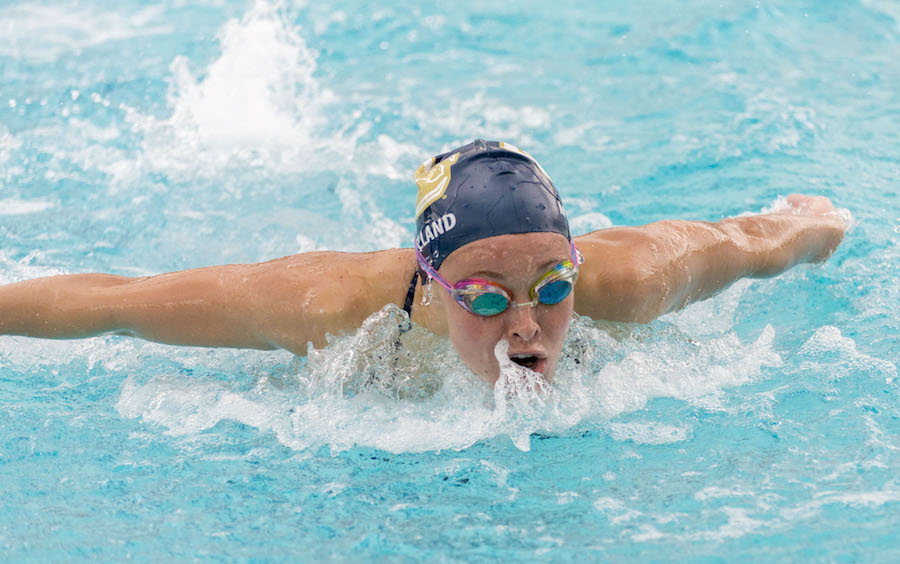 UC Davis women's swimming and diving takes third place after four-day competition
The UC Davis women's swimming and diving team arrived at East Los Angeles College on Wednesday, Feb. 15 to compete in the four-day long Mountain Pacific Sports Federation (MPSF) conference championships, determined to protect its reign of the conference. Although the Aggies weren't able to defend their collective MPSF Championship title of a season ago, they still established remarkable performances, which enabled them to clinch a third-place finish with 593 points, just behind second-place UC Santa Barbara (623.5) and the newly-crowned champion, the University of Hawai'i (717).
The MPSF Championship event was divided into eight sessions across the weekend, with each session featuring a different set of preliminaries and ranked events that determined which athletes would move forward into the next round of competition and how many points would be added to their team's collective score. The Aggies took a little while to warm up and ended the first day in fourth place with 60 points, but they upped their focus and maintained a consistent third-place standing in each of the following days of competition to ultimately take the bronze for the entire championship run.
The MPSF Championship meet served as a platform for stellar individual performances from several Aggies. Sophomore Solie Laughlin racked up the accolades for a huge weekend and managed to defend all three of her freshman titles, securing her title as the 400-yard individual medley (IM), 200-yard backstroke and 100-yard backstroke MPSF champion. She also has become only the second Aggie ever to win three individual events at the championship. Laughlin's 1:55.37 200 backstroke time broke the previous MPSF Championships record by nine one-hundredths of a second, and she placed first in the 400 IM with a time of 4:10.86.
Friday's diving event at the Rose Bowl Aquatics Center in Pasadena, Calif., boasted two UC Davis athletes amongst the top 10 finishers. Sophomore Shaifali Goyal finished in second place with a score of 229.20 to gain 17 points for the team, and junior Angeli Proshak put up a ninth-place score of 195.40 for nine points. Goyal's 229.20 was a personal best and a new school record on the platform.
Other notable performances include that senior Marissa Brown, who finished third overall in the 1,650-yard free with a season-best time of 16:47.58. Even more astounding, however, was her 1,000-yard split, in which her 10:04.42 broke the school record by more than half a second. Senior Elise Roberts also outperformed her best time in the 200-yard breast by more than a second at 2:13.78 to land a second place spot in the event, adding 17 points to the UC Davis score.
Though some athletes took the spotlight in their respective events and excelled individually, commendable efforts from the entire team ensured that UC Davis picked up points across the board to boost the team to its third place collective finish. 37 points were collected solely from the 200 butterfly event, in which freshman Olivia Smith, freshman Cora McClelland, and sophomore Eva Chung finished fifth (2:03.79), seventh (2:05.20) and eighth (2:05.73), respectively.
The final event, the 400-yard free relay, was the icing on the cake for the Aggies, as the squad of freshman Jamie Pincin, junior Courtney Schultz, sophomore Iris Brand and senior Kirsten Brand finished in fourth place with a new season best time of 3:23.16, adding 30 points to the final score.
After the long weekend, the UC Davis women's swim and dive team had much to be proud of; the combination of a bronze finish and an array of record-breaking accolades for many individual athletes will keep the Aggies on the map as tough competition in the chlorine.
Written by: Alex Arechiga — sports@theaggie.org