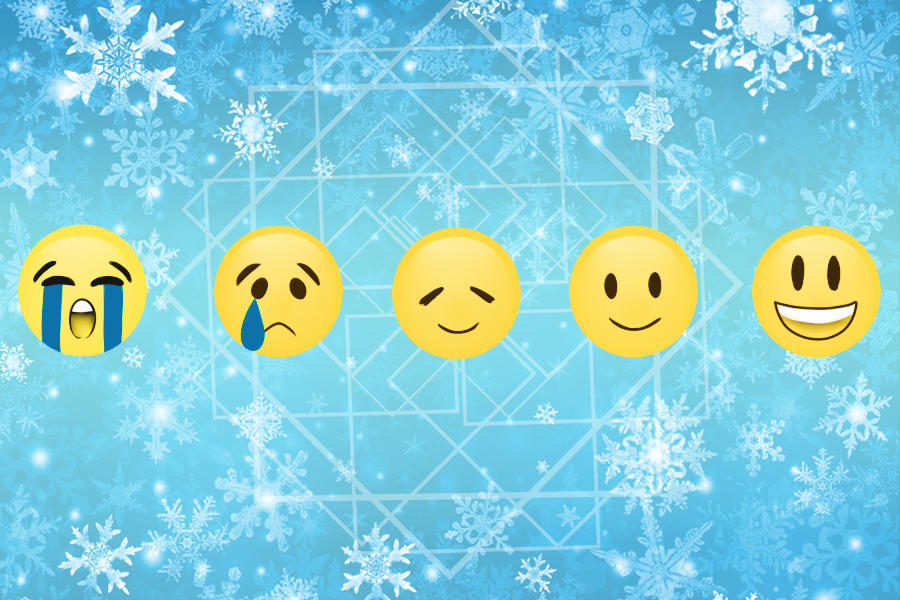 A guide to combating the gloom of winter classes, weather
You're walking from class to the bike racks outside, obsessing over your answer to problem number seven on the midterm you just took. The sky is the same shade of gray as the sweatpants you've worn every day for the last two weeks, the air is humid and the only thing you're looking forward to is the weekend, even though it's week seven and the most exciting thing you plan to do is microwave your frozen salmon burger between studying for a second round of midterms. At least you won't have to bike to class in the pouring rain.
Welcome to the middle of Winter Quarter. Luckily, despite everything that UC Davis students collectively dread around this time of year, there are ways to beat the flood of winter blues.
Ways to beat the rain
Yes, California is in a drought. Yes, it needs the rain. But no, we don't like getting soaked from the first downpour of the morning and replenishing our clothes with rain water in between classes for the rest of the day. However, this is the perfect opportunity to look on the bright side, or at least pretend to look past the clouds; more water now means a prettier, flower-filled spring.
Until then, grit your teeth, make the wet bike ride home, strip off your clothes and take a hot bath. Light some scented candles (also essential for power outages) and stock your cabinet with snacks. If you don't have a bath — compromise, make it a shower.
Now you have an excuse to wear your bathrobe all day and binge the Netflix series that you would have regretted watching if it were nice outside.
Ways to beat the cold
From numb fingers to chapped lips, winter doesn't take pity on the unprepared. So whip out your credit cards and start shopping! The Vacaville Outlets are a 15 minute drive west of Davis — stores like The North Face and Columbia are great places to get quality weatherproof gear. Once you have your basics, layer some scarves and trendy socks, and you're set for a crisp winter stroll through the Arboretum.
Ways to beat boredom
It's 38 degrees and pouring rain on a Friday night — and no one you know is throwing a party. After all, who wants to leave home for a rager when they can cuddle up with a blanket on the living room couch? Staying home doesn't have to be lonely, though, so knock on your housemates' bedroom doors and start rallying. Make a pitcher of sangria together with frozen fruit and that leftover bottle of wine in your fridge and put on some music. Order cinnabread from Woodstock's, or scrounge around for baking ingredients and make edible cookie dough. With this, you'll be set for the night.
Ways to beat school stress
School may cause the year-round blues, but, somehow, Winter Quarter seems to make it even more woeful. Students often struggle to stay upright against the wind and rain in addition to their mountains of homework, pop quizzes and midterms.
It's all about the atmosphere — remember last spring when reading your biology textbook didn't seem so bad when laying on the Quad with a cold drink? Change up your winter study habits and grab a hot drink at Mishka's Cafe, where the hum of coffee makers and pattering rain will relax your mood and turn your textbook-latte combo into a solid Instagram photo-op.
Ways to beat the overall winter "gloom"
It's that feeling you get when you wake up and realize it's a Monday morning, you have a midterm in 20 minutes, all of your warm clothes are sitting at the bottom of your hamper and it's raining. Spring may not arrive for another few weeks, but that doesn't mean you have to be seasonally dejected until then.
Plug in your earphones and crank up some cheerful tunes that remind you of sunshine. Put a trash bag over your bike seat. Tighten the drawstrings on your hood, and don't forget your mittens. Think about hammocks and ice cream and tanning at the Rec Pool. Spring Quarter will be here before you know it.
Written by: Allyson Tsuji — features@theaggie.org