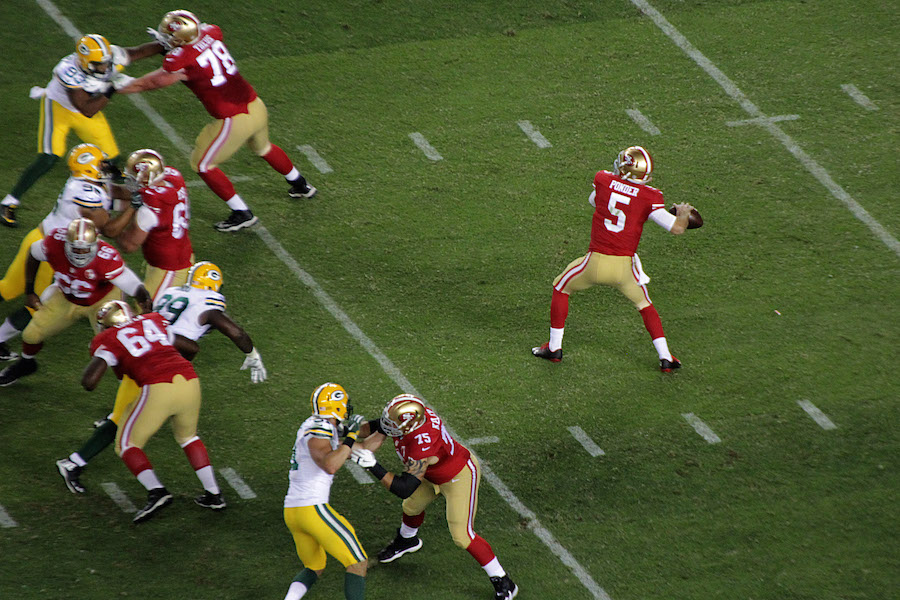 The Combine, Free Agency, NFL Draft
The 2016-2017 NFL season has come and gone. For some fans, the thrill and excitement of an overall successful season made the weeks fly by. For others, the season couldn't end fast enough — sorry, San Francisco and Cleveland. We witnessed another, yes, another Patriots Super Bowl victory that proved once again that Tom Brady, aside from being one of the greatest signal callers in football history, is also getting much better at magic. As fans adapt to their football hibernation, there are some essential dates to keep on notice in the upcoming months. Here are a few events that football fans will want to mark in their calendars:
Scouting Combine (February 28 to March 6)

Start of Free Agency (March 9)

NFL Draft (April 27 to 29)  
Teams like the aforementioned Browns and 49ers, along with many of the below .500 teams, will look to the combine, free agency and the draft to restructure their weak rosters. As for the other teams, this is a time to build upon the success from last season and address some areas of concern. For fans, choosing what to pay attention to involves many variables ranging from investments in money pools to die-hard fantasy aficionados or just simply possessing a passion for the game.   
This year's crop of collegiate-to-pro hopefuls is filled with talent. Defensive end Myles Garrett from Texas A&M had a solid junior year in which he amassed 8.5 sacks while only appearing in 11 games due to a lingering knee injury — Garrett is projected in several mock drafts to go number one to the Browns. According to NFL.com, before the draft as many as 335 total collegiate players, including Garrett, will get the chance to showcase their skills and distinguish themselves from the herd.
Watching the scouting combine can be daunting. Most fans will only catch a few players rather than sit through the entirety of the combine — but, of course, there are those who pay close attention to every player and every drill to feel like they are part of and well-informed of the decision-making process.
Free agency can be an exciting time for those fans who are more equipped to catch the occasional news clip on their favorite sports channel or notification on their phones. This is a chance for teams to fill glaring holes in their rosters and, for some, to appeal to the fan base by bringing in a big-name free agent. This off-season's possible free agents are sure to make a splash with whichever team is willing to offer a king's ransom for their services. Names like Le'Veon Bell, Eric Berry and Kirk Cousins are the headliners of the list, although some NFL experts are predicting that many of the big-name players will get the franchise tag.
While some teams will be looking for a reason to blow their money, others will focus on bringing in veteran leadership and adding depth to an already talented roster. Players like converted quarterback-to-wide receiver Terrell Pryor, who's coming off his second season at his new position and his first where he eclipsed 1,000 yards receiving, should get some attention and would be a nice addition as a solid number-two receiver. Some of the most exciting signings are the ones that go under the radar and don't really bring attention until they start producing on the field — one of the better examples of this would be last year's signing of longtime journeyman and special teamer Lorenzo Alexander, who recorded 12.5 sacks last season for the Bills.
The NFL Draft is by far the most exciting event among the bunch, and has become one of the most-watched sports-related programs in America. ESPN reported that their viewership stood around 6 million for the first round of the 2016 Draft with a high of over 7 million. With the possibilities of big trades and shocking draft choices, the NFL Draft makes for an entertaining event for parties with friends. Some prefer the comfort and solitude of sitting in a favorite recliner at home with a cold beverage — this also has the added bonus of privacy so that when friends want to harass you when your team chooses, say, the fastest player in the draft instead of the future face of the franchise (disclaimer: bitter Raiders fan) you can only be reached via telephone, and there's a simple fix for that.
Fans are faithful to their teams, so much so that it has become a part of their family. Traditions are built around the sport and lives are brought up in it. Football has become America's pastime, and when the season comes to an end, many of us search for some form of comfort to alleviate the need for the gridiron. Luckily, the off-season offers some relief. If you're a fan, you won't want to miss it.      
Written by: David Flores — sports@theaggie.org