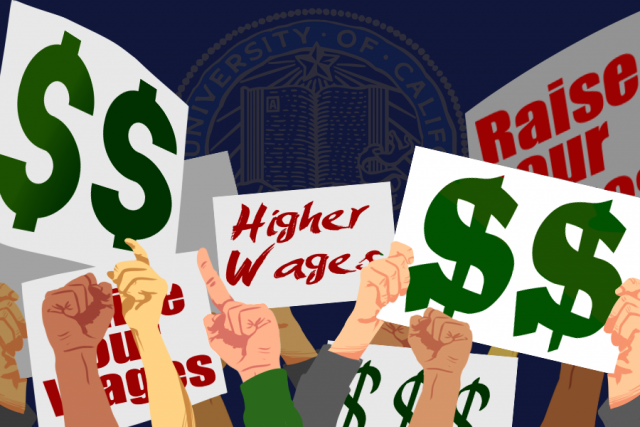 State legislators write letter to UC President, express concern for UC worker wages
Following the University of California (UC) workers' strike on Jan 10. regarding fair wages and pension plans, a group of state legislators, consisting of 26 General Assembly members, composed a joint letter to UC President Janet Napolitano. The legislators voiced  their concern for the current state of this labor dispute and urged Napolitano to display leadership by facilitating a smooth resolution.
While the UC is the third largest employer in the state, wages for administrative, clerical and support workers have either remained stagnant or decreased by 24 percent in the past two decades. These declining conditions for UC workers coincide with the recent increase of UC tuition prices.
"[University of California] continuously fails to uplift communities" said Christian Castro, the communication coordinator for Teamsters Local 2010. "Tuition keeps getting more expensive, making it harder for our own citizens to attend college [meanwhile] you're not paying the people who live in these communities enough and hurting them on the back end […] while executives are getting bigger bonuses."
Since the strike, negotiators for the Teamsters and the university have resumed  bargaining.
"We believe that there have been improvements," Castro said. "We are continuing to push and go back and forth to get a resolution that is fair for everyone."
Castro stressed that one of union's biggest concerns is fighting the 2016 retirement tier.
"What this is doing is going from a designed benefit plan with regular pensions, where you put in so much time and with a formula it says how much you get after you retire, and instead turning it into a 401(k)-style […] and there is no certainty you will get anything in your retirement," Castro said.
Castro insisted that the union completely oppose this proposal, and he believes that "if you put 25 years of work, you should have a dignified retirement plan after."
Castro also mentioned that Dr. Richard Pan, a pediatrician and senator representing the Sacramento region, is in the process of authoring a letter — cosigned by other members of Congress — in support of fair wages for UC workers.
Napolitano requested adopting a new retirement tier. In response, the UC Regents put forward a new pension plan. This new 401(k)-style plan is predicted to be a costly endeavor of $500 million in the first 15 years. As a result, according to Castro, the plan will provide "a lesser benefit to workers."
While the union and the legislature were told they had the option of refusing the new retirement tier, Teamsters 2010 negotiators are currently bargaining.
"[We are] finding out that the UC lied to the us and are trying to force the new, more expensive and worse performing 401(k) on our bargaining units," Castro said.
According to Lani Richardson, a UC Davis Teamster bargaining representative, the letter has, to an extent, ameliorated the cooperation of the UC negotiators.
"It is telling, and disappointing that our elected officials have had to weigh in, to remind the University they are expected and required to bargain in good faith [plus] make a fair proposal to our Union," Richardson said via email. "I am hopeful that the letter will impress upon the University that…as a public institution — the UC's executives must be held accountable."
Richardson also wrote about the current state of the bargaining process.
"The UC promised the Unions and the California Legislature that retirement benefits would be collectively bargained — unfortunately, we're finding that to NOT be the case," Richardson wrote. "'Collective Bargaining' is just that… 'Collective Bargaining' not holding intransigence positions and saying, "here take this, we're not interested in your needs or ideas."
The UC Office of the President (UCOP) is also eager to reach a speedy and fair resolution to this conflict.
"The university shares the legislators' urgency in bringing the negotiations with the Teamsters to a close," said Ricardo Vazquez, UCOP media representative, via email. "Since the letter, UC has had several intensive bargaining sessions with the Teamsters with regard to the Clerical and Skilled Crafts Units […] the university is urging the Teamsters' leadership to finalize a new contract without further delay, and we hope the Teamsters will take an offer to their members for a vote."
He listed the provisions of the UC's latest offer, which are now expired and thus require further bargaining to establish new offers.
According to Vazquez, the UC's initial offer included an "average 18 percent wage increase over a six-year contract. These increases are on top of the 22.5 percent in pay increases UC clerical employees received under the most recent five-year contract."
This offer is intended to ensure that salaries for clerical workers remain market competitive.
"Currently, the average annual salary of a UC clerical employee is $47,300 — nearly 20 percent above the state average of roughly $39,200," Vazquez said.
As for healthcare benefits, Vazquez said that the UC had offered "an average annual cost of just $384 for generous health benefits for employees and their dependents. By contrast, the average American worker typically pays more than $5,200 per year for less generous health benefits for just themselves."
Negotiators from both sides are scheduled to return to the bargaining tables in the next few weeks.
"The university is urging the Teamsters' leadership to finalize a new contract without further delay, and we hope the Teamsters will take an offer to their members for a vote," Vazquez said.
Written by: Kimia Akbari — campus@theaggie.org