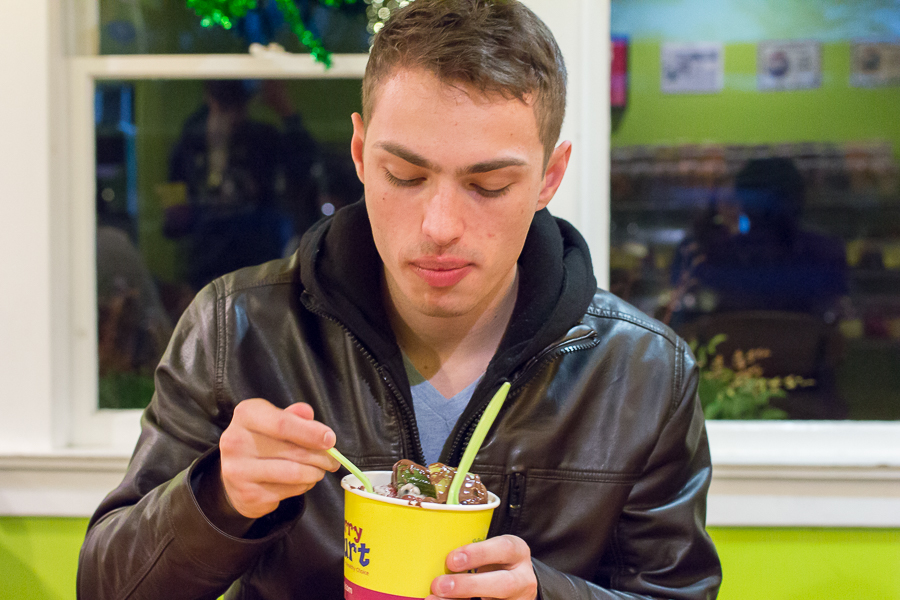 Frozen yogurt as both celebratory treat, comfort food
On the quarter system, midterms roll around pretty much every week of your life. It's only natural to hit up everyone's local fro-yo shop, Yoloberry, at least one of those times.
Chocolate yogurt with chocolate chips, oreo bits, hot fudge, and basically every chocolate topping possible.
If you're a chocolate lover, this is your go-to because, let's face it, that test was hard and you deserve this treat. You studied for the past nine nights in a row and it still didn't go well. That just seems to be your fate no matter how hard you work. But your value doesn't lie in the letter grade you see on Canvas next week — no, your value lies in your hard work and determination, not to mention your self-respect. You win some and you lose some but chocolate can help soothe the soul no matter what the outcome. You understand that better than anyone. What's a better pick-me-up than a heaping bowl of chocolate goodness?
2. Low-fat vanilla yogurt with strawberries and whipped cream.
If you like simple desserts, there's a good chance you are also the type of person who probably studied for the past two weeks before your midterm — and you definitely aced it. You know you did. Despite the good grade, you spent a lot of time in the library this quarter and haven't gone out much. But that's fine, because your version of a good time is chilling by yourself or maybe with a couple of close friends, and even though it's the same thing you did last weekend, you're the kind of person who knows what they want and how to get it — no matter what it is.
3. Sour gummy worms, fruity pebbles, rainbow sprinkles, sour tape, gummy bears, marshmallows and animal cracker cookies on top of one drop of yogurt
If you prefer any variation of miniscule amounts of yogurt and all of the colorful toppings, you embody the "yolo" in Yoloberry. Sugar-overload is no match for your bod! You could care less about how that test went — all that matters is that you and your taste buds deserve the best experiences this life has to offer. To you, that test score is not going to matter in 20 years, but you'll probably remember the wonderful unicorn concoction you've just created and the awesome time you're having with your friends while you consume it.
4. Berry-flavored yogurt with fruity poppers, kiwi, mango and a little mochi on the side.
If you are the kind of person who orders frozen yogurt with fruit on top, you probably think you're making the right choice — just like you did with that last multiple choice question. Like keeping track of the amount of calories you consume a day, you're meticulous about tests, and after comparing answers with your friends, confidence is low. But just like balancing your workout and study schedules, you, more than anyone, understand the true meaning of "cheat-day" after a tricky midterm.
5. Peanut butter chocolate swirl yogurt with bananas, almonds, Reese's cup crumbles and chocolate sauce.
Eh, feelings are always up in the air for you after a midterm. Did it go well? Did it go terribly? Who knows. Certainly you don't, and that's kind of how life goes for you. Choices can be great, but you never truly know which direction to go and often the ones presented result in mild anxiety and indecisiveness. But like your choice in frozen yogurt, why not have it all?
Written by Marlys Jeane — features@theaggie.org