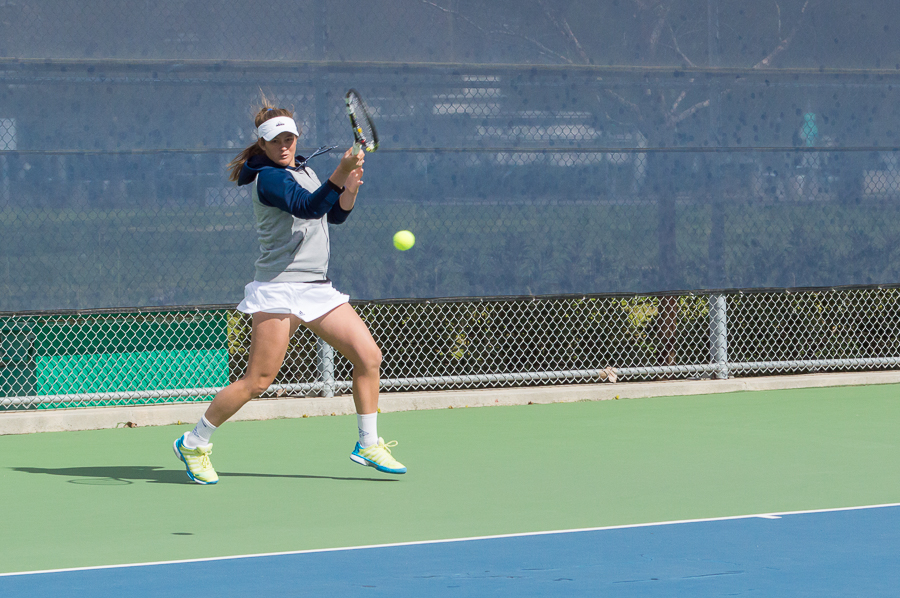 Women's tennis team makes do with two successful matches home matches, one rain cancellation
The UC Davis women's tennis team opened up its three-match weekend homestand with a 7-0 sweep of the Montana Grizzlies on Friday, March 3, giving the team its tenth win of the season in 13 games.
Each of the eight UC Davis players who participated in the match contributed to the team's victory, starting with the three doubles matches. In the number-one spot, junior Kristy Jorgensen and sophomore Kelsie Bryant played fiercely, but they ultimately came up short against the superb tandem of the Grizzlies' Hannah Sulz and Catherine Orfanos. Jorgensen and Bryant looked impressive early, winning each of the first three games. But the Grizzlies battled back; they took the next four games and ultimately held on for a 7-5 win.
"We were up at the start, but I think we just got a little bit too loose," Jorgensen said. "We really should have just stayed on them, kept hitting [the ball] hard and go for our shots. We started to get a little nervous. We should have just stuck with our game. But that's what we're going to do tomorrow [against Cal Poly], so I'm stoked for it."
The lone doubles loss, however, was the only blemish on the day's contest for the Aggies, as victories in each of their remaining two doubles spots secured the first point for the Aggies. The tandem of Texas natives senior Samantha Martino and freshman Nikita Pradeep, along with the second-spot pairing of sophomore Isabella von Ebbe and freshman Kristina Breisacher, both won their matches six games to two.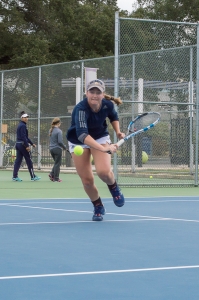 In singles play, the Aggies solidified their victory by winning all six matches. The team's two freshman, Breisacher and Pradeep, both earned straight-set victories at the three and five spots, respectively. Also winning in straight sets was junior Jessie Lee, who vanquished her opponent 6-3, 6-2 in her match at the number-four spot.
Fresh off their intense match in the doubles, Jorgensen and Montana's Sulz were pitted against each other in the number one-singles contest. This time the Aggies came up victorious, as Jorgensen beat Sulz in straight sets to earn her team its decisive fourth point of the afternoon.
"It feels really good," Jorgensen said. "It's a good way to start the weekend. I was hitting my shots a lot better than I have been and my serve felt good. Everything felt good. I'm excited for the matches this weekend."
The most thrilling match of the day, however, was the number-two singles contest between junior Lani-Rae Green and Montana's Lidia Dukic. Dukic took the first set with a 6-4 victory, but Green evened the match in the second by locking-in a 6-4 victory of her own, thus forcing a final tie-breaker set. Despite the fact that both players knew that the match had no influence on the outcome of the overall contest, both sides continued to play with high energy and flaring passion. In the end, Green held on to win 11-9 in an intense final set to earn the seventh and final point for the Aggies.
"For me, I was playing more for the team at that point," Green said. "I looked up at the scoreboard and [saw that] everyone else had a pretty good time out there, so I was like 'I want to win for the team today.' I wasn't playing my best, especially in the first half and I really wanted to turn in around. I think I just found a way to win it. That's my thought process: stick it out, throw some more stuff at [my opponent] and see what can happen."
As two juniors who have been around UC Davis tennis for some time, Green and Jorgensen reflected on their thoughts on this year's team in general.
"It's my third year, so I've seen three different squads," Green said. "I think the energy this year is completely different from what we've seen in the past. We've had some great wins and some close losses [this season], but every day at practice and every match I've seen, all the girls are out here working really hard and fighting to improve every single day. I think that's an amazing thing to have on a team. We all have the same goal in mind, and we are all working hard to support each other, and not only to make ourselves better, but to make the overall team better."
Jorgensen had positive things to say about the team as well.
"I honestly think that this is the best team that I've been on since I've been here," Jorgensen said. "The team vibe; everyone just loves tennis, and we love training hard. Every match, you look down, you look at your teammates and you know that they are going to fight. I just love this team."
Friday's victory over the Grizzlies was both UC Davis' fourth shutout win of the season and its fourth consecutive win. What is going right for the squad in this sudden hot streak?
"Everything," said head coach Bill Maze. "You just sort of get on these rolls sometimes, and we're on one, so don't jinx it. I think today's match was really great preparation for tomorrow, we have a big one against Cal Poly. I'm glad that everyone won because the way to gain confidence is to win. I think [the t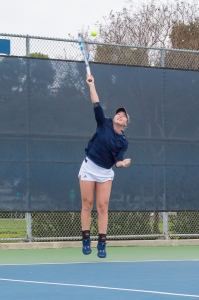 eam is] going to feel good going into tomorrow."
The Aggies kept their momentum rolling as they took on Cal Poly the next day and put together a dominant 6-1 victory over the Mustangs, posting their first conference win of the season and extending their winning streak to five matches. The Ags started off 1-0 after winning the doubles point with comebacks from doubles partners Jorgensen and Bryant and von Ebbe and Breisacher, each pair dominating 6-4 sets.
From there, UC Davis took control, with four of its players winning in straight sets. Pradeep wrapped up her match in a 6-2, 6-1 sweep with von Ebbe finishing soon after with her own 6-2, 6-0 victory. Lee topped her opponent 6-1, 6-2 to clinch the overall match for the Aggies. Green rounded out the straight-set wins for the Ags 6-3, 6-2 while Breisacher added to the victory with her 6-4, 3-6, 10-7 tiebreak.
With their win, the Aggies moved to 11-3 on the season, 1-2 in the conference and 7-1 at the Marya Welch Tennis Center heading into Sunday's matchup.
Scattered rain prevented the Aggies and Bobcats from completing their match Sunday morning. The Ags came in looking to extend their five-match homestand, but the match ended with the teams tied at 1-1.
The Bobcats clinched the doubles point by winning two of the three doubles matches. Martino and Pradeep posted a 6-2 win for UC Davis. The Aggies came back in singles play with von Ebbe winning in straight sets 6-2, 6-0 right before the rainstorm hit.
With this unfinished duel not affecting its record, the UC Davis women's tennis team hits the road next weekend looking to extend its current winning streak to six with a match at Nevada on Friday, March 10, followed by Saint Mary's on Sunday, March 12. The Aggies will next host at the Marya Welch Tennis Center on March 26 against Northern Colorado.
Written by: Dominic Faria and Nicolette Sarmiento — sports@theaggie.org