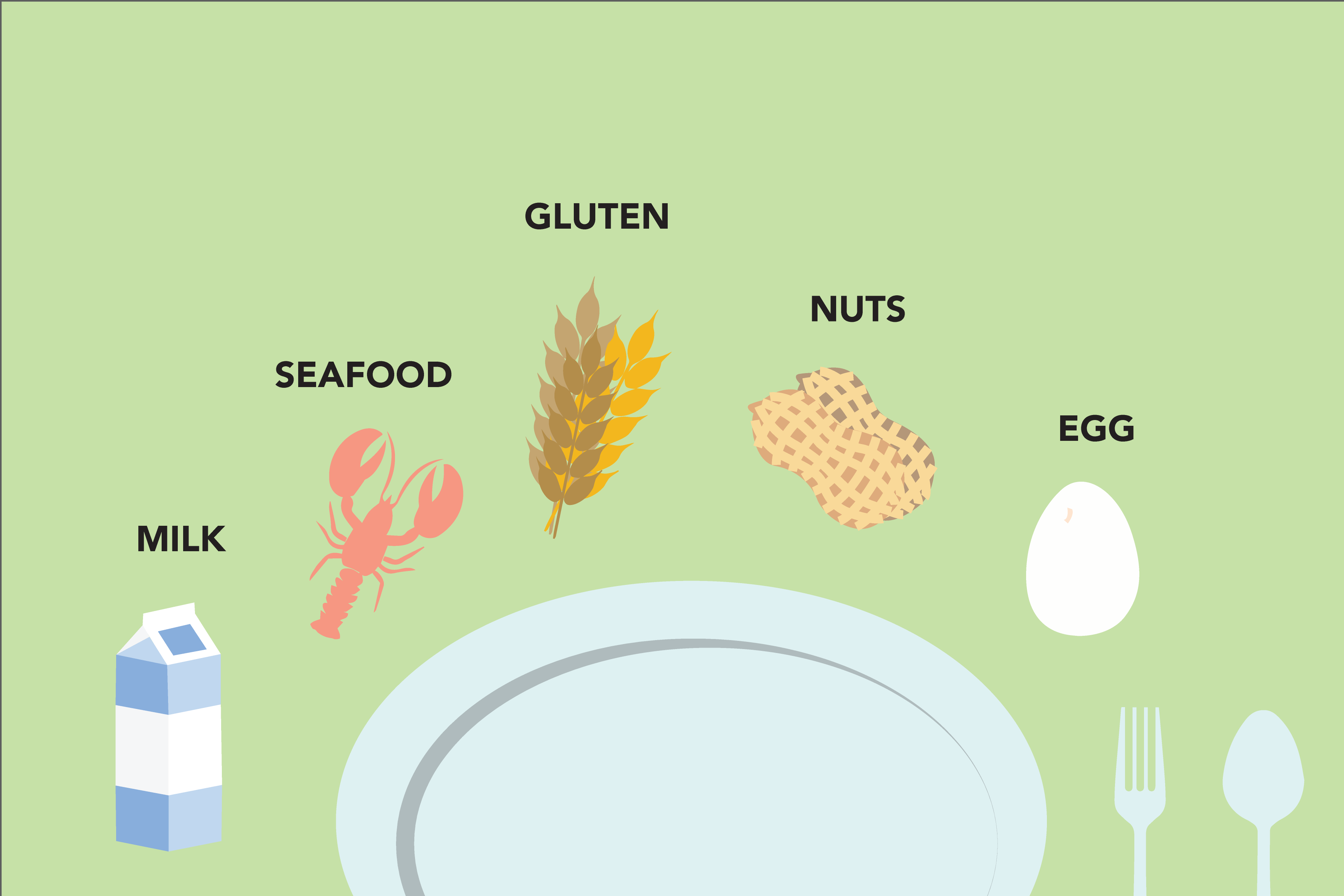 A variety of experiences on campus for students with food restrictions
Stopping by the CoHo one evening, Arev Markarian scanned the menu for a vegan option. Markarian, a fourth-year environmental science and management major, was surprised to find that Ciao offers a burger for vegetarian and vegan customers. When she ordered, the server said that she herself was not aware that vegan burgers were an option.
"On campus, […] you have to do your research," Markarian said. "With time, I've been finding more and more options. I find that kind of fun, having a challenge."
After watching a video that depicted the treatment of farm animals, Markarian decided to become vegetarian. Two years after becoming vegetarian, Markarian decided to become vegan, which she has now been for two years.
"I became vegetarian when I moved to Davis my freshman year," Markarian said. "I actually found it really easy having the D.C. […] because of the salad bar having tofu and there being vegan and vegetarian options, […] which made it easy to transition."
Because first-year students are required to purchase meal plans, the dining commons on campus must make accommodations for students with dietary restrictions. However, because students also choose to eat at eateries in the Silo and the CoHo, accommodations are still present, but not mandated.
Though Markarian does not mind searching for food options, other UC Davis students have stated their displeasure in the state of food selections on campus. Students with a variety of dietary restrictions, for both medical and personal reasons, mostly agree that there is room for improvement.
Rachel Scherr, an assistant researcher in the Department of Nutrition, said she feels accommodations should satisfy the needs of all students, but, more importantly, should be granted to students with religious or medical dietary restrictions.
"If students are paying for meal plans, obviously it should be foods that they can eat," Scherr said. "I believe it's important to have foods that don't contain allergenic compounds, like wheat or dairy, but also kosher and halal foods. At least for the more common food allergens, having labeling and signs for foods that contain the big eight allergens [is important]."
Kausalya Raman, a first-year design major and vegan, said that although there are always vegan options in the dining commons, there is room for improvement.
"A lot of the foods that [the dining commons] make, [such as] pasta dishes, could really be easily made vegan if they didn't put cheese on top," Raman said.
However, Samvardhini Sridharan, a first-year biochemistry major who is a vegetarian and allergic to soy and eggs, said that she has found a favorable selection of food choices throughout the UC Davis campus.
"I have felt limited in no way," Sridharan said. "I've honestly felt like I can eat pretty much whatever I like that is vegetarian. Occasionally, there might not be something at Trudy's, but everyone is super willing to go in the back and check. There have been times [at other] places where I've felt like, 'I'm not going to get anything to eat.' I've never had that feeling at Davis."
Despite this, one concern for students in Sridharan's position is the incorrect labeling of foods in the dining commons. Raman was looking at the online menu for the dining commons when she noticed that a meal categorized as a vegan option included bacon in its list of ingredients.
"Sometimes when they're listing food, they'll label things as vegan [when] they're not," Raman said. "In the list of ingredients it will say bacon or fish sauce."
Akira Comia, a first-year electrical engineer major, has life-threatening allergies that include nuts, shellfish and eggs, relies on the ingredients listed on the labels in the dining commons when surveying what foods are available to him for dinner. Luckily, Comia said he has never had an issue with the labels being incorrect.
"I think the medical necessities are taken more seriously, in my opinion," Comia said. "They tell you, 'There's nuts in here,' or 'There's shellfish in here.' Whereas, if you're a vegetarian, it doesn't say 'There's meat in here,' you just have to figure that out. I have a friend who can't even eat pork-based soups and they don't tell you if they make the soup out of pork. I think they're not as careful with the ingredients if it's not an allergen."
Raman, who is also the vice president of the People for the Elimination of Animal Cruelty through Education (P.E.A.C.E.) club on campus, said the P.E.A.C.E. club has started a petition to increase plant-based options in the dining commons. Scherr acknowledged that both carnivores and omnivores can eat plant-based options, so offering a greater variety of plant-based options will "satisfy the needs of a broader student base."
Although the dining commons include The Blue Onion, a food station that offers solely vegan meals, both Raman and Sridharan said the vegetarian and vegan options in the dining commons can become repetitive.
"It sometimes feels like it's limited to pizza or pasta or garden salad," Sridharan said. "In the D.C., there are a certain amount of dishes the Blue Onion makes. After you've had that for two quarters, you start to get bored. Instead of having cheese pizza all the time, maybe [offer] a veggie pizza. It's just simple, small things."
According to Scherr, offering a wide variety of options is key.
"It's obviously quite critical that the university make sure students have healthy, balanced diets to be successful learners," Scherr said. "If there's a wide variety of choices, I think it should be easy to meet the needs of almost everyone."
For gluten-free students, each of the dining commons includes a gluten-free fridge. Ana Hansen, a first-year cognitive science and theater and dance double major, who is gluten-free for medical reasons, said she has found moldy foods in the fridge. Additionally, Taryn Lausch, a first-year geology major who is also gluten-free for medical reasons, said the fridge is not well-stocked, and has opened it to find only lunchmeat available.
Both Lausch and Hansen have found obtaining suitable gluten-free options in the dining commons to be frustrating. Hansen said she has become sick on numerous occasions due to cross-contamination.
"I've just stopped trying to eat there most of the time, unless I know I just want to eat salad with no protein on it," Hansen said. "There's also times when the allergen menu online will say [one thing] and I'll go […] into the dining commons and the labels have changed or something has changed where I can no longer eat it. That happened last night with the posole verde. I have eaten that every time […] and then the recipe had changed, the chicken was some pork [item] that had gluten in it. On the days I think there is food [for me], there isn't."
Lausch, like Hansen, frequents the salad bar but knows it is not enough of a well-rounded meal. For both Lausch and Hansen, the dining commons does not provide an accommodating, accountable option. Lausch has noted the discrepancies between her dining experience and that of her vegetarian friends.
"I think they make more of an effort for [them]," Lausch said. "There's always designated vegan and vegetarian options [and] they have the whole vegan and vegetarian section every single day."
For Hansen, the biggest frustration is the fact that she is required to purchase a meal plan. The meal plan, for her, is an extraneous expense, as she has been forced to grocery shop for adequate food options. She said a meal plan should not be required, especially for students with food allergies.
Although students with a variety of dietary restrictions have differing thoughts on food options on campus, Markarian and Sridharan both said they feel the workers at the food services at UC Davis are very willing to go out of their way to ensure that food options are made available to students.
"People are just willing to accommodate," Sridharan said. "They don't want to […] prevent [students] from having food that day. Medically related or not, people don't want to mess with your beliefs or mess with how you've been living your life for 18, 19, 20 years. I've never had a person who has said, 'We can't help you.'"
Written by: Hannah Holzer – features@theaggie.org