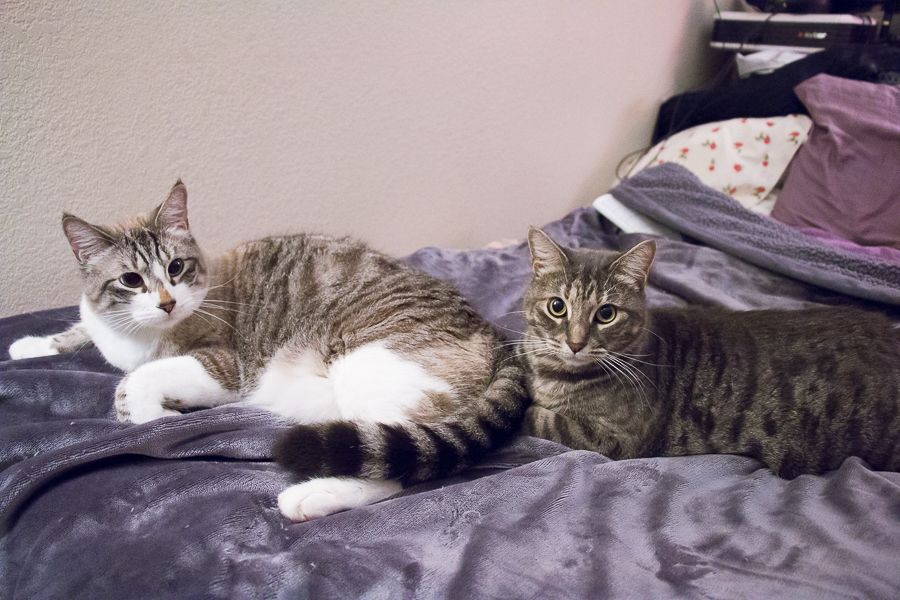 UC Davis, University of Florida project to reduce euthanasia rates of shelter cats
Shelter cats across the nation have been given another chance at life thanks to a joint project between the UC Davis Koret Shelter Medicine Program and the University of Florida Maddie's Shelter Medicine Program. The Million Cat Challenge aims to reduce cat euthanasia rates in North American animal shelters and to save one million shelter cats by 2019. Over 1,000 shelters nationwide have joined the challenge, with one of the first being the Yolo County Animal Services Shelter (YCASS) in Woodland.
Founded by Kate Hurley, the director of the UC Davis Koret Program, and Julie Levy, a professor of shelter medicine at the University of Florida, the campaign has saved 725,000 shelter cats from euthanasia since kickstarting in 2014.
"At the time that we conceived the Million Cat Challenge, shelter cats were dying at a far higher rate than dogs were," Hurley said. "[The campaign] helps put shelters in contact with one another so that they can learn about which programs are working in their own communities and situations."
While consulting with animals shelters around the country, Hurley and Levy noticed that some shelters boasted more successful adoption experiences than others. These shelters were using a variety of tactics to enhance the wellbeing of their cats, simplify tedious adoption procedures and prevent euthanasia practices.
"In a moment of clarity, Dr. Hurley and I discovered our calling to share these ideas with other shelters, and to create a shelter-led movement to transform how cats are cared for," Levy said in an e-mail interview. "Together, we've created a shelter-based campaign to save a million more shelter cats in 5 years."
The "million" of the Million Cat Challenge will be based on composite numerical reduction in euthanasia and increase in lives saved by the participating shelters, according to the project's website.
The campaign emphasizes five key initiatives that offer shelters sensible choices to reduce euthanasia and increase live outcomes for shelter cats. Pioneered by animal shelters across the country, the initiatives provide shelters with tools to assure humane animal care, provide the Five Freedoms for animal welfare and match each shelter cat with the most appropriate outcome, whether that is being reunited with the owner, adopted into a new home or returned to the cat's location of origin.
One of the initiatives, Return to Field, acknowledges that some shelter cats are better off living in the outdoors and on their own rather than in a home.
"Not every cat belongs in a home," Hurley said. "Some live in the outdoors and are doing fine. If they're in good shape, instead of euthanizing them, shelters will just leave them be and put them back."
Nicole Sullivan, a third-year animal science and management major and an animal care assistant at YCASS, commented on the shelter's dedication to providing quality care for their cats.
"At the shelter, our cages are set up with separate eating, sleeping and bathroom areas, which has been proven to help lower cats' stress levels," Sullivan said. "They get fed and their cages get cleaned as well as getting any vaccinations or medical care they need."
The campaign is currently ahead of schedule and is projected to reach its goal of one million by the end of 2017.
"This year we plan to develop inroads with shelter staff to empower them to make shelters safe havens for cats in everything they do," Levy said. "From the way cages are cleaned, to the toys and companionship they are provided, and to the search for the best outcome for every cat, the power in the hands of staff to help cats is unmeasurable."
As more animal shelters join the Million Cat Challenge, cat euthanasia rates in animal shelters are expected to drop dramatically. In the future, Hurley and Levy hope to continue communicating with animal shelters and finding more innovative ways of enhancing the lives of shelter cats.
"There's a lot of things you can do to keep a cat out of a shelter: educate your neighbors, provide foster care, adopt from a shelter," Hurley said. "Every single person can be a part of this challenge."
More information about the shelters participating in the Million Cat Challenge can be found on the project's website. Donations to the campaign can also be made online.
Written by Emma Sadlowski — science@theaggie.org