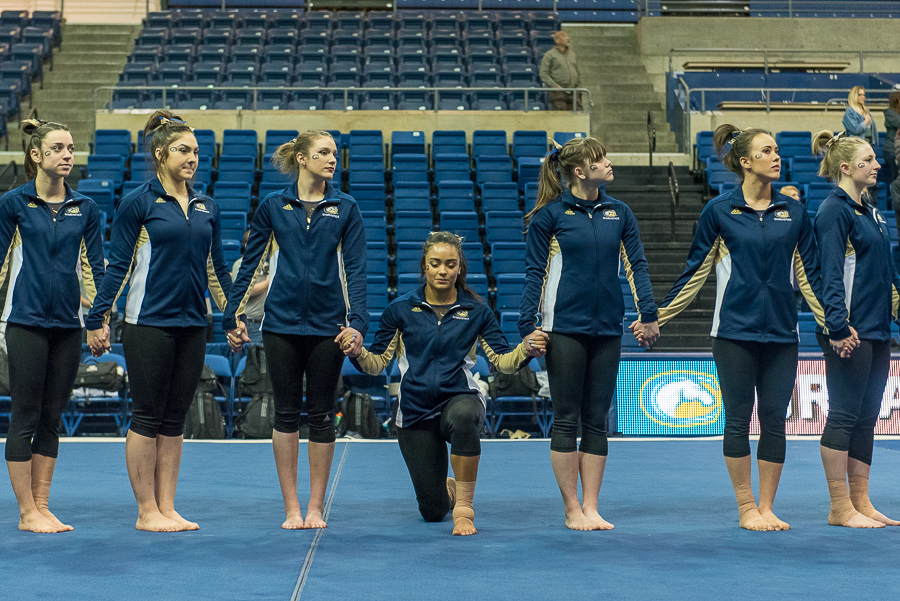 Highly-decorated UC Davis gymnast Alexis Brown continues to use athletic platform to advocate for marginalized communities
The Pavilion was held in an embrace of palpable energy — a near-collective held breath — as the audience awaited the announcement of the gymnastic meet's individual all-around victor. The four teams that convened for the Feb. 24 competition lined the mat in neat rows, the athletes' eyes fixed on the scoreboard above. And in first place…
…Alexis Brown of UC Davis, with a score of 39.300. She rose to gaze at the crowd, and right after a victorious smile spread across her face, she raised her clenched fist in the air as onlookers applauded her win.
For the past eight meets, Brown has engaged in a peaceful and symbolic protest at competitions. Brown kneels during the national anthem. She continues to hold hands with her standing teammates as she casts her eyes downward during the Star Spangled Banner. Brown raises her fist with pride whenever she is announced as the winner in an event. She has a cause, puts on a consistently-excellent performance and is unapologetic, sticking steadfastly to her convictions as firmly as she sticks her landings.
Though Brown's protest has been peaceful and symbolic to its core, she has been vocal about the reasoning behind her adamant refusal to stand during the national anthem. Through her actions, she hopes to bring awareness to the systemic oppression of and police brutality against Black and Brown bodies.
"The protest means that I want to bring awareness and bring knowledge to people that otherwise wouldn't have thought about [police brutality] due to their own life experiences that they've had to go through," Brown said. "Everyone has a different way that they look at life and because I feel like in the world of gymnastics, a very white-dominated world, not many people get the chance to think about these things that are happening. If I can just use this platform to reach a community that otherwise wouldn't have thought about that, I feel like I've done my job, and I have an obligation to stick to that no matter if there's negative or positive comments."
Brown's protest echoes the movement of the San Francisco 49ers quarterback Colin Kaepernick, embodying similar tactics of refusing to stand for the national anthem in advocacy of victims of police brutality in communities of color. Kaepernick's protest began to seep into the mainstream watch, and his protest was reflected nationally in high school, collegiate and professional teams across the country.
"I thought what [Kaepernick] did was so powerful and amazing," Brown said. "How can you stand up for a country that does not stand up for you personally and as a community? Although I love this country, and I'm so fortunate to be here in every single way, it's my obligation to use this platform to help people that don't have a voice but do need help. [Kaepernick] is right. We have an obligation as people, not just as athletes, to not turn a blind eye to things that we know are inherently wrong."
In a statement of support issued by the ASUCD Office of Advocacy and Student Representation (OASR) that was released following a Feb. 11 meet at Air Force Academy in Colorado, Brown claimed that she was given a much lower score than what she expected. The low scores, coupled with incessant heckling from the audience, contributed to an unsettling atmosphere for Brown, who is usually unfazed in her protest.
"I think [the low scores] had a little bit to do with the protest, because I saw that the judges looked at our team a little bit differently because of it, and the backlash from the crowd was […] astonishing," Brown said. "They were mocking me in the crowd and mouthing disrespectful things to me."
In addition to the sentiments of support, OASR wrote that Brown had not felt supported by coaches and teammates, a statement that was later denied by head coach John Lavallee.
"I am totally fine and comfortable with her making her statement," Lavallee said. "When we found out about it, we made it perfectly clear to her and the team that we support her doing that. Alexis is a very intelligent, articulate individual. She is a great performer in gymnastics, and she has a great opportunity to make her stand and help people."
Kevin Blue, the UC Davis director of athletics, reiterated the athletics department's institutional support for Brown and her protest.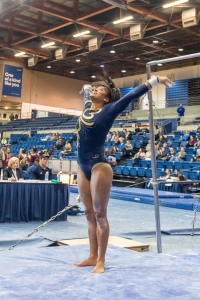 "We, in our athletics program, believe strongly in the right to free expression, and we have supported that free expression and will continue to support that free expression unconditionally as we move forward," Blue said. "There should be no ambiguity about that."
Shortly after the OASR letter was released, Brown commented on how her coaches and teammates had been handling her protests.
"I just think that when people show their support, it's not as apparent as what I would like to see," Brown said. "I haven't really been met with open arms, in certain ways."
In a later interview, Brown clarified her statement.
"I don't think that anyone in my coaching staff or teammates are trying to be malicious," Brown said. "Some of the people who aren't in this sphere don't really know how to handle what is happening [….] because they were never exposed to it. I will never hold that against them and I still love them."
This lapse in understanding from those outside the social sphere that Brown references makes apparent the lack of diversity in gymnastics which is neither new nor coincidental. The recent backlash that Brown has faced is not an isolated incident, and the pattern of homogenous demographics among gymnastics dates back throughout the history of the sport and is still prevalent today. A 2007 study by USA Gymnastics found that 74 percent of gymnastics athletes at the amateur level were white, in contrast to 6 percent of African American athletes and 3 percent for Latinx-identifying athletes. These numbers underscore the importance of representation for historically marginalized communities.
Brown recognizes that her participation as a UC Davis gymnast goes beyond her athletic performance, and she encourages fans to pursue their passions and stand up for their beliefs.
"A lot of little girls from the surrounding areas have come to my meets to support all of us, but it made such a great impact on me because all the little brown girls, all the little girls in general, really look up to us," Brown said. "Setting an example in every way that I can, whether that be through succeeding in gymnastics or through my protest, I hope that they can see that anything is possible if you never give up and never give in. I hope that when they do get to an age where [race] is going to be an issue or that's going to come up, in their minds that they maybe remember and take something from what I'm doing."
Regardless of the reactions to Brown's protest, numbers do not lie; she is consistently one of the highest performing athletes in the Mountain Pacific Sports Federation (MPSF) conference, in which the UC Davis women's gymnastics team competes. Brown has captured two consecutive MPSF Gymnast of the Week awards this year, carries an MPSF championship title on uneven bars and just recently hit a 9.900 on balance beam to tie the school record — not once but twice consecutively — in addition to other accolades. Her athletic prowess and graceful showmanship have made her competitive presence and social justice advocacy difficult to ignore.
"Regardless of what other people are saying, at least they're saying something," Brown said. "They're opening their minds to what I'm trying to get across. So if that angers some people, if that saddens some people, if it makes people happy, at least they're thinking about it. This [feedback] makes me want to work even harder out on the floor so that people can't ignore the protest. So when I have the headlines, like having first place after first place scores, they can't ignore what I'm doing anymore."
As the UC Davis women's gymnastics team approaches the end of its regular season competition, Brown is still in the running to become the first Aggie to qualify for the NCAA Division I National Championship. As postseason competition nears, Brown has been faced with the decision of whether or not to continue her protest or focus strictly on her athletic performance. At this point, she feels obligated to carry the torch as far as she can, and she no longer has any qualms about doing so.
"More than anything, I have to stick with what I think is right, and even though I might be scared, change is scary," Brown said. "It's not in my personality to back away from something that might be difficult, so I will definitely keep kneeling and keep doing everything I can to bring awareness."
Alexis Brown competes in the Aggies' final home meet of the season on Friday, March 10 against Air Force Academy at 7 p.m. in the Pavilion.
"I hope that my kids and grandkids and great-grandkids won't have to deal with the small things," Brown said. "I know that change is not fast, but [is made up of] little things that change over the course of decades. If [future generations] don't have to deal with ignorant comments by their peers and only receive love, and hopefully understanding… If this [protest] comes with the little changes, then it will all have been worth it."
Written by: Alex Arechiga — sports@theaggie.org