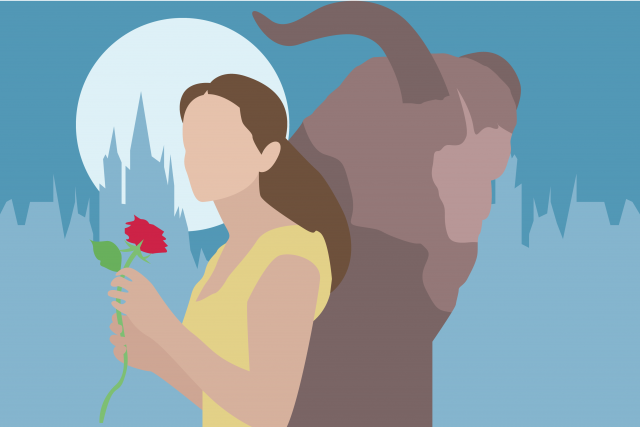 Film features same beloved songs but offers few changes
Disney continues to feed our need for nostalgia by releasing yet another live-action version of an iconic classic, and, this time, it's Beauty and the Beast. Looking back, it's easy to see some problematic issues with the princesses we may have worshipped as kids: Jasmine marries the guy who's been lying to her for the vast majority of the movie, Ariel turns into a different species to be with a guy she's never spoken to, and Sleeping Beauty is… well, asleep for most of the action. However, seeing the films this simplistically discounts some of the important messages that we may not have picked up on, and, so far, the live-action versions of some of the Disney classics have drawn out certain "explanations" that we may have missed before.
For example, the live-action 2015 Cinderella focused on the message to "have courage and be kind," something that would be tremendously difficult to do after years of neglect and abuse. The Cinderella in the newer film has gone through the same hardships as the 1950s Cinderella, yet by repeatedly including that motto in the newer film, the audience is reminded that maybe Cinderella was not "rescued" by a prince, but instead managed to survive and find love after having been denied it for so long.
And that's where the magic comes in with live-action recreations. Sure, it's nice to see everything played by real actors, but it's even more interesting to see a different perspective on certain storylines and characters that may not have been explored before. In the case of 2017's Beauty and the Beast, the villain Gaston's sidekick, LeFou, receives a flamboyant makeover and an expanded storyline. Director Bill Condon stated that LeFou will have an "explicitly gay moment" in the film, yet after seeing the film, I feel that there's much left to be desired. Although the movie focused some time on the character, I left slightly disappointed. Even the actor, Josh Gad, had stated previously that "there was nothing in the script that said 'LeFou is gay'," only to later rescind that comment, which makes me feel as though the character's sexuality was added last minute to halfheartedly attempt to pander to the LGBTQIA audience. Regardless, it's a first step for Disney and one that will hopefully pave the way for even more diverse characters.
In terms of Belle's motto, there was no specific phrase, but the overall theme seemed to be "fearlessness," as it's brought up several times, with Belle owning the term by stating that she is "not afraid" when she takes her father's place as the Beast's prisoner. The film explores Belle and the Beast's budding friendship and affection very similarly to the original film, but focuses slightly more on what they have in common, such as their love for reading. Clearly, there was an attempt to make it believable that someone could possibly fall in love with someone who is holding them against their will, and it was lightly touched on when Belle tells the Beast that no one can truly be happy if they are not free.
Those looking to relive the nostalgia of this Disney classic won't be disappointed, since it features all of the same songs in addition to some new ones, and it is a very close replica of the animated film, especially compared to the other recent live-action Disney films. This in itself has its flaws and strengths, as it feeds directly into what the audiences may be looking for, but at the same time, leaves little room for new material and side stories. Emma Watson's Belle is exactly what we expect: bookish, intelligent, innovative, strong and kind, all of which is wonderful, but really did leave me feeling like I watched the same exact childhood film. So, if nostalgia is what you are looking for, I'd give this movie a shot.
Written by: Pari Sagafi — arts@theaggie.org