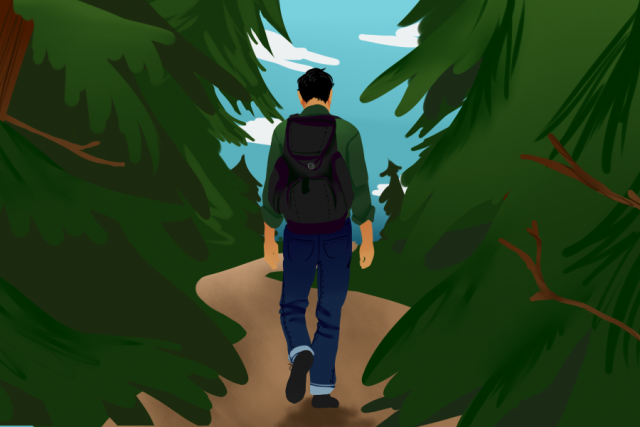 Avid hikers, backpackers weigh in on best places to explore before Spring Quarter
Abbo Nathan, a second-year sustainable environmental design major, wakes up one morning and tries to get herself and her friends out of the door by 7 a.m. The day's destination is Yuba River, a personal favorite of Nathan's. With backpacks stuffed with towels, peanut butter and jelly sandwiches and swimsuits, the group reaches the river by 10 a.m. and starts to hike along the bank.
The farther the group hikes, the fewer people on the trail; Nathan and her friends hike until they reach the perfect spot to spend their day hanging out on the white rocks and jumping into the cool water. Before heading home, as per tradition, the group stops in Auburn for burritos.
"The best day trip is Yuba River in Placer County," Nathan said. "During spring, the snow is melting and rushing down — it's so cool."
Nathan, president of the Ski or Snowboard Club at Davis, is no stranger to the outdoors. She spends much of her free time out in nature.
"I don't remember a weekend — definitely not this quarter — […when] I [have] stayed in Davis," Nathan said. "I really like going out."
According to Nathan, the best place to go during spring break is Yosemite National Park.
"If you make a trip to Yosemite, it's amazing," Nathan said. "During spring, you don't have the summer crowd, all the waterfalls are going, [and] wildflowers are blooming."
A little closer to Davis, another popular location to visit to is Lake Tahoe, especially for those who want to see snow. Tahoe is also home to long hikes with elevation gain. According to Nathan, the Pacific Crest Trail offers great views of the lake along the rim of Lake Tahoe, making it a good choice for those who want to do a backpacking trip over spring break. The Lake Tahoe area is also great for students who aren't in the mood for hiking. Nathan believes Truckee and Tahoe City are "really cool towns".
"If you're not into outdoorsy stuff, [they have] docks [where] you can just sit by the lake and watch the sunrise and sunset, and [there are also] thrift stores and stuff," Nathan said.
For students who prefer a drive rather than a hike, Sonoma and Napa are the way to go. The drive provides a scenic view of vineyards and hills for those who want to take it easy over the break.
"You can drive through that and then get to Bodega Bay area," Nathan said. "If you're not super down to hike you can just get the scenic drive and hang out by the water on the cliffs. If you go somewhere, stuff your car with as many people as possible so you can split gas, that's a pro tip."
Lake Berryessa lies about a half an hour away from the City of Davis and is perfect for students who don't want to venture out too far. According to Nathan, hiking the trail to the peak of Berryessa gives hikers a view of all of Northern California.
Paige Dougherty, president of The Hiking Club and a fourth-year neurobiology and physiology major, has also had a lot experience with great outdoor spots and trails. For students who don't have access to cars for very long, Dougherty recommends Stebbins Cold Canyon Reserve. Owned by UC Davis and right by Lake Berryessa, it's a little steep but offers great views.
"What I love most about hiking, especially here, is that we have such a great group of people we wouldn't be able to do this without," Dougherty said. "I don't think there's anything better than going out on a hike with [a] new group of people. It's such a beautiful thing that we can get people out of the confines of Davis and into nature."
Dougherty and the Hiking Club plan about nine group hikes per quarter. Dougherty's favorite place to go is Big Basin Redwoods State Park, about two and a half hours away in Santa Cruz County. According to Dougherty, the Meteor Trail at Big Basin is great way to see waterfalls and redwoods on the way to the summit, from which one could see the ocean.
"It's a little bit far away but you get so much bang for your buck," Dougherty said. "This trail is just gorgeous and you really see everything northern California has to offer in one loop."
Students looking to get out of California can get involved with Outdoor Adventures at UC Davis, which offers a guided trip to the Grand Canyon during Spring Break. For a fee, Outdoor Adventures provides food, transportation, group gear and the option of renting out individual gear like sleeping bags and head lamps, for an additional cost. The trip is guided by student guides from the university.
"It's a cool way to meet new people," said Kevin Townsend, a second-year geology major and employee at Outdoor Adventures. "You can sign up with your friends or you can sign up by yourself and meet 14 new people for a week. Everyone's super nice and it's a really good time."
For those who would prefer to explore on their own rather than going on a guided trip, Outdoor Adventures can help with that as well.
"If people do want to go outside and try something out we have a bunch of rental gear that we can rent out to students like tents and sleeping bags,"  said Amanda Bauer, a first-year microbiology major and Outdoor Adventures employee. "That definitely makes it easier for people to go out if they can have someway to get gear."
Students who don't have access to a car can visit Putah Creek, which is only a short bike ride away and offers various turnouts and hikes around the creek. Nathan and her friends often bike to a rope swing on Putah Creek, sometimes after class on really hot days.
"It's kind of a secret but I'm revealing it to The Aggie," Nathan said. "If you can find it, it's a 10 to 15 minute bike ride. It's really cool [and] when it's not cold you can rope swing into Putah Creek and it's really refreshing."
Probably the closest for any UC Davis student, the UC Davis Arboretum is another place to destress, relax and enjoy the spring weather without having to go too far. Nathan emphasized  that if a student wants to get out of town, though, it's incredibly easy.
"Davis […] [is] the best location because you're two hours from anything super cool," Nathan said. "There's no other feeling quite like seeing something awesome for the first time. There's a lot of opportunity to do that [here]."
Written by: Fatima Siddiqui  – features@theaggie.org