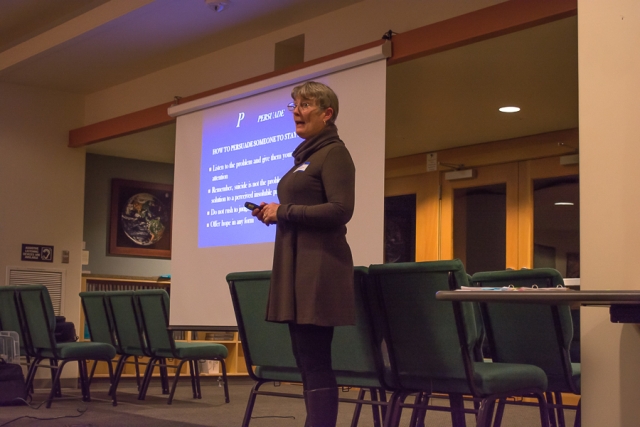 National suicide rates on the rise
During a public suicide prevention program held on March 1 at the Unitarian Church in Davis, Donna Bousquet, a mental health trainer and longtime member of NAMI-Yolo, explained that younger people attempt suicide more often than individuals in older age groups, despite the fact that elderly individuals commit more successful suicides each year.
"Anyone can commit suicide," Bousquet said. "There isn't one specific person or group of people [that do]."
Bousquet recently led a room of nearly 40 members of the Davis community and surrounding Yolo County area through a Question Persuade Refer (QPR) program, held by the National Alliance on Mental Illness Yolo County (NAMI-Yolo), to provide information and resources to participants in attendance about suicide prevention.
NAMI is a non profit support and advocacy organization that strives to reduce the stigma surrounding psychiatric disorders such as bipolar disorder, clinical depression and schizophrenia in over 1,000 affiliates throughout the United States.
The Yolo County chapter hosts numerous programs and meetings during the year to provide resources to families, teens and adults in the region who may be struggling with mental health.
During the QPR program, Bousquet discussed the various warning signs and clues individuals who exhibit suicidal behavior may have. She also discussed the different methods that individuals can utilize when speaking to someone who may be suicidal, and provided resources to attendees about where to go to get help when someone is contemplating or attempting suicide.
For instance, Bousquet explained how individuals with suicidal tendencies may give direct clues through various statements such as "I'm tired of life, I just can't go on" and "pretty soon you won't have to worry about me."
Individuals may also give behavioral or situational clues that can indicate they may be suicidal: expressing unexplained anger, drug or alcohol abuse or having experienced the death of a loved one. Bousquet stressed that suicidal ideation can happen to anyone no matter where they are in life.
"Many people have thoughts of suicide at different times in their lives," Bousquet said. "Your job is connect that person to someone safe."
Bousquet provided the Yolo County Suicide Prevention program's number as a helpful resource that individuals can reach out to when faced with suicide, as it is a serious and rising issue that can be successfully prevented if addressed.
According to recent findings by the Centers for Disease Control and Prevention (CDC), overall trends of suicide in the United States increased by 24 percent in 2014 in comparison to 1999 numbers, observed for both males and females younger than 75 years old.
One attendee during the QPR program was a current UC Davis graduate student, Anahita Hamidi, who has been a member of NAMI-Yolo for about a year. She is glad to be a member of the organization because it has provided her with helpful resources and information about mental illness, something family members of hers have struggled with. She urges others to join if they are interested.
"Something like mental illness has a lot of stigma," Hamidi said. "It is good to have the community aspect by having these conversations. […] This space is very invaluable to itself."
For more information about becoming a member of NAMI-Yolo or attending its events, please visit its website. If you or someone you know is contemplating suicide, please call the Yolo County Suicide Prevention line at (888) 233-0228.
Written By: Anya Rehon — city@theaggie.org