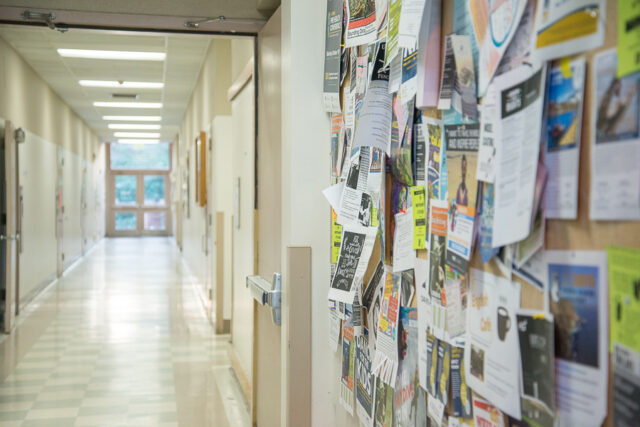 The similarities between two bustling halls on campus
One thing all students at UC Davis have in common is the amount of time they spend in two of the most familiar buildings on campus: Olson and Wellman Halls.
"My first class when I came to Davis as a freshman was Math 17A in the mornings, and it was in Wellman," said Karishma Sethi, a fourth-year global disease biology major. "I've had classes pretty much every single quarter in Wellman. Classes, club meetings or whatever it is, I'm always in Wellman. I sometimes have class in Olson, [but] not as much as Wellman."
Wellman Hall stands on the west edge of the Quad, distinct with its rosy bricks that mimic the vintage style of the Memorial Union. According to UC Davis archivist Kevin Miller, the namesake of the hall, Harry Richard Wellman, was a major player in California society who attended and taught at UC Berkeley and also served as the director of the Federal Reserve Bank of San Francisco for 11 years. After these career stints, he served as vice president of the University of California from 1958-1967 and then as acting president for an additional two years.
"At the time it was designed for classroom space, and it was built at the same time as Kerr next door," Miller said. "My understanding is that Wellman was kind of innovative and kind of a fresh design at the time. This kind of [building had] multiple access points at different levels, it was larger and more comfy."
Indeed, Wellman appears to be a comfortable space, with a nice sprawling lawn out front and a deep-set, private courtyard in the back. Inside on the main level is a convenient computer room, where students can enjoy a cozy atmosphere filled with the soft patter of keyboards in use.
"[Since] this is my first year here, I like the look of Wellman, especially the computer lab with the wood paneling. I like the feel of it […] it might be a little old, but it's nice and vintage," said Mareylene De La Cruz, a third-year Japanese major. "[I] definitely think it's a nice thing that Davis offers a [printing] room like this. It's a nice resource to have because I know Wellman is a building where students have a lot of classes, so it's nice to have somewhere you can go really quick and print something or have a nice quiet, chill area where you can study."
Wellman Hall is not home to offices or labs — unlike Olson Hall. Situated at the southeast corner of the Quad, Olson Hall is a squat, concrete building that seems to be built into the ground instead of on top of it. According to Sethi, although Olson's interior feels slightly gloomy, it lacks the narrow, cramped feeling of the hallways within Wellman.
"I like Olson," Sethi said. "I think it's a cool setup with the downstairs [and then] you've got the big steps coming up [in the main entrance hall]. I think the design of it is really cool. I've never seen a building like it before [and is] something I'll probably remember ten years from now and think about […] that weird building that smelled really strange and is really old with zero [phone] service."
This building was completed in 1963 — a few years before Wellman — along with Sproul Hall, which was under the same budget. It was named after Gus Olson, who attended UC Berkeley and then served on the University Board of Regents from 1951 to 1960. Olson was also a farmer, businessman and leader in the Davis community.
"[Olson Hall was] built mostly for classroom space but also [it had] early computer labs [as] this was the very early period of the computer age," Miller said. "Also the second floor [is where] the TV studio used to be for the campus […] and there's still a language lab in there."
Not only were both Olson and Wellman architecturally innovative for their time and named after important figures involved in the UC system, they were also built in tandem with traditional high-rise buildings.
What is undeniable about both is that they are, and always have been, popular hubs on campus. Whether used for meeting up for class, conducting club meetings or even hosting movie nights, these buildings have never failed to resonate as safe and familiar spaces for UC Davis students.
"My impression is that in its recent history, at least in the 2000s, is that it became sort of a secret spot for students […] to get around at night," Miller said. "[Students would] use a DVD player and have movie nights — apparently there were several rooms that were set up with AV, and at the time [people used] DVD players, so students would crash there and have an unofficial movie night. Sometimes the janitors would kick them out, sometimes they wouldn't."
Written by Marlys Jeane — features@theaggie.org