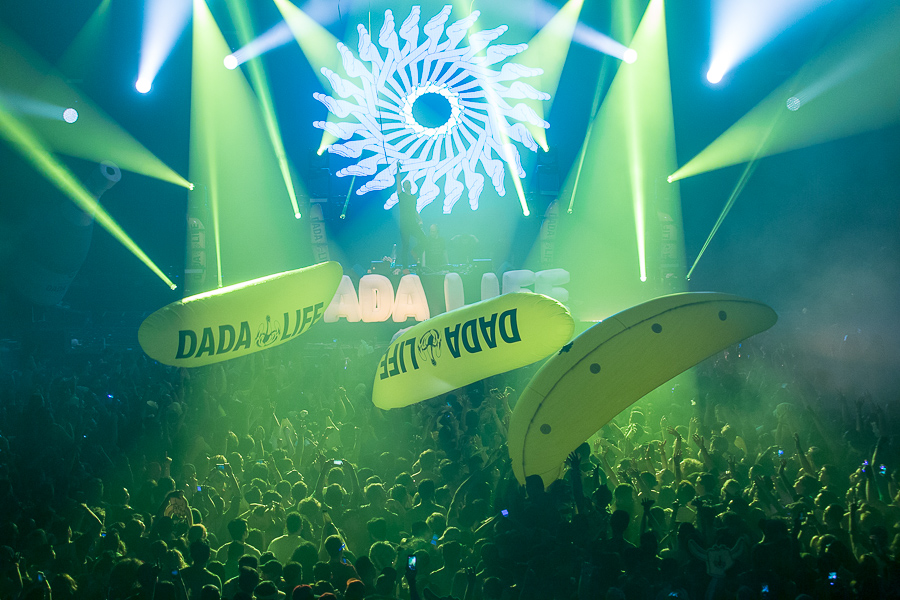 Inflatable champagne bottles, pillow fights, bananas for a memorable event
Dubbed as "Dada Land" for the night, Bill Graham Auditorium was transformed into a magical venue filled with inflatable bananas, pillow fights and balloons.  The Swedish-based EDM duo, Dada Life, brought energy and house music to the packed venue in San Francisco. Rewinding to the beginning of the night, I started the night off with Los Angeles-based producers ARMNHMR (pronounced "arm and hammer"). The up-and-comers gave it their all with originals, such as "Fallen" and remixes that pleased the crowd. Also from Los Angeles, LOUDPVCK (pronounced "loud pack") put on a show with their set that made the crowd get on their feet and jam with the music. Up next and from Russia, Arty stunned the crowd with trance and bangers which seemed to blend perfectly.
Before the headlining act came to the stage, a procession of several men dressed in white polos and shorts graced the stage holding flags complete with the Dada Life logo. From there, the duo came to the stage ripe with energy and made the crowd go "bananas" with their music. A plethora of inflatable champagne bottles and bananas were throw into the crowd with the help of the stage crew, which probably made great memorabilia for those that got possession of one.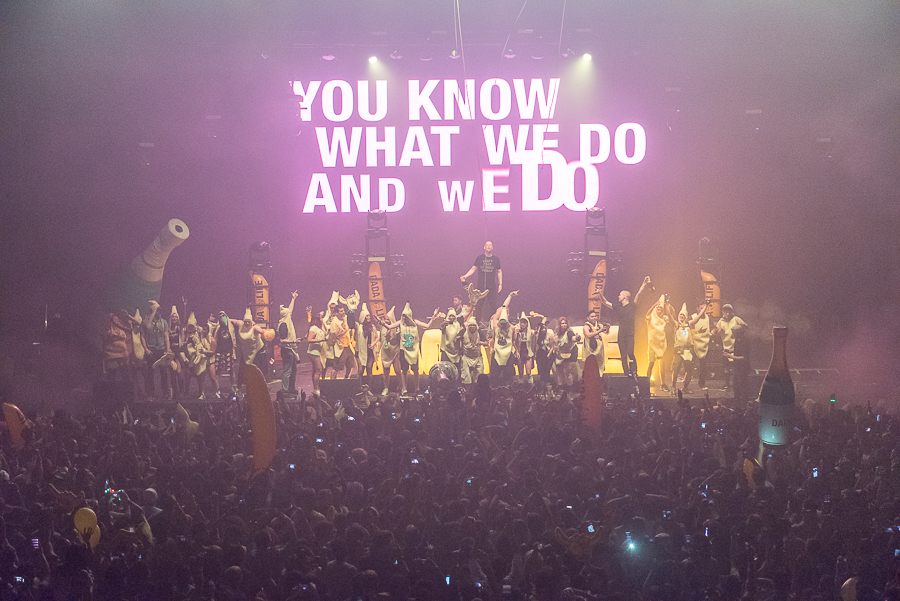 Throughout the show, the crowd jammed with Olle Cornéer and Stefan Engblom with hits off their 2012 album "The Rules of Dada." Before playing the drop to "Happy Violence" the producers had the stage crew throw actual pillows into the crowd. Thus, an actual pillow fight occurred during their set. Towards the end of Dada's set, about 30 individuals donned bananas costumes, whom I assume were recruited from the crowd. They get their minute of fame as they raged alongside the duo.  
One could definitely tell that Dada Life put a lot of effort into their show, and their fans are very thankful for it. For one night in "Dada Land" it sure did bring good vibes and an astounding time. If you missed this epic night, Cornéer and Engblom tour California quite regularly, so be sure to catch them next time.
Written by: Jay Gelvezon