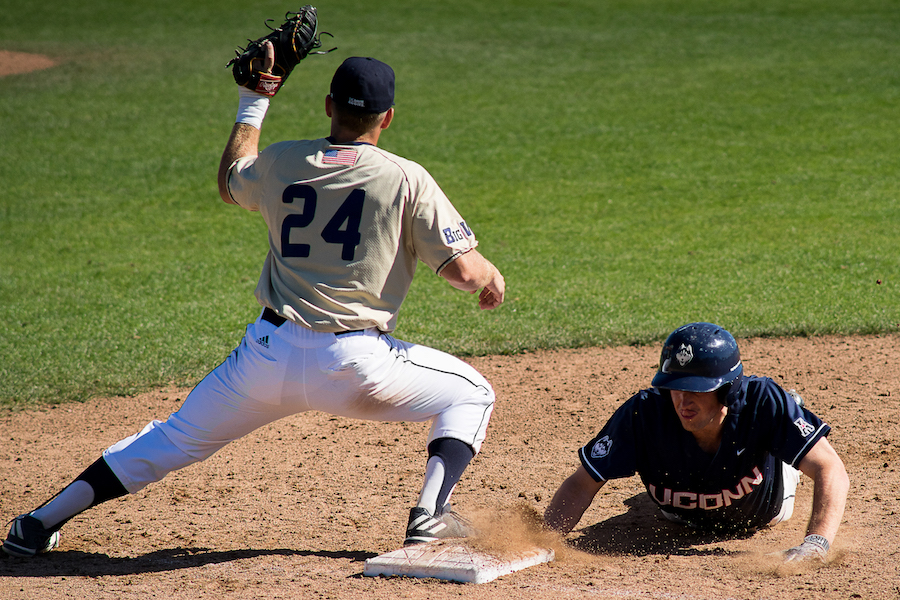 UC Davis baseball team salvages 7-6 win against UConn, but loses series 2-1
After losing to the University of Connecticut Huskies 7-4 last Friday and 9-6 the next day, the Aggies rallied to win on Sunday, March 12, securing a pop-fly to score the winning run.
The Aggies focused on remaining strong and fighting until the last inning.
"Coming into today, it's kind of a gut check," said head coach Matt Vaughn. "How are we going to be? We got beat on Friday, basically threw it away on Saturday, so are we going to be tough today? We came out and played tough and found a way to get the win, so I'm really proud of their efforts today."
The Aggies took the field with senior pitcher Justin Mullins on the mound and senior catcher Ignacio Diaz behind the plate for the third time this series. After a scoreless first inning, the Huskies managed a 3-1 lead in the second inning, courtesy of a bad throw to first base with the bases loaded.
Both teams battled hard in the third inning, each scoring two runs.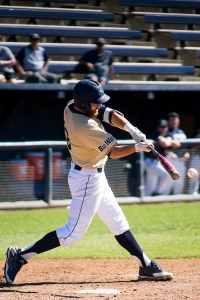 "It was a good game," Diaz said. "We played hard. We fought the entire game. I mean, we had some runs and they got some runs, but we stayed strong."
The UC Davis baseball team stayed strong, keeping UConn's score at bay during both the fourth and fifth inning. A hard drive to center field by sophomore left fielder Ryan Anderson drove a run in and helped close the score gap.
UC Davis and UConn tied 6-6 in the seventh, thanks to redshirt senior first baseman Mason Novak stealing third and being driven home by Anderson.   
Redshirt junior pitcher Zach Stone was brought in to close the game at the top of the ninth. Although he allowed the tying run, Stone still earned the win with three ground balls. At the bottom of the ninth, Diaz rallied the team with a walk to first base and advanced to second after a walk by UConn reliever Ronnie Rossomando. Freshman Colton Evans was brought in as pinch runner, and after stealing third, only had to sprint 90 feet to win the game, which he did after a hit by junior infielder Brad Pluschkell, ending the game with a final score of 8-7.
"I was just trying to shut the door, trying to go after guys," Stone said. "I had a curve ball get away from me, I think I was hurrying to the plate a little bit, but I'm just going out there to attack hitters and shut the game down and get us a win."
The team credit its win to Aggie pride, which was renewed after watching the UC Davis men's basketball team clinch its spot in the NCAA bracket after winning the Big West Tournament championship game.
"We were having a rough weekend and every single one of our guys watched that game and I think we came out today and played a little bit better because the Aggies won that game last night," Vaughn said.
Stone echoed his coach's sentiment.
"I think it was a good win for us," Stone said. "We got to come out here and show we got. In the ninth inning, the first two guys put us in a tough position but we responded well and kind of came together as a team and got the big hit to come out on top."
Written by: Liz Jacobson — sports@theaggie.org