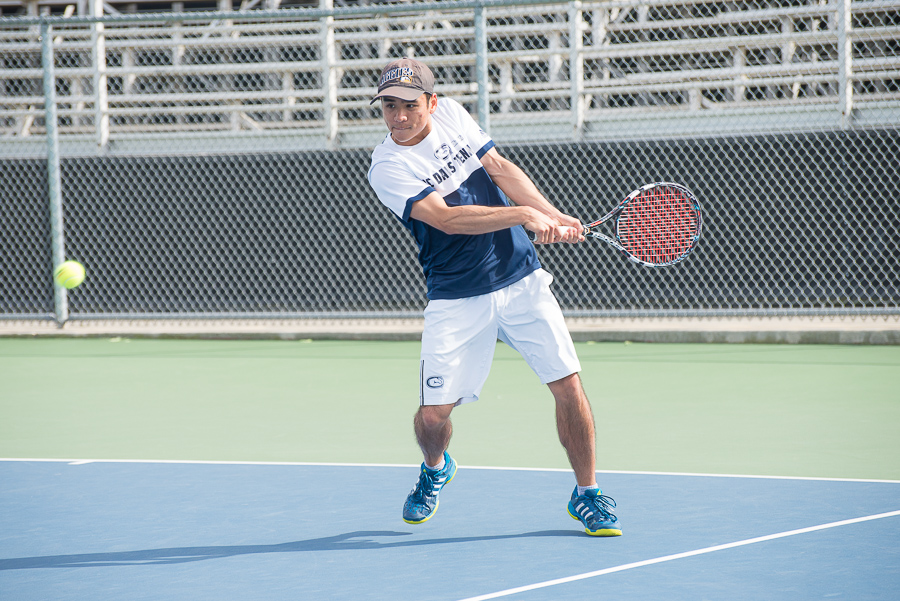 UC Davis co-hosts second annual tournament with Sacramento State
In the second annual Golden State Invitational, the UC Davis men's tennis team swept co-host Sacramento State, 7-0, in Sunday's third-place finale at the Marya Welch Tennis Center.
The tournament ran from last Friday to Sunday, splitting teams into two groups of four onto both UC Davis' and Sacramento State's campuses with six other participating schools: Grand Canyon, Nevada, Northern Colorado, Portland, New Mexico State and Saint Mary's.
On Friday, UC Davis opened the tournament against Saint Mary's, posting an impressive 6-1 victory over the Gaels. With this win, the Aggies kept the magic of the Marya Welch Tennis Center alive, extending their home winning streak to 21 wins since 2014. UC Davis swept in doubles play to get the early lead 1-0. Senior Alec Adamson and freshman Max Pham stayed perfect on the season in doubles play with their 6-2 win.
Going into singles play, five of six Aggies won in straight sets. Freshman David Goulak put the Aggies up 2-0 with his 6-2, 6-2 win. Junior Everett Maltby won his match 6-3, 6-1, senior Bryce McKelvie clinched the match for UC Davis with his 6-1, 6-4 victory and senior James Wade topped off the match with his third straight win overall with a 6-4, 6-2 sweep.
UC Davis went into Saturday play to face off against Portland, where the winner would advance to Sunday's championship match. It was a close match throughout, but Portland came back to defeat the Aggies, 4-3, after being down 3-2 late in singles play. This loss ended UC Davis' 21-match home winning streak and put them at 8-5 overall on the season.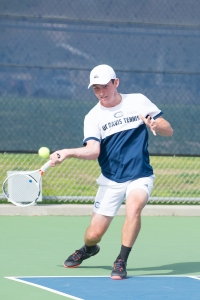 The Aggies lost the doubles point early, with Adamson and Pham falling for the first time in doubles play this season. Goulak and sophomore Tommy Lam posted UC Davis' only win, 6-4, in the doubles sets.
Senior Eli Whittle evened out the competition at one apiece with his 6-1, 6-1 victory. Maltby and McKelvie put the Aggies up 3-2, but Portland pulled through and came back to win the remaining two singles matches, defeating the Aggies 4-3.
To wrap up the tournament weekend, UC Davis faced co-host and rival Sacramento State in the third place match in a 7-0 sweep. With this win, the Aggies improved to 9-5 on the season. UC Davis made it look easy, as all its doubles pairings won their sets, as well as in singles play, with five of six Aggies winning in straight sets. Adamson finished off the match by winning his match in a 11-9 tiebreak.
With this win, the Aggies move to 9-5 on the season and return to the Marya Welch Tennis Center to host Yale on Saturday, March 18 at 12 p.m.
Written by: Nicolette Sarmiento — sports@theaggie.org