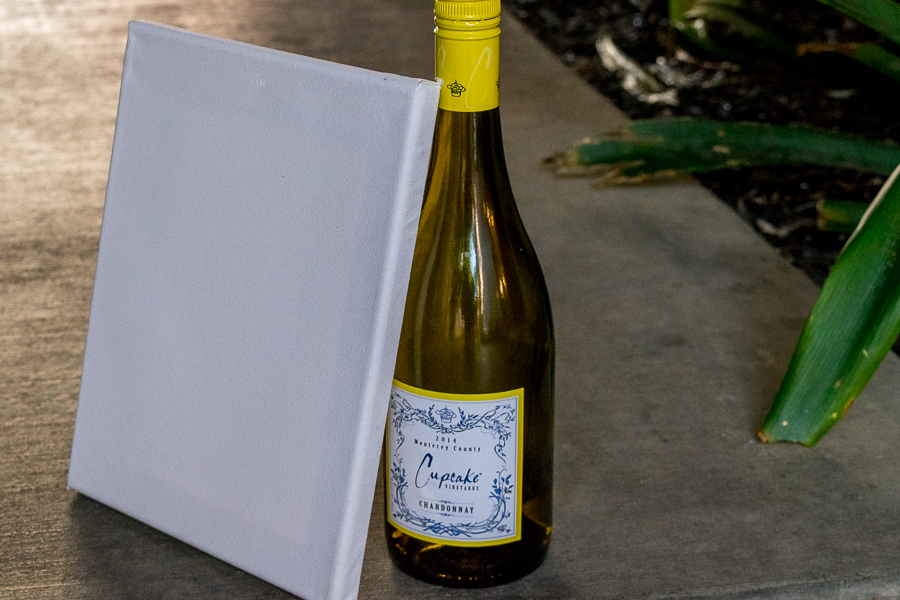 Cork It Again wine seller and Pence Gallery to provide visitors with drinks, painting supplies
For many, painting is intimidating; the thought of a blank canvas and infinite combinations can easily be overwhelming. Fortunately, thanks to the Pence Gallery and Cork It Again wine seller, painting is made simpler with step-by-step instructions — and of course, some alcoholic beverages.
"Canvas and Cocktails" hosted by Pence Gallery
Saturday, March 18 and Saturday, March 25
$45/person, 6:30 to 8:30 p.m.
15 years and older
After the success of the Pence Gallery's first few "Canvas and Cocktail" events beginning in January of this year, Kelly Roberts, the painting instructor and fourth-year art studio and economics double major, hopes to make it a recurring event.
"I thought Davis and the Pence Gallery would benefit from those kinds of classes — there would be a draw and people would be interested," Roberts said. "So I proposed the idea and outlined costs and what we would need to start it. […] So [Nelson and I] bought supplies and set some dates."
Natalie Nelson, the director and curator for the Pence Gallery, has since worked with Roberts to host the "Canvas and Cocktails" events on a regular basis.
"We had a really great response the first time around; people really liked it," Nelson said. "There's a lot of these in Sacramento, but there's nothing here being offered anyways, so I think the community will really like it."
Before Roberts begins her instruction, the evening starts with a few glasses of wine, chocolates and various appetizers. The $45 fee includes the instruction, all supplies and beverages (both alcoholic and non-alcoholic). Roberts then slowly guides visitors through the step-by-step painting process. Unlike other similar programs, Roberts emphasizes the educational aspect of her lessons.
"I'd like to think I provide a little more teaching, and a little more instruction than most of these classes," Roberts said. "I think the painting that we do during the paint parties […] they're a little more in-depth, they're a little more challenging. Which is to inspire people to get out and paint more, and not just doing a swirly blue thing with some stars on it."
Nelson, who herself has attended one of these events, notes that the process is easy to follow for someone at any level of experience.
"Once she goes through the paint (this time we're doing a still life with wine bottles and a wineglass), [Roberts] starts with what brush to use and what color to mix — she goes really slowly through everything so that you feel comfortable doing it," Nelson said. "Towards the end, people bring them up, or ask questions, and then we share them. It's fun to talk to friends [..] it's all very light-hearted."
The subject of the paintings vary with each event, so anyone who enjoyed the experience can always return. Roberts admits she prefers landscapes or still-lifes, but primarily wants to challenge her students.
"I tend to like to do landscapes, or just something where people can really learn and see how the steps get put together, and how they can create something really cool that they didn't think they were capable of before," Roberts said.
All in all, the evening can't go wrong with a paintbrush in one hand and a wine glass in the other.
"Paint n' Sip" hosted by Cork It Again Wines
Sunday, March 19
2 to 4 p.m.
$35, $3-4/glass of wine
21 years and older
For Cork It Again, pairing wine and paint is not a novel concept. The small tasting room in downtown Davis has been hosting these events for a little over a year, but, because they host the event outside the tasting room, they are more frequent once the weather gets warmer.
The $35 fee includes all painting supplies, but beverages are not included. With an array of fine wines, however, Cork It Again discounts their wine to $3 to $4 per glass.
In addition to hosting their own events, Cork It Again will bring the party to you.
"We do private parties, too," said Jake Lenz, the operations manager for Cork It Again. "We've even gone to different offices in the area. We have everything — tables, supplies, wine."
Lenz noted that the instructors for each painting event vary, but the current instructors are all previous or current UC Davis students. Many of the instructors' work has also been featured in their tasting room.
Similar to the Pence Gallery, Cork It Again ensures that the instructors move slowly and carefully to accommodate all levels of painting experience.
"Everyone's usually scared to do it, and really, you shouldn't be," Lenz said. "Everybody in the class is a beginner — most people have never even painted before. But the instructors make it really easy, so it's literally like step-by-step."
The event accommodates a maximum of 20 people, so those interested are encouraged to pre-register on the Cork It Again's website.
Written by: Ally Overbay — arts@theaggie.org