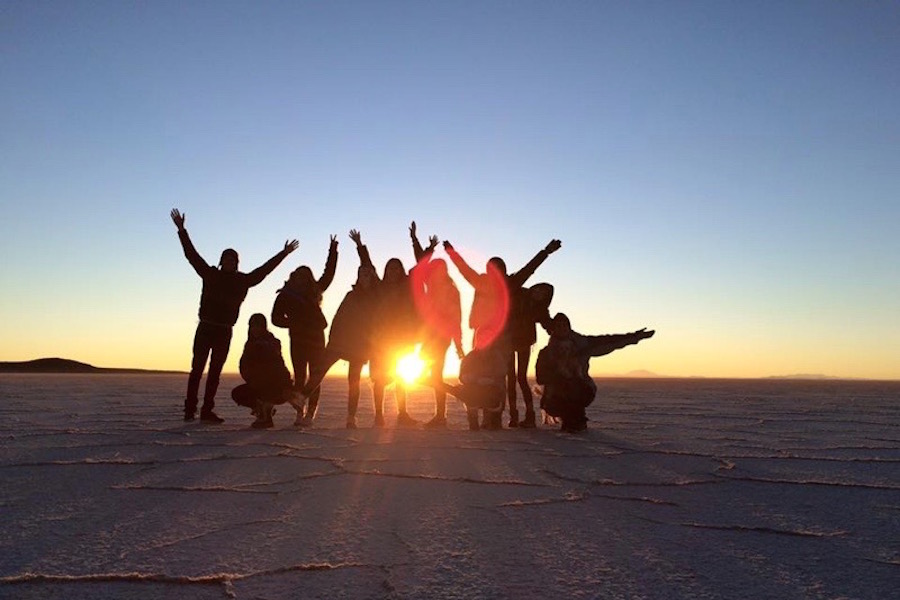 Students intern abroad, prepare for medical professions
After driving through the desolate dirt roads of the Bolivian suburbs, third-year cell biology major Maddy Silverstein was welcomed by a hospitable family who would host her for a five-week medical internship. Through this once-in-a-lifetime experience, Silverstein was shocked to discover the difference in lifestyles between those in Bolivia and those back in Davis.
The UC Davis Global Health Internships Abroad provides students with study abroad opportunities that encompass educational, cultural and hands-on experiences geared toward students' professional aspirations, while also allowing students to connect with their cultural roots and do good in the world.
Carisa Swason, a third-year animal science major, was able to explore her half-Filipino heritage while interning abroad in Manila, Philippines. Swason's program, Philippines — Remote Island Medicine, taught her the importance of having a strong and accessible healthcare system.
"There are two hospitals in Manila; […] one is extremely wealthy and next door to it is the second, run down hospital," Swason said. "The minute you walk into the second one you feel diseased, there is no air conditioning and people from other islands stand outside starting at four in the morning just to get into the hospital."
In the Philippines there is an extreme divide in the social classes, making it difficult for the entire population to get health care due to the lack of funding for the lower class, seen in the state of their hospitals. There is no social mobility, and only the rich have the best health care.
"Most of their population is getting very minimal health care because the people have no knowledge about their health or diseases," Swason said. "After going to the Philippines and seeing this I am now a strong believer in free health care because people shouldn't have to be rich to be healthy."
While the class divide is an obvious issue, Swason believes the root of the healthcare problem in countries such as the Philippines is in the lack of understanding of the importance of health. Cecile Msays, a fourth-year neurobiology, physiology and behavior major, spent this past summer as an intern for the Healthcare Challenges in Cape Town program in South Africa. She too blamed poor education for the extreme health concerns in this country.
"It was shocking to me that we were asked to go around to villagers' houses to make sure they were taking their pills because in America we are expected to take the medication we are prescribed," Msays said. "People will refuse to take their medication and are unaware of why it is important because nobody teaches them about it in school."
Msays was sent to the Victoria Hospital in Cape Town, where she was put on a team of doctors, residents and other interns. While not every student in the program had the opportunity to get involved in medical procedures, Msays' supervising doctor generously provided her with several opportunities to apply her pre-med undergraduate education to real-life cases.
"I got to do a lot of things that we would not have been allowed to do in America because we were students with no training," Msays said. "My doctor let me draw blood and lean how the x-rays worked, and when we had a patient who had a collapsed lung she showed me how they were able to fix it."
Msays stressed the importance of completing a medical internship abroad because as a student intern in America, there are not many opportunities for learning how to handle out-of-the box experiences, such as the isolation of children with severe cerebral palsy or the prominence of drug overdose.
"We saw people in front of us dying of tuberculosis which was shocking because this disease is [no longer] an epidemic in America," Msays said. "Going to a [developing] country exposes you to many more disabilities and diseases than you would see at an American hospital. I was interested to compare healthcares of different countries and I now feel that I have a much better gauge on the American healthcare system having seen another country's system."
Teresa Fletchinger, a third-year nutritional biology major, embarked on the Pediatric Health in La Paz internship in Bolivia after her freshman year. According to Fletchinger's account, due to the lack of economic and educational development, Bolivia is a very poor country and, in turn, the hospitals don't have many of the tools imperative to success.
"The doctors were knowledgeable and had good training but many of them didn't have the supplies that we do here so they didn't have good accessibility," Fletchinger said. "During one surgery I watched, someone died on the table only because the hospital didn't have enough blood from the blood bank. Another time, the power went out in the hospital and while the backup generators were able to keep the person alive, the doctors had us use our iPhones to give them light to finish the surgery."
While some of Fletchinger's experiences may seem stressful, these are exactly the kinds of situations that help to better prepare students for careers in the medical field. Fletchinger noted that it is beneficial for UC Davis students to see repercussions of another country's education and health care system first-hand.
"It is so easy to get caught up in the bubble that we live in here in America," Fletchinger said. "We hear about poverty in the world and how there are so many people in need, but until you actually see it and experience it, you do not understand the gravity of the situation. Since going to Bolivia I've become more passionate about medicine and [it] has solidified why I want to help people in the world."
Maddy Silverstein, a third-year cell biology major, did the same internship in Bolivia the summer after her freshman year. After five weeks living with a host family in the city of La Paz, Silverstein was able to perfect her Spanish, learn about culture and work at the hospital and local clinics every day.
"We worked in a women's abortion clinic which was one of the most eye-opening experiences from the trip," Silverstein said. "In Bolivia, abortions are illegal so working there made me realize what I wanted out of abortion laws in America. A country needs abortion as an option because we saw many women come in after using unsanitary self-methods secretly and illegally, which later causes more health problems."
Silverstein recalled that at first, the women in the clinic were skeptical of the students. However, speaking Spanish with the people of Bolivia allowed her to connect with the patients and eventually gain their trust. This experience of helping other women inspired Silverstein to pursue obstetrics and gynaecology in her professional career and continue raising awareness for women's health.
"We've come so far since Roe v. Wade and it's clear that in order for a country to be more developed and 'healthier,' there must be access to safe abortion," Silverstein said. "I was worried at first in the women's clinic because I really didn't know if I was making a difference or not, but I now know that the women at least got something out of it."
The diversity within the UC Davis Global Health Internships Abroad prepares students for many expected and unexpected obstacles that they may face in their future professional journeys. Whether a student's pre-med plans include becoming a doctor, physician's assistant or surgeon, or simply a desire to help people of the world, these internships provide endless opportunities to become a more educated member of society.
"I don't see myself doing anything else besides medicine," Silverstein said. "I really enjoy the process of meeting doctors and going into the surgery room and now that I know I can work hard in school to meet the academic standard, I've found my path and I'm sticking to it. It's the only thing I want to do for the rest of my life."
Written by: Gillian Allen — features@theaggie.org